8 Things To Do In Isolation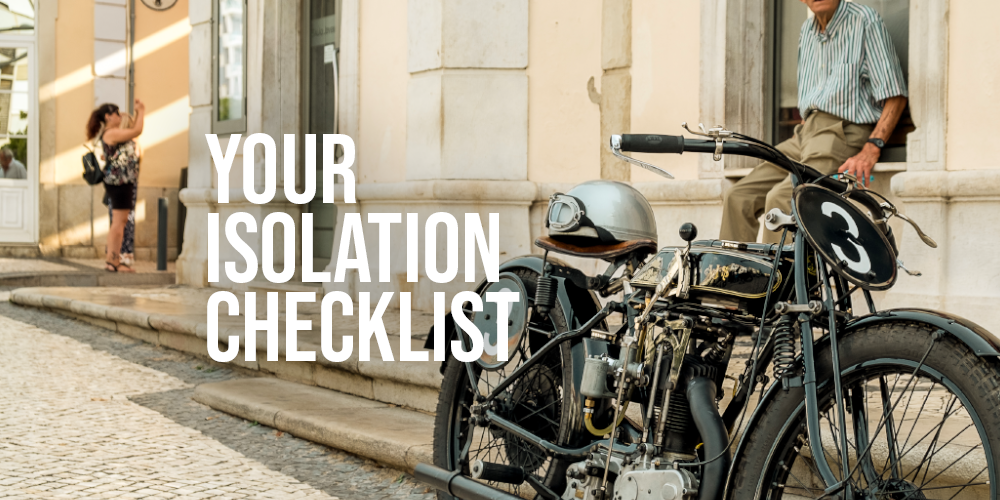 Isolation has reached every one of us, all around the world. Not knowing what day is it, what week or month it is, and not knowing how to spend the day. No matter your current situation, we know how limiting it can be being left to your own devices. So, we've put together an Isolation Checklist to help you navigate your way through whatever your isolation situation might be. Whether you're looking to learn, be entertained, or connect - we've got you covered!
CHECK-IN AND STAY CONNECTED
This is one that will keep you busy all throughout your isolation period - keep connected.
One of the most important things you can do during this time is to keep connected with those you love, and that love you. It can help prevent loneliness and disconnection from people, and at times can provide a really well-needed sanity-check. It's completely okay to not feel yourself, or recognize that all this isolation may not be good for your mental health. This is exactly why it's just as important to spot the signs in yourself, as well as your friends and family.
Stay connected, and check-in - if you need more information on how to do this, just head to https://movember.com/mens-health/spot-the-signs for more information.
GET YOUR CLASSIC AND VINTAGE STYLED BIKE DGR READY
One of the biggest problems DGR riders face is the mad-dash to getting your bike ready for the event in September. It's always a scramble, with folks getting into gear far too late to make it.
Whether it's a beautiful classic or custom build, we guarantee that you could do with a bit of extra time to make sure you make it to DGR and don't need to hitch a ride home on the support truck.
Get yourself into the garage and get wrenching!
ORGANIZE YOUR GARAGE
Speaking of the garage, it's not easy to rebuild or customize a bike in a disorganized space.
If your garage looks like it's been tipped upside-down and shaken about, it might be time for you to make a functional space to get the job done.
Every space is different, with a variety of tools and layouts to suit your needs - and hey, maybe clutter isn't a problem for you, but if your build feels stifled, get clearing - you may even find that pesky 10mm.
STREAM SOME OF THESE MOTORING CLASSICS
OUR FAVORITE YOUTUBE CHANNELS
Youtube is your go-to place for historical motoring races, highlights, and generally cool content from folks all around the world. From custom bike builds to bike reviews and how-to videos, here's a strong list for you to get down the rabbit-hole of YouTube!
PLUG INTO THESE MOTO-PODCASTS
GET ON THE ROAD WITH THESE GAMING GREATS
F1 2019 (2019)
Ride 3 (2018)
Isle of Man TT: Ride on the Edge (2018)
DiRT 4 (2017)
Need for Speed Most Wanted (2012)
MotoGP 18 (2018)
Forza Horizon 4 (2018)
Valentino Rossi: The Game (2016)
Driveclub Bikes (2015)
Project CARS (2015)
MXGP3 (2017)
Trials Evolution (2012)
Road Redemption (2017)
Mario Kart 8 Deluxe (2017)
READ MOTO-RELATED BOOKS
There's quite a number of moto-books out there to help pass the time, and listing them all would be a novel in itself. We're going to list out a handful to get you started that we know you'll love.
Zen and the Art of Motorcycle Maintenance: An Inquiry into Values by Robert M. Pirsig
Jupiter's Travels: Four Years Around the World on a Triumph by Ted Simon
Long Way Round: Chasing Shadows Across the World by Ewan McGregor and Charley Boorman
One Man Caravan by Robert Edison Fulton, Jr.
The Motorcycle Diaries: Notes to a Latin American Journey by Ernesto "Che" Guevara
Ghost Rider: Travels on the Healing Road by Neil Peart
Running with the Moon: A Boy's Own Adventure: Riding a Motorbike through Africa by Jonny Bealby
Proficient Motorcycling: The Ultimate Guide to Riding Well by David L. Hough
The Total Motorcycling Manual by Mark LindemannThe Total Motorcycling Manual by Mark Lindemann
The Complete Book of Classic and Modern Triumph Motorcycles 1937-Today by Ian Falloon
Lois on the Loose by Lois Pryce
We're all in this together, so if there's anything you'd like to add to this list, let us know! We'd love to know how you're keeping busy this isolation period.
Related Articles
---