Total Raised
$6326
First Year
2022
Total Events
1
My Blog
---
Getting Distinguished
Friday 29th
On Instagram and Facebook I've asked my friends and family to help me get ready for this Ride. Here's what I posted.
I need your help getting DAPPER. I'm doing a charitable Ride on May 22nd called The Distinguished Gentlemen's Ride, raising funds for Mental Health and Prostate Cancer.
I have to figure out how to look more distinguished between then and now. Over the next three weeks I'll post some options and ask for a little help putting my 'look' together for this low speed group motorcycle ride through Vancouver. For fun, I'll take group consensus on what to wear and what I should do to tame this moustache and beard.
Donate to the cause if you like, but if you can't, share your thoughts on what I can do to transform a little closer into a distinguished gentleman.
Shout out for mental health
Wednesday 27th
Hello everyone!
I'm really excited to be joining the Distinguished Gentleman's Ride this year. Mental Health has been much on my mind as health care workers have struggled through the last two-plus years, and everyone has been upended with the many pandemic-related changes. Throw in all of the rest of the instability and uncertainty in the world, and the conditions for mental 'unwellness' are primed.
For me, this event is a great pairing, as it incorporates one of the things that contributes to my mental wellness. Getting out on my bike, particularly if I can ride with a friend and grab a cup of tea or a snack at the end of some twisty road, is a key investment in my mental health. The phone goes away, the inbox can wait, and all four limbs and my core are engaged in a few hours of being outdoors and enjoying the back-roads around my own home. I'm not dragging my knee on the corners, just enjoying the flow of being outside on a bike I love. The excited imagination that comes from planning some longer trips in the nicer weather also lifts my spirits.
To be able to go for a Ride and to possibly raise some funds for a good cause is a great pairing for me. I have no expectation of anyone making a donation... times are tough for many. I have made a donation of my own, and also plan to volunteer my time on the event as a first aider/medic.
Take care of your own mental health, everyone, and look out for those you love, and all those in your sphere of influence.
Keep the rubber side down,
Adam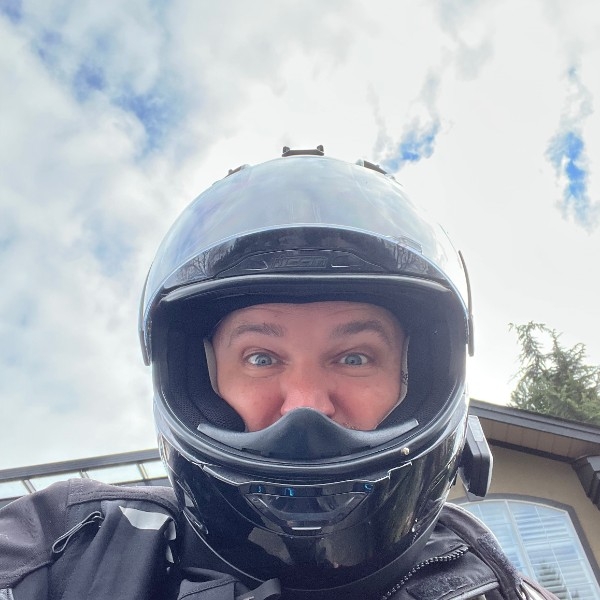 I'm Riding for Men's Health in The Distinguished Gentleman's Ride
Wednesday 27th
On Sunday the 22nd of May 2022, I'm riding in The Distinguished Gentleman's Ride with fellow men and women across the globe to raise funds and awareness for prostate cancer and men's mental health on behalf of Movember. Men die on average 6 years earlier than women and for largely preventable reasons. The number of men that are suffering is growing, and we need to do something about that. So, before I press my tweed and polish my boots, I'm asking you to join me in raising funds and awareness for these causes by donating what you can for this meaningful cause and to help the men we love, live happier and healthier lives.
My Sponsors
---
Matching Contribution From Adam
Matching the May 20th contributions up to Sage Weiner
$1,877 USD
Good luck Great cause, my dad just went through treatment in February 2022 and he is doing well today thanks to the great care at Kelowna General.
$399 USD
Enjoy the ride - great cause
$203 USD
I trust this will make you more "distinct". Ride safely, you mean a lot to many.
$162 USD
Best of luck Dr Evil! Thanks for doing what you do!
$162 USD
All the best, Adam and thank you for doing this!
$82 USD
Good luck, Love! Be safe.
$81 USD
Hello Adam: Good for you. Enjoy the ride..Barry & Sue
$81 USD
Good on you Adam ... our "DAPPER DUDE"!!
$81 USD
Supporting you from Boston. Can't wait to see the transformation. Have a safe ride.
$80 USD
This is a great initiative. Have FUN!
$41 USD
Dapper Adam might need to rework that beard.
$41 USD
Let that beard flap in the wind!
$40 USD
A great initiative, hope it's a blast!
$40 USD
Monkey tail beard! Google image search if you're unfamiliar with it)
$32 USD
Congrats Adam on your amazing ride and fundraising!
$16 USD