---
DGR 2023 Newport/Portsmouth
Friday 26th May 2023
Heather & I beside our bikes.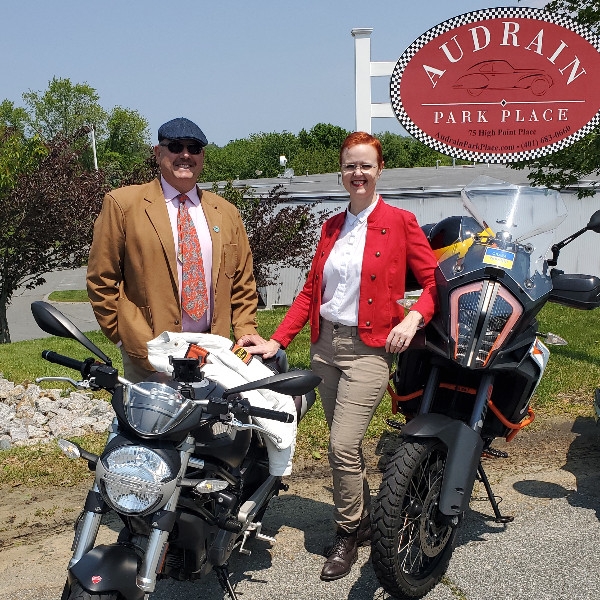 DGR 2023, Newport, Rhode Island, done.
Friday 26th May 2023
Well, as expected the unexpected always turns up......
Sunday turned out to be the day that the local college, Salve Regina, had graduation; and the Ocean Race, also stopping over in Newport, had something of a parade. So the start of the DGR23 ride in Newport, didn't quite start in Newport, but at the top end of the island in Portsmouth.
The Audrain Museum have a facility in Portsmouth and offered their premises as the gathering point. If I had to hazard a conservative guess, there were some 40 to 50 motorcyclists and their machines who turned up for the dapper run.
Agreed, not all were dapper and not all the bikes were classics, but they turned up for a worth cause and whole heartedly contributed towards promoting awareness of men's health, (note...I am one of those with out a classic looking machine, so I'm not picking on anyone here...).
Heather, joined the ride on her relatively classic looking Ducati Monster and looked all dapper in her bright red tunic with a white Vanson.
The ride took us down the eastern side of Aquidneck Island, through pretty agricultural areas. There was one stop to gather everyone, after dealing with a couple of traffic lights after which we headed down to the Newport/Middletown beaches. Where we regathered and split up. Some of us did head down to Ocean Drive before heading on our own merry way.
The weather couldn't have been any better, considering that the prior day was wet, windy and cold. We made a bunch of new acquaintances, and faces we were finally able to put a name to, after many years of crossing paths with other two wheeled travellers. Actually, I recognised their bikes more than their faces, though one chap in particular, Kevin, was particularly noticeable for his prominent beard which would make most Sumerians envious.
So that's done. DGR2023 is over.
I cannot thank you all enough, for your contributions and support. This, like many other worthy causes will never end, people will get ill all the time and all we can do is try to help any way we can. So, even if you cannot contribute to this fundraiser next year keep an eye open for any other cause which helps others in need.
Big hug to you all,
Alex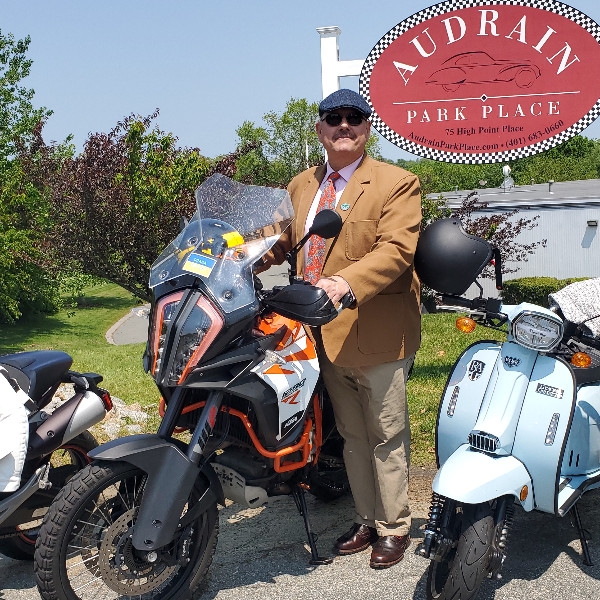 Well......all for a worthy cause.
Tuesday 2nd May 2023
So, I'm registered and will be participating in the Distinguished Gentleman's Ride, not that I'm either of those two adjectives. However this is to raise awareness and generate funds towards improving men's health.
As you very well know, we males tend to kick the bucket sooner than the fairer sex, due to things like prostate c. and the occasional mental hiccups.
The DGR with Movember raise funds to make the public more aware about these health issues and assisting in having treatments somewhat more accessible.
If you can spare a few coins to sponsor/contribute/support, anything will help. Just go to my profile and click on a donation.
In return, I'll ride around like a right old cock and I'll even send you a pic if you need a good laugh.
It's all for good cause.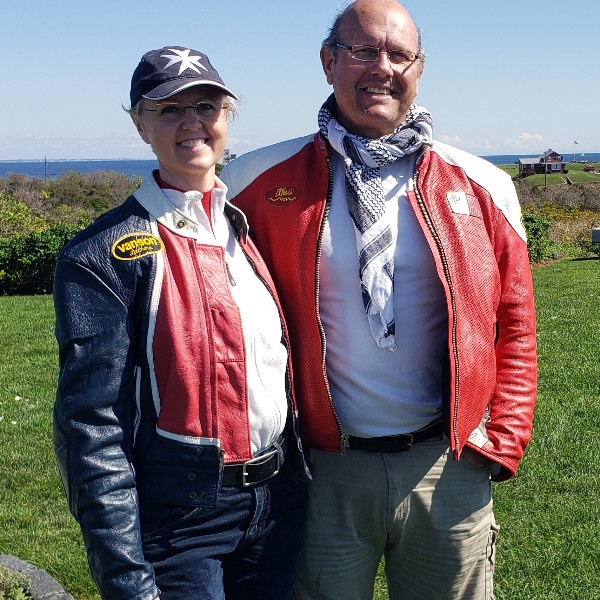 I'm Riding for Men's Health in The Distinguished Gentleman's Ride
Friday 28th Apr 2023
On Sunday the 21st of May 2023, I'm riding in The Distinguished Gentleman's Ride with fellow men and women across the globe, to raise funds and awareness for prostate cancer and men's mental health on behalf of Movember.
Men die on average 6 years earlier than women and for largely preventable reasons. The number of men that are suffering is growing, and we need to do something about that.
So, before I press my blazer, choose a tie and polish my boots, I'm asking you to join me in raising funds and awareness for these causes by donating what you can for this meaningful cause and to help the men we love, live happier and healthier lives.
My Sponsors
---
Thanks For Asking , I Am Glad To Help.
$208 USD
Ride safe my friend....must see photos !
$104 USD
NOT BAD FOR AN IMMIGRANT! SAFE RIDE.
$104 USD
To one of our favorite gentlemen - & what a great cause! Awareness leads to knowledge, which gives the power to cope with life's challenges. Please send photos!
$104 USD
Ride with Love and Safely!
$61 USD
Have a safe ride my friend, Big hugs
$61 USD
Can't wait to see the pic of our "distinguished gentleman"! Best of luck, Alex!
$61 USD
Best of luck Al ! Hugs Cally and Ian
$59 USD
Nice mustache in your photo. Yes I do want a picture of you and your bike all dressed up
$52 USD
Congratulations, have a great ride! -Rhadjena Hilliard
$52 USD
Lonni Millman And Ken Morse
Can't wait to see the photos and hear about your ride!
$50 USD
Can't wait to see the photos!
$26 USD
Yes, do send me a pic! Always need as many good laughs as I can get. Good luck!
$21 USD