My Blog
---
And Their Off ... A Great Start To 2020 Fundraising
Monday 3rd
With these words I can only just scratch at the gratitude I feel for such an incredible start to my fundraising efforts this year.
The first day saw donations fall just shy of 10% of my goal of $10,000 (CAD). As I write this on day 2, we're well past that $1000 mark and off to a great start.
If you happen to peruse my Sponsorship list on this page, you will see that there are votes being placed for either Beard, Moustache, or Clean.
With COVID limiting my fundraising options, this year I have decided to offer up my facial hair. Since COVID hit I have been growing out my beard. This has been to the chagrin of my family, and some friends. So, with your donation I am offering a vote.
As you donate, and get prompted to provide the optional name and message, I am asking that you vote for one of the three following options:
1. BEARD. I keep the beard, wear it proudly on the day of the ride, and then maintain it for the remainder of 2020.
2. MOUSTACHE. I lose the beard, curate the handlebar moustache, and wear it proudly on the day of the ride, and then maintain it for the remainder of 2020.
3. CLEAN. I shave the beard and moustache, and go clean-shaven for the ride and remainder of 2020. Something that has not happened since 2013.
In your message, just start off with your vote - Beard, Moustache, or Clean - and then continue on with your messsage and donation.
The category that has the highest dollar value associated with it on my Sponsorship page on 26 September 2020, will determine my look for the ride on the 27th - and the rest of 2020.
There it is. Again, gratitude for the support for this important and worthy cause.
Brock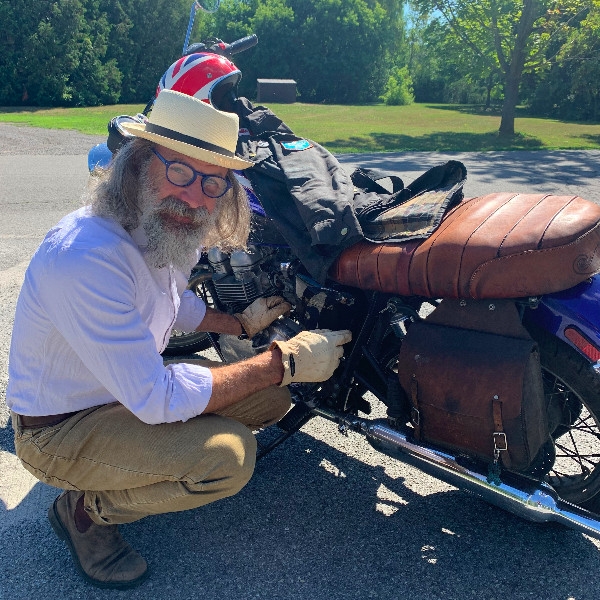 I'm Riding Solo for Men's Health in The Distinguished Gentleman's Ride
Saturday 1st
On Sunday the 27th of September, I'm riding solo in The Distinguished Gentleman's Ride with fellow men and women across the globe to raise funds and awareness for prostate cancer and men's mental health on behalf of Movember.
Men die on average 6 years earlier than women and for largely preventable reasons. The number of men that are suffering is growing, and we need to do something about that. So, before I press my tweed and polish my boots, I'm asking you to join me in raising funds and awareness for these causes by donating what you can for this meaningful cause and to help the men we love, live happier and healthier lives.
My Sponsors
---
Go Brock!! Objects in mirror are closer than they appear!
$373 USD
Christine Préfontaine Fisk
$78 USD
CLEAN. I may have to donate a pay check to Be able to see the face that I married over 20 years ago. Good luck on this initiative I know it means a lot to you !!
$78 USD
Moustache is your signature Java logo and handlebar is the m.c. link..keep it up.
$78 USD
Clean. I always support this cause, especially having multiple brothers with bikes.
$39 USD
Moustache! I always loved your handlebar moustache - it puts the "distinguished" in DGR! Not a fan of bushy beards personally, on anyone; they are certainly very prevalent right now.
$39 USD
Great initiative. My vote goes to moustache! Good luck!
$16 USD
Beard. I'll get started with this example. Vote Beard, Moustache, or Clean to have your say with how I ride on 27 September.
$16 USD