Total Raised
$3983
First Year
2022
Total Events
1
My Blog
---
Successful run:
Tuesday 24th
It was a hot 90+ degree day in New York City. With over 400 other bikes riding in NYC alone, adding to the total worldwide total of over 80,000 riders, I was proud to represent all of you and your donations to help fund prostate cancer research, a major killer of fathers, brothers, husbands and friends.
I went dapper, as one does, complete with an ascot and loafers. The crowd, too, was dressed to the nines, even with the temperature being what it was.
We cruised from Grand Central Station to the west side highway, with police escort. The NYPD came in full force, doing a fantastic job holding back traffic at each stoplight for us to pass through unimpeded. We crossed up though upper manhattan and down FDR drive, then across the beautiful Brooklyn Bridge, with a quick pass through Downtown Brooklyn, where the crowds waved, and many a video were taken.
Finally, we returned to Manhattan over the Manhattan bridge, down the lower tip of the city, and back to West Side highway north, where we finally stopped in the Meat Packing District.
It was a beautiful day, perfect for a run with like-minded souls, for an honorable reason, to save lives.
Thank you again, all of you, for donating. I appreciate all of you.
Cheers,
Dimitri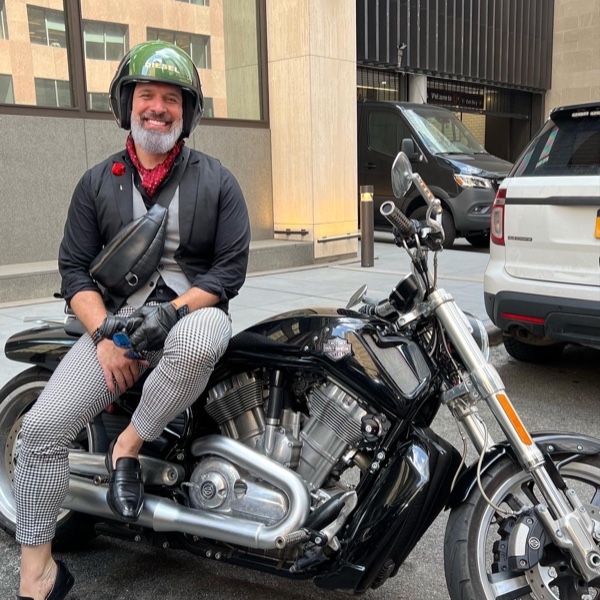 Outfit picked.
Sunday 22nd
From the shoes to the short pants, to the vest and shirt, decisions were made. I even chose a helmet I've never worn. It's very dapper. The only question I'm struggling with is "do I wear the ascot or the bowtie".


I'll sleep on it.


till the morning...
good night.


dimitri
Cleanup continues.
Friday 20th
I love my Harley. It probably saved my life. Moving from sport bikes where I could do well over 160mph to a Harley that is barely comfortable at 80mph has probably extended my life by decades.
I've been working on her all week. Making sure the battery is charged, making sure the fluid levels are okay, swapping out the air filter... getting her ready for the big event.
My Harley, the Harley V-Rod Muscle, was designed by Porsche. They went lightweight everywhere they could, created a whole new motor (the Revolution motor) and pushed the gas-tank under the seat for a lower center of gravity. Very cool. Unfortunately, the aluminum used is awful. Within a month of buying my V-Rod, the rims began to pit. It looked like water stains. I tried all sorts of solvents, polishes, cleaners, etc. from Harley and otherwise. Checked forums, checked everywhere. No dice.
So, this week I resorted to basics. Sandpaper. I began sanding the rims by hand, 180 grit, then 240 grit... then wet sand with 600 grit then 1000 grit. Here's a before and after photo of the rear rim. Before I touched it, then after the 240 grit. I still have a lot of work to do, but it's a start, and it looks better already.
Prepping for the ride:
Monday 16th
Last week I attempted to start my bike, and it was a no-go. Battery was charged. Lights and everything came on. Key fob registered. Press start... nothing. But today, today my plan was to get it running.
So this morning I got to work. Pushed her out of the garage, set up a table with tools, electrical testing equipment, etc.
I figured it was either the starter solenoid or the starter. But because I hadn't ridden her since last year, who knew. So I went back to basics. Took apart the top of the faringe. Checked fuses. Checked lines. Checked gas. Checked and checked and checked, all while looking for the solenoid.
Then I decided to see if I could just press the ignition to *hear* the click of the solenoid. Instead, she started right up.


wth? But, that's okay. She started. I gave her a bath and took her for a lovely ride. It was a beautiful Sunday, the perfect temp, and just lovely.


More prep required for next week, but the bike starts. 🙃
I'm Riding for Men's Health in The Distinguished Gentleman's Ride
Thursday 24th
On Sunday the 22nd of May 2022, I'm riding in The Distinguished Gentleman's Ride with fellow men and women across the globe to raise funds and awareness for prostate cancer and men's mental health on behalf of Movember. Men die on average 6 years earlier than women and for largely preventable reasons. The number of men that are suffering is growing, and we need to do something about that. So, before I press my tweed and polish my boots, I'm asking you to join me in raising funds and awareness for these causes by donating what you can for this meaningful cause and to help the men we love, live happier and healthier lives.
My Sponsors
---
Great cause and love the bike!
$1,010 USD
Your outie once helped a stranded motorist.
$260 USD
You are certainly born to be wild, D! Have a great ride.
$250 USD
Great thoughts speak only to the thoughtful mind, but great actions speaks to all mankind. -Emily P. Bissell
$208 USD
Here is $100 for your initiative amigo. Thanks for doing this. Gorka.
$104 USD
Sounds like a worthy cause
$104 USD