---
The DGR 2023 Update May 9
Wednesday 10th May 2023
Well, it's getting closer. Less than two weeks, and will be riding for a cause.
It's a short ride to be sure... from the Utah State Capitol it is just about 10 miles to Urban Sailor Coffee house across from Sugarhouse Park.
But here's the good news: you, my friends, have made me the number one fundraiser for the Salt Lake City ride so far. That's out of 60 riders! As of today, May 9, I have raised $430 because of people like you!
I have lost very close friends to cancer. I myself had prostate cancer, and I've been cancer free for eight years.
But it's not just about cancer, there are a lot of health issues men face. Recently, one of my former coworkers took his own life. Suicide/mental health is one of those health topics that has only recently been something we can talk about out loud without ridicule… without feeling like there is a loss of masculinity. It's because of research and awareness, which couldn't be done without the help of people such as yourselves.
I'm proud to know each and everyone of you, and I thank you again for your support of my participation in the Distinguished Gentleman's Ride.
It's Here!
Wednesday 3rd May 2023
Back in February, I ordered a tweed jacket to wear for my second DGR. It finally arrived!
It's a nice tan tweed herringbone pattern with a matching red herringbone vest. (I'd have a photo here, but I'm battling with the DGR web site that keeps saying my "photo is too small". I've never had a site say a pic has to be larger, usually quite the opposite.)
Anyway, I'm getting more prepared as the 2023 ride gets nearer! Now is where I ask you to please donate if you can. It's appreciated!
The DGR 2023
Saturday 22nd Apr 2023
As they say, "here we go again!"
I first learned of the distinguished gentleman's ride last year from a good friend and fellow motorcycle enthusiast. Being a prostate cancer survivor of 8 years, the charitable causes of the DGR are close to my heart. Postate cancer is just one of the men's health issues the DGR addresses. Over 288,000 men in this country will be diagnosed with Prostate cancer in 2023. And Prostate cancer kills nearly 35,000 men every year.
So I ride. I ride to honor those taken by cancer, and those who will be affected by it. Like my dear friend and brother firefighter Eric.
So here I am, trying to get an earlier start than last year, in an effort to raise more money towards men's health issues. I'm hoping to encourage you to donate to my 2023 ride.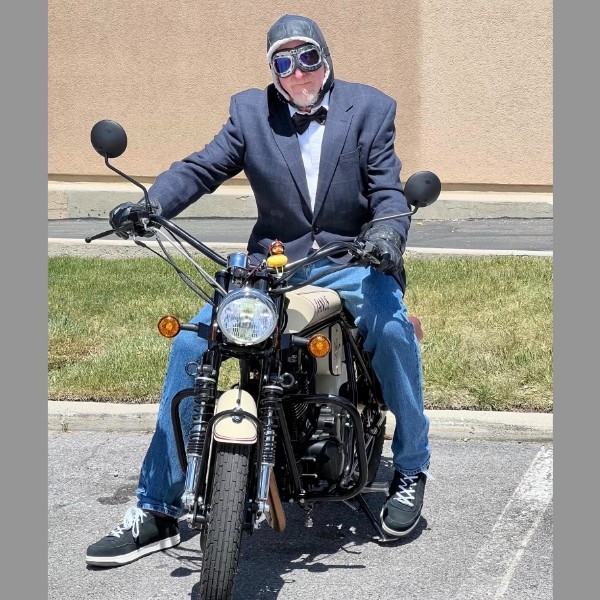 Join our team as we ride for The Distinguished Gentleman's Ride!
Saturday 22nd Apr 2023
On Sunday the 21st of May 2023, we are teaming up to ride in The Distinguished Gentleman's Ride with fellow men and women across the globe to raise funds and awareness for prostate cancer and men's mental health on behalf of Movember. Men die on average 6 years earlier than women and for largely preventable reasons. The number of men that are suffering is growing, and we need to do something about that. So, before we press our tweed and polish our boots, we are asking you to join us in raising funds and awareness for these causes by donating what you can for this meaningful cause and to help the men we love, live happier and healthier lives.
My Sponsors
---
Pictures please. Remember, shiny side up…
$61 USD
I'm willing to donate if only to see you dressed up in your "gentlemanly" attire.
$21 USD