My Blog
---
3 weeks to go!
Saturday 5th
Where is the time going? In three weeks time I will be embarking on my 1000 miles in 24 hour endurance ride.


I am blown away by the support I have received so far from donors and long may it continue. After an afternoon of fun up at Oxford Airport with the guys from JMI and John Blackwell behind the lens, I've had a great amount of support from the business aviation industry.


Preparations are going well and the bike is booked for a service shortly. I've started boxing up tools and other consumables in the event of any necessary quick repairs.


On the day I will have two people in the support van following me and keeping everyone updated via this blog, a dedicated website (www.theretrorider.com) and Instagram.

Please spread the word and let's see how much we can raise for such a good cause.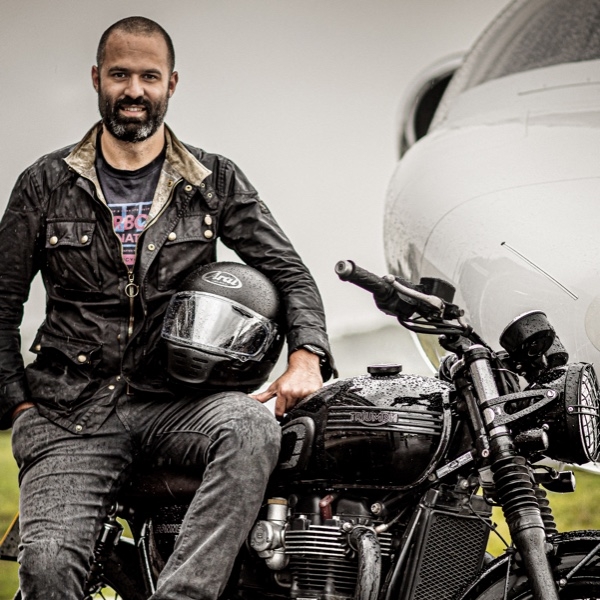 Why am I doing this???
Wednesday 26th
So the justification for me riding 1000 miles in 24 hours.
Over the past three years as a family, we have had 4 members diagnosed with cancer, 3 of which were prostate.
This is why to me it is such an important cause.
I am really grateful to all those who are able to donate.
Ed x
And I will ride 1000 miles
Thursday 20th
Hello!
As this year is going to be a little different I have changed my goal.
On the weekend of 26th/27th September, I will be riding 1000 miles from John O'Groats to Lands End in a 24-hour window for the Distinguished Gentleman's Ride. I certainly hope this will aid in raising money for such a good cause.
Planning has begun and I have secured a team to join me in a support van to:
a) provide necessary support and motivation
b) keep everyone online up to date with my progress across various social media platforms.
I'll keep you posted!
I'm Riding Solo for Men's Health in The Distinguished Gentleman's Ride
Tuesday 18th
On Sunday the 27th of September, I'm riding solo in The Distinguished Gentleman's Ride with fellow men and women across the globe to raise funds and awareness for prostate cancer and men's mental health on behalf of Movember.
Men die on average 6 years earlier than women and for largely preventable reasons. The number of men that are suffering is growing, and we need to do something about that. So, before I press my tweed and polish my boots, I'm asking you to join me in raising funds and awareness for these causes by donating what you can for this meaningful cause and to help the men we love, live happier and healthier lives.
My Sponsors
---
Go Ed! brilliant cause and a fabulous trip, so proud of you, Adam
$139 USD
From a loyal member of the Hullo Aircrew
$138 USD
Have a great trip Ed! I hope you raise a fortune!
$136 USD
Good luck! Have an amazing time.
$134 USD
Good luck and I look forward to seeing how it all goes.
$133 USD
Enjoy your ride, hope the weather's kind. Good cause
$132 USD
Can't wait to see what playlist Miles comes up with :)
$80 USD
Good luck from all of us at Dean Close and The Old Decanian Society!
$77 USD
Great cause mate - hope you guys are all good the ride goes well!
$67 USD
Really proud of you, a great cause.
$66 USD
Vanda And Neville Harries
Good luck! Or in swahili Bahati Misuri!!
$65 USD
Best of luck with the ride, Ed. Love from Simon, Claire & Rory x
$65 USD
Safe trip - look after your balls!
$56 USD
Be careful and don't fall off !!
$55 USD
Ride Safe, Live Bikes, Love a good course. Enjoy it.
$35 USD
Best of luck Ed. Worthy cause.
$34 USD
Wear a mask. Not because of Covid, because you don't want to eat bugs all the way. Good Luck!
$34 USD
Good luck Ed!!! Suni & Sheena Halder
$34 USD
Good Luck and hope you reach / Exceed your target
$34 USD
Good luck , a great cause.
$33 USD
All the best mate! Come see us in Malta and bring your family 🥂😎
$33 USD
Good luck with the ride! Have a great time.
$33 USD
Best of luck Ed - hope the fundraiser goes well!
$33 USD
Good luck mate from me and jess!
$27 USD
What an amazing trip and a great cause. Sure it will be epic!! The bike looks perfect for it too. Not sure I would want to attempt it on my R1! Best of luck X
$27 USD
Good luck Ed, although it's not like you've got to peddle or anything!
$27 USD
Good luck and save travels in aid of this excellent cause! Cheering for you! Sarah, Ralph & Harrison
$27 USD
Good luck Ed, well done mate.
$26 USD
Good luck and have fun! Very worthy cause! Xx
$26 USD
All the best - great cause!
$21 USD
Good luck Ed, we know we know you'll do amazing. Fancy doing it without an engine at some point? 🤔
$20 USD
Good luck mate. Great cause.
$14 USD
Safe journey mate, from a fellow Oxford fund raiser. 🏍🌂🔧
$13 USD