My Blog
---
Saturday instead
Thursday 24th
Hiya,
Given that I am off doing another bike ride on Sunday now, I have decided to do my DGR on Saturday instead.
Thank you all for your kind donations so far. Please give this a share, so we can raise as much as possible.
All the best,
Gaz
Covid, schmovid!
Monday 24th
Seeing as Covid has kept us all in for so long, I decided that as soon as they eased things a bit, and we could ride again, that I would embark on some one day, socially distant rides, and fim them with my gopro and drone. So here's a couple of them.
Black Mountain pass to Devil's Staircase.
https://www.youtube.com/watch?v=LFLK58yaQ5A&t=248s
The White Horses of Wiltshire
https://www.youtube.com/watch?v=Vx42c6Vp9qI
The Gospel Pass to Tintern Abbey
https://www.youtube.com/watch?v=AZSd5YBNUrM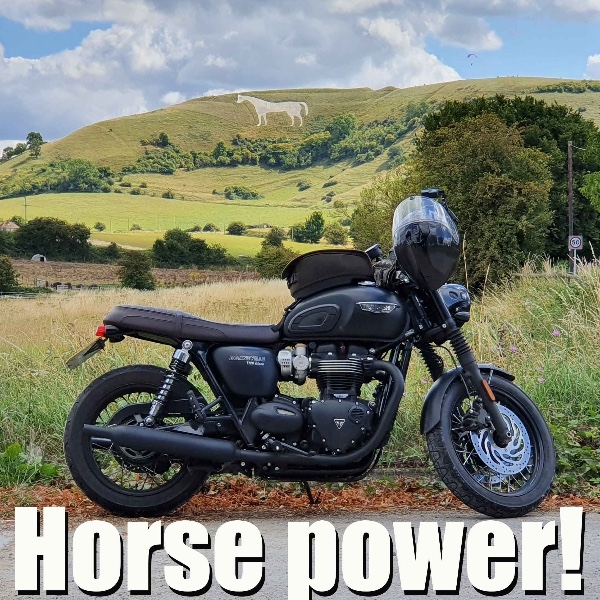 I'm Riding Solo for Men's Health in The Distinguished Gentleman's Ride
Friday 31st
On Sunday the 27th of September, I'm riding solo in The Distinguished Gentleman's Ride with fellow men and women across the globe to raise funds and awareness for prostate cancer and men's mental health on behalf of Movember.
Men die on average 6 years earlier than women and for largely preventable reasons. The number of men that are suffering is growing, and we need to do something about that. So, before I press my tweed and polish my boots, I'm asking you to join me in raising funds and awareness for these causes by donating what you can for this meaningful cause and to help the men we love, live happier and healthier lives.
My Sponsors
---
Well done for raising money for such a great cause! Enjoy the ride :-)
$35 USD
If you aren't going to be live in the lockdown you might as well be out on the Triumph 😉
$34 USD
Take care and see you in a field, big love
$14 USD
All the best Gaz. Having been recently diagnosed with Hodgekin Lymphoma I'm more aware than ever of the threat of cancer for us all
$7 USD