My Blog
---
Always make time.
Wednesday 23rd
We had been wanting to join in with the Distinguished Gentlemans Ride for the past three years but as dad has been the main carer for my step mother we just never got it together "there's always next year"
Then as fate would have it, he fell ill and time ran out all too quickly, over just a few short months. I'll be riding one of his bikes this year and anticipate him being there with me in spirit at least.
Hopefully he won't actually turn up on the pillion seat. But who knows!!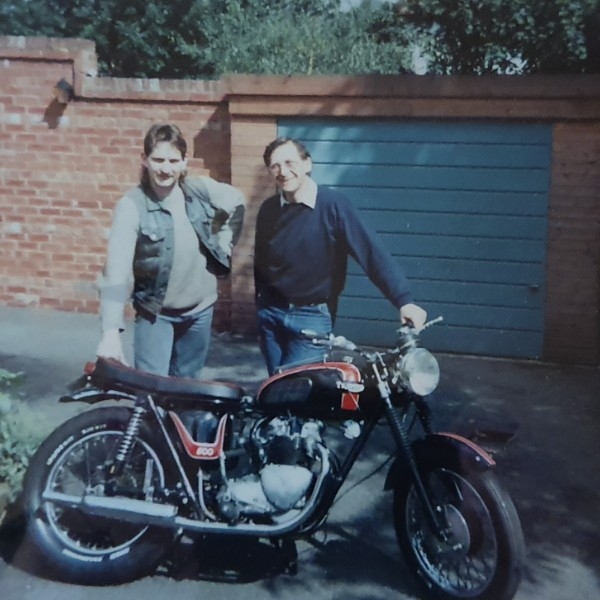 On the 7th June this year, after a very short battle with cancer my father died. We'd expected him to live forever as you do i suppose. But within a few short months of being diagnosed, this awful disease took another life.
Sunday 20th
It's hoped that by the fund raising, research and better awareness around men's health that many lives can be saved in the years to come. Please do what you can to help.
I'm Riding Solo for Men's Health in The Distinguished Gentleman's Ride
Monday 31st
On Sunday the 27th of September, I'm riding solo in The Distinguished Gentleman's Ride with fellow men and women across the globe to raise funds and awareness for prostate cancer and men's mental health on behalf of Movember.
Men die on average 6 years earlier than women and for largely preventable reasons. The number of men that are suffering is growing, and we need to do something about that. So, before I press my tweed and polish my boots, I'm asking you to join me in raising funds and awareness for these causes by donating what you can for this meaningful cause and to help the men we love, live happier and healthier lives.
My Sponsors
---
What a lovely thing to do, Albert would be proud to see you on his bike.
$135 USD
A great cause. (And a great bike!)
$81 USD
Enjoy the ride Laurence, hope it all goes well.
$80 USD
Good luck Laurence, glad you've chosen the more reliable bike!
$67 USD
Good luck Loz. For your dad. He'll be with you. Look after the bike!
$67 USD
Ride proud my friend and be sure that with a twist of the throttle and every shift of the gear he will be along side in the wind over ear. The Sykes's
$67 USD
Well done Laurence, a worthwhile cause & great way to honour your dad. Keep the shiny side up & rubber side down!
$67 USD
Fab cause! Enjoy the ride
$54 USD
So proud of you dad and Granda would be too! Good luck and lots of love xxx
$53 USD
Great cause, best of luck and enjoy!
$53 USD
Great cause, enjoy the ride.
$34 USD
So proud of you dad! Granda will be riding along with you I'm certain! Ride safe! Kim and Phil xx Have a lovely bike ride Grandpa, love you lots, Freya xx
$34 USD
Good for you Laurence! Well done for taking this challenge and raising awareness. Your dad will be with you in spirit and will be so very proud of you!!
$33 USD
I love it that you're going on your dad's bike! Have a great ride Laurence x
$32 USD
Great cause Laurence - Good luck with it!!
$32 USD
Well done Laurence and have a fab ride, proud of you xx
$27 USD
Great cause. Enjoy your adventure
$27 USD
enjoy the ride on your fathers fine looking motorcycle
$26 USD
Have a great ride mate. It's for a good cause and I'm sure your Pops would be proud and watching over you.
$25 USD
Lovely thing to do Loz in memory of your dad xx
$15 USD
How fabulous to do this in memory of your father. Great cause. Cherish every moment.
$13 USD
Have a great ride and don't end up like Paddington 😀
$13 USD
Thank you Laurence. Your efforts are greatly appreciated for a worthy cause close to my heart. Sincerely yours Norah.
$13 USD
Look like a perfect day for it. Well done on raising so much for such a worthy cause.
$13 USD
Good luck have a safe ride
$13 USD
I'm sure your dad will be there in spirit and chuffed to bits at you doing this on his bike. Enjoy and ride safe xx
$13 USD
Good luck Laurence, a great cause!
$13 USD
All the best Laurence! Enjoy your ride xx
$7 USD
Had to get you to your target! Proud of you dad xxx
$7 USD
Hope weather is better good luck and enjoy
$6 USD