---
THANK YOU
Tuesday 23rd May 2023
It was a great experience, I'll never wear proper protective gear again :)

What a friendly bunch of people, great craic and 300 fantastic bikes. I've never ridden in such a pack before, it was enormous fun and I'm looking forward to 2024.
Thanks to your generosity I exceeded my fundraising target and raised the second highest amount of any rider in Newcastle.
On Saturday I went for a ride out and stopped at a cafe. By chance, I met a man who has been living with prostate cancer for the last fours years. He said he wished he'd gone to the doctor earlier... The £20k from the Newcastle ride will add to the millions worldwide to raise awareness of prostate cancer and help men's mental health. Thank you all.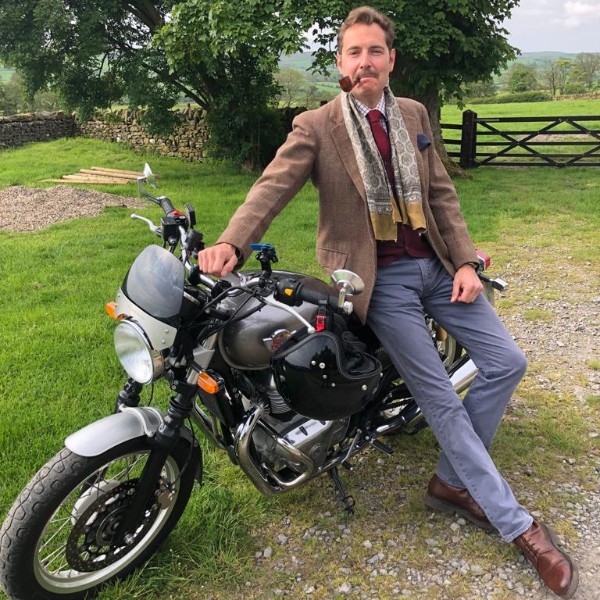 Last minute preparations complete
Saturday 20th May 2023
Shaved off my beard for a more spivvy, aerodynamic vibe. Just look like my grandfather now...
Thanks to all my very kind donors, I have met my fundraising target of £500. There are now almost 300 riders joining me in Newcastle tomorrow, and the event total stands at £16k.
See you at Triumph in the Toon at 1100 tomorrow!
Test rode in Tweed
Friday 14th Apr 2023
I was off the week before Easter, so took the opportunity to test the option of smart clothes over protective gear. Many learnings occurred on the journey:
1) A shirt and jacket over a leather jacket is bloody cold. Needed thermals
2) I could hardly move my arms, which is suboptimal for control of a bike
3) Ties need to be pinned or clipped, otherwise they flap madly around your face which is also undesirable
Back to the drawing board!
I'm Riding for Men's Health in The Distinguished Gentleman's Ride
Wednesday 29th Mar 2023
On Sunday the 21st of May 2023, I'm riding in The Distinguished Gentleman's Ride with fellow men and women across the globe to raise funds and awareness for prostate cancer and men's mental health on behalf of Movember. Men die on average 6 years earlier than women and for largely preventable reasons. The number of men that are suffering is growing, and we need to do something about that. So, before I press my tweed and polish my boots, I'm asking you to join me in raising funds and awareness for these causes by donating what you can for this meaningful cause and to help the men we love, live happier and healthier lives.
My Sponsors
---
Bon voyage Barra and ride safe. I think the cause is a very good one tho I might be a bit biased.
$52 USD
Please send plenty of photos. Great cause and enjoy the convoy!
$49 USD
Well done in advance. Please ensure you're unscathed for next week's work - your project needs you!
$32 USD
Good luck boss... very tempted to spend a day in Byker to offer suitable 'encouragement' as you pass!
$31 USD
Great cause. Great photo op. Enjoy.
$26 USD
Good Luck! I trust you will ride in tweed.
$26 USD
Congratulations on passing your fundraising target!
$13 USD
I trust you will also be sporting a handlebar moustache? Good Luck Mr B!
$13 USD
By sponsoring you that means I defo get a cheesy grin picture.! Well done and look forward to hearing about it
$13 USD
Can't wait to hear about this!
$13 USD