Total Raised
$3826
First Year
2022
Total Events
1
My Blog
---
Just 23 Days Left
Saturday 30th
Finaly carved out time to change the oil in the Tiger in preparation for the DGR 2022. Even put my bride on the back for a couple of photos.
We're excited to particpate in the DGR this year and eoncourage our firends to invest in men's health by making a tax deductable donation.
We'd love to count you among our supporters!
Thank you #DGR and #TriumphMotorcycles!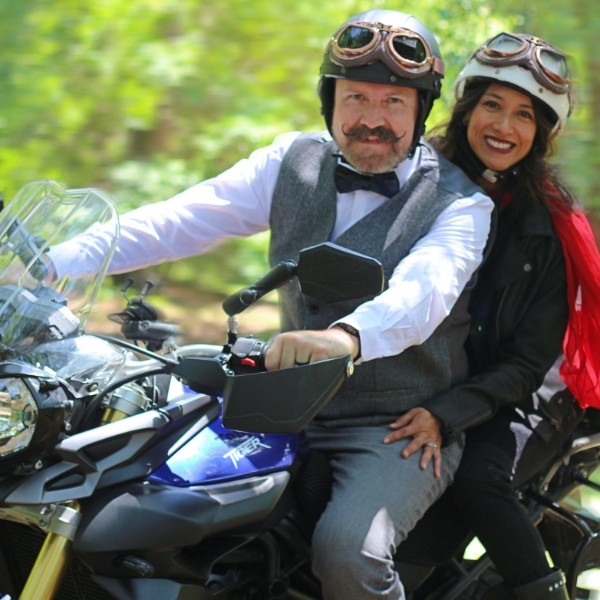 I'm Riding for Dick in The Distinguished Gentleman's Ride
Sunday 10th
On Sunday the 22nd of May 2022, I'll be riding my Triumph motorcycle in The Distinguished Gentleman's Ride (DGR) in memory of my grandfather Richard "Dick" Ferbrache, who died of prostate cancer. He lost his fight in our family's living room which we had set up as a make-shift care facility with the help of hospice. I'll never forget the tortuous pain he endured his last few months of life, and the mix of emotions the family felt when he lost his battle.
The DGR, sponsored by Triumph Motorcycles LTD, encourages men and women around the world to come together annually on the same day to raise funds and awareness for prostate cancer and men's mental health on behalf of Movember, the leading charity changing the face of men's health on a global scale. 2021 saw 65,000 riders across 116 countries (in 913 cities) participate.
Men die on average 6 years earlier than women and for largely preventable reasons. The number of men that are suffering is growing, and we need to do something about that. So, before I press my tweed and polish my boots, I'm asking you to join me in raising funds and awareness for these causes by donating what you can.
Your donation will go directly to help fund prostate cancer research, which we hope will one day prevent other families from the heartbreak of a hospice nurse waking the family in the middle of the night to tell them his fight is ending and it's time to say goodbye.
Thank you for helping the men we love, live happier and healthier lives.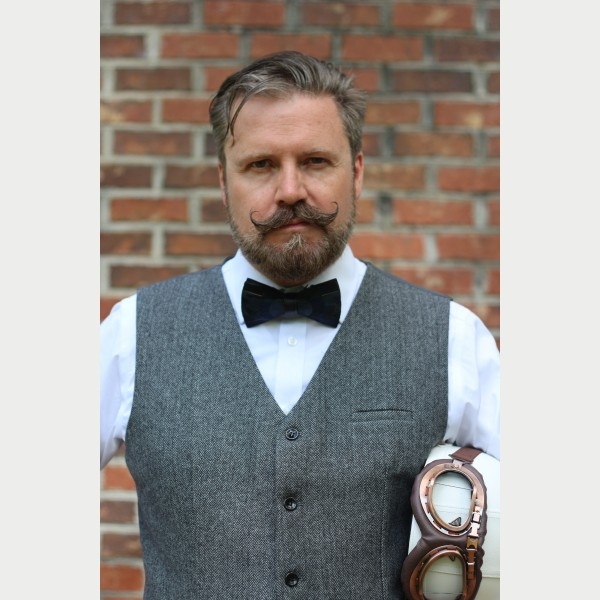 My Sponsors
---
I'm proud of my son Jeff LaRue for participating in this fundraiser to hopefully eradicate this painful cancer. Dad was very healthy all his life and maybe that is why we didn't notice the signs of prostate cancer until it was too late, it had spread. Eventually it consumed his lungs, bones and surrounding organs. The pain he suffered was excruciating until the end. Please assist in this fight so your loved one doesn't go through the hell Dad went through. Thanking you in advance!
$260 USD
Troy & Heather Gerspacher
Proud of you but can't wait until you shave
$255 USD
It wouldn't let me donate $250.01, so $251.00 it is. Ride carefully, my friend.
$251 USD
Glad to support this fundraiser for prostrate cancer research, as I have some family and friends who have been touched by this disease.
$251 USD
Hey Jeff. Great stache! Thanks for raising money for a great cause!
$115 USD
I lost my Dad, Fred, to prostate cancer in 2018 at just 68 years old. His birthday is May 22 so I feel like the universe is speaking to me. Early detection gave us so much more time so guys, go get tested. Safe ride, Jeff! Thanks for doing this.
$104 USD
Sounds like a fun ride for a good cause!
$104 USD
This is an awesome event! We hope it is a huge success! Stay well!!
$104 USD
Mens Health: Growing Crops✅ Owning Chickens✅ Owning A Dog or 2 ✅ Happy Family✅ A few Horses✅ Beer on the Weekends✅ Great Neighbors✅ Ride for the cause…… 💥 You can do that one for us!! Be safe and enjoy your time.
$61 USD
My dad is a 18 year PC survivor. Looks like you had a great ride!
$61 USD
We're so proud of you for being a part of this amazing ride and working so hard to donate to this important cause! ❤️
$59 USD
Great pictures! Have tons of fun and safe travels! Thanks for your efforts to raise funds for a most worthy cause!
$52 USD
Great cause, especially since I am a proud and lucky PC survivor! Thanks for doing this. - Neighbor Jimmy
$52 USD
Have a fun and safe ride Noble of you to do this
$52 USD
Thanks for riding! Miss you!
$52 USD
Happy to support this cause!
$21 USD