My Blog
---
Kieler Nachrichten, Ostholsteiner Zeitung 16.9. `20
Thursday 17th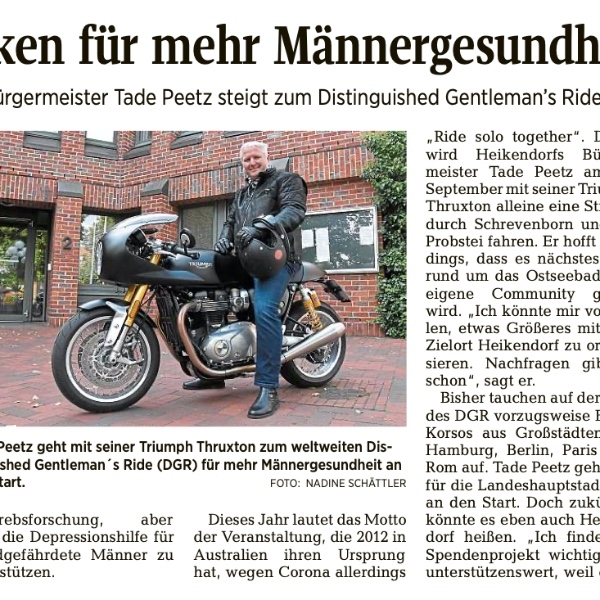 Warum fahre ich beim DGR 2020 mit?
Monday 24th
Der DGR ist eine sehr schöne Möglichkeit, das Angenehme mit dem Nützlichen zu verbinden - viel zu viele Männer vernachlässigen die Prostatakrebsvorsorge, verrecken elendig an dieser verbreiteten Krankheit oder kranken an Selbstzweifeln und gehen an selbst gemachten oder vermeintlich von anderen an sie herangetragene Kritik kaputt - head down, hold on - lasst uns am 27. September auf der ganzen Welt unsere Ausfahrt denjenigen widmen, die sich körperlich oder mental am Ende fühlen!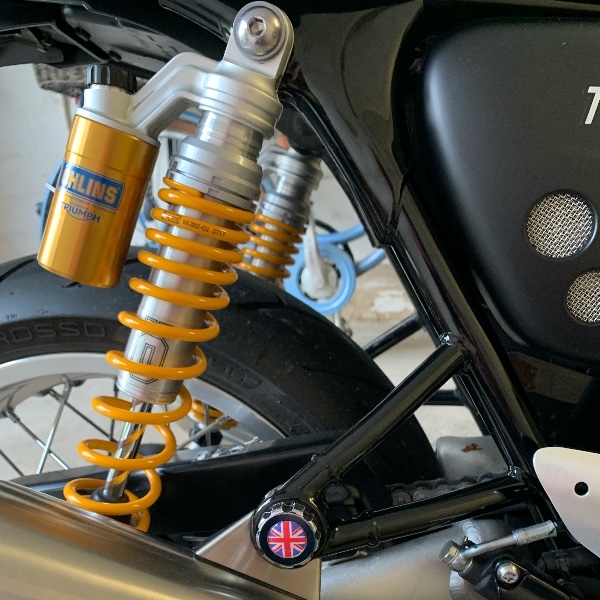 I'm Riding Solo for Men's Health in The Distinguished Gentleman's Ride
Monday 10th
On Sunday the 27th of September, I'm riding solo in The Distinguished Gentleman's Ride with fellow men and women across the globe to raise funds and awareness for prostate cancer and men's mental health on behalf of Movember.
Men die on average 6 years earlier than women and for largely preventable reasons. The number of men that are suffering is growing, and we need to do something about that. So, before I press my tweed and polish my boots, I'm asking you to join me in raising funds and awareness for these causes by donating what you can for this meaningful cause and to help the men we love, live happier and healthier lives.
My Sponsors
---
Bin als Urologe und Motorradfahrer (Triumphfan) gerne dabei. Beste Grüße, Friedhelm Kaup
$122 USD
Der Kampf gegen den Krebs ist so wichtig. Danke für alle Aktivität!
$116 USD
Tolle Idee. Viel Erfolg. Ich weiß die Bemühungen als Betroffener zu schätzen.
$58 USD
Ich wünsche dir eine schöne, sonnige Ausfahrt für diesen guten Zweck!
$51 USD
All good things are three.
$35 USD
The sky is the limit. Captain Jean-Luc Picard
$34 USD
Bleibt gesund. Stay healthy Greatings from most beautifully Preetz ,North Germany
$25 USD
Aber nicht ohne Helm, du Schelm.
$25 USD
"Wir ridern easy über Berg und Tal, Stoppen kann uns nur ein Begrenzungspfahl"
$25 USD
Wir sehen uns am Sonntag, egal, wie das Wetter ist....
$23 USD
Head down - Hold on... viel Spaß!
$23 USD
Viel Spaß und super wie du immer bei allem dabei bist.
$21 USD
Danke für den super Geschichtsunterricht, bis 2007, Realschule Heikendorf. Die Linke zum Gruß!
$12 USD