Total Raised
$256
First Year
2017
Total Events
3
My Blog
---
Start Me Up
Wednesday 11th
The bike is buttoned back up after installing new battery leads and a starter. I turn on the only appropriate song to play as I attempt to turn the 50 year old motor over & see if the effort I did paid off. Rolling Stones - Start Me Up. I let the first couple guitar lines play and wait till Mick asks "If you start me up".
A quick push on the starter button and the motor turns over faster than I've ever experienced with the electric start! Bing CV carbs release the correct amount of fuel into the combustion chambers of the 750cc boxer twin and the 50 year old BMW R75/5 roars to life and settles into the classic boxer sewing machine sound at idle.
A quick test ride to ensure everything is in working order & I'm reminded of why riding a vintage bike is so special. It's not a lot of horsepower, barely 50 when new, likely much less now. The drum brakes are more of a suggestion rather than a reliable tool to slow the bike. The suspension isn't a modern computer controlled damping affair, so bumps can upset the chassis easily. So, you take things a bit more slowly. You focus just on motoring down the road with no preconceived notions of arrival time or perhaps even a destination. That road to the left looks interesting you say to yourself as you downshift and make the turn on to it. Where it leads, you don't know, but you'll love every mile those 2 wheels allow you to cover with a feeling of being transported back to a much simpler time, long before computers were in your pocket or posting to social media was a consideration.
It's cycle logical I know, but vintage is special. Ride Dapper! #dgr2022 #gentlemansride #bmwr75_5 #ridedapper #movember
A tale of Two Starters
Wednesday 4th
What has 8 teeth & 50 years of oxidation & wear & tear? An original Bosch starter from a 1972 BMW R75/5. Weighing in at 4537 grams, the original Bosch unit was no lightweight. It also draws a lot of amps from a relatively small 170CCA battery. After 50 years of use, the original starter struggles to perform its duties on the bike, especially when the engine is cold. Starting procedures involve opening the petcocks, engaging the choke, moving the kick starter thru it's cycle a few times to get some oil moving, praying that the Germanic pagan god of mischief, Loki, is nowhere to be found and then holding in the clutch and stabbing the starter button. Of course, the motor barely turns over or you get a clicking sound as it draws too many amps and Loki has his revenge. You resign yourself to having to start the motor completely with the kick starter and regret you skipped working out this week trying to overcome the compression of the motor in full riding gear.
With just as many teeth, but fresh from the factory, the Nippondenso starter will be a good stand-in for a defibrillator to restart the heart of the R75/5. Weighing just 2704 grams, it's substantially lighter than the Bosch it replaces at 4537 grams. Modern construction ensures it requires fewer amps than the 50 year old Bosch unit. The starting procedure should improve from an exercise in wishful thinking, pagan ceremony & ultimately futility into a simple stab of a starter button, a quick rumble and cough at the exhaust ending with the motor running.
With just 3 weeks remaining to the DGR, it feels good to be closer to a more reliable running bike for the ride. One can hardly look dapper if you are desperately kick starting your vintage bike.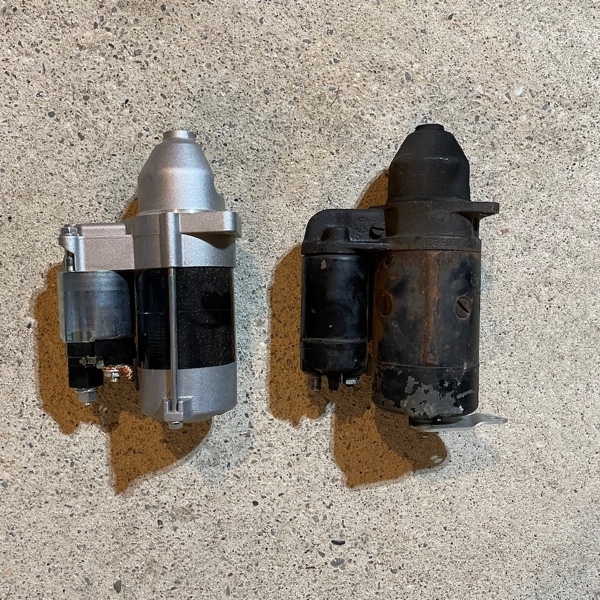 Preparing a 50 year old bike for the DGR
Thursday 7th
This year my 1972 BMW R75/5 will be 50 years old. The motor runs very well, but the electrics are a bit more cranky. The starter is slow to start and drains the battery quickly.
So, the bike is apart right now as I diagnose the issue. I've replaced the main battery leads and that helped a bit, but the starter still has a high amp draw. This isn't unusal with the original Bosch units. I've ordered a Nippondenso starter as a replacement.
The /5 was the first BMW motorcycle with an electric starter, so it wasn't quite as perfected as later bikes.... thus why it retains the kick starter and probably why mine has slowed down after all these years. It also marked the movement of production from Munich to Berlin where most current BMW motorcycles are built.
Aside from the vintage appeal of these old bikes, the simplicity makes them easy to work on. For example, the /5 has Bing CV carburetors fed via gravity from the fuel tank. Points and the twin 6 volt coils bump this up to 12 volts from the earlier 6 volt BMWs to provide ignition.
In it's day, the /5 was considered a performance BMW, especially in the 750cc variant I have. It was claimed to produce 50HP when new, I doubt it still is close to that now. Unlike modern bikes with hydraulic disk brakes, this bike is fully cable actuated drum brakes front & rear. While you don't need to replace brake fluid.... panic stops are best avoided with this setup, so a more leisurely pace is more appropriate.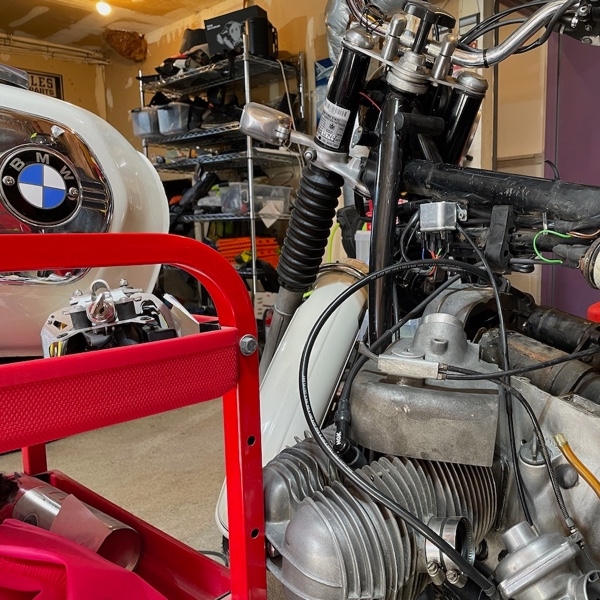 Join our team as we ride for The Distinguished Gentleman's Ride!
Monday 28th
On Sunday the 22nd May 2022, we are teaming up to ride in The Distinguished Gentleman's Ride with fellow men and women across the globe to raise funds and awareness for prostate cancer and men's mental health on behalf of Movember. Men die on average 6 years earlier than women and for largely preventable reasons. The number of men that are suffering is growing, and we need to do something about that. So, before we press our tweed and polish our boots, we are asking you to join us in raising funds and awareness for these causes by donating what you can for this meaningful cause and to help the men we love, live happier and healthier lives.
My Sponsors
---
A worthy cause indeed. Ride on.
$21 USD
Great Cause Niels! Ride Safe
$21 USD