My Blog
---
Misty Morning in Herning
Saturday 19th
I've been so lucky to have had so many sunny and beautiful days, it was inevitable to have a wet morning. But as the Danes say, 'There's no such thing as bad weather, just bad clothing.' Luckily my gear is doing the job.
So given the weather, it was cappuccino time in Herning at Aroma. Fresh baked bread, rolls, pastries and great espresso coffee is the specialty here. And it's got that cosy Scandinavian feel - light coloured wood furniture, candles, white walls, and the obligatory animal skins thrown across several comfy chairs for extra 'hygge.'
And for a little Canadian feel, apparently Herning has a hockey team in the national Danish league. Mental note: Google hockey teams and season schedule :)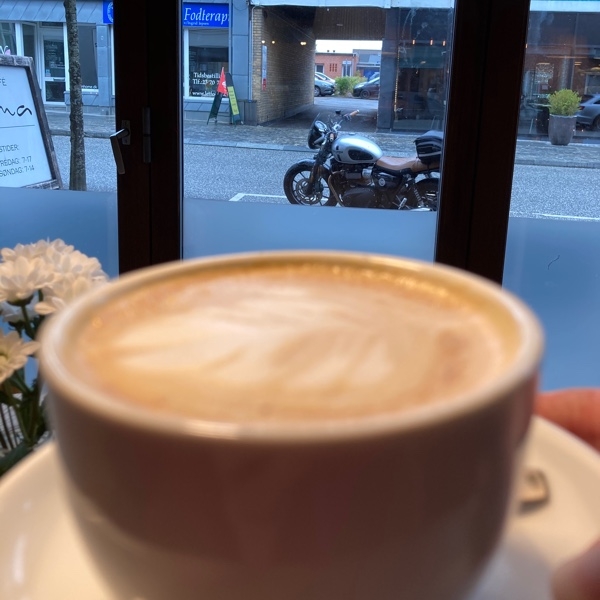 Espresso in Esbjerg - East to West Coast of Jutland and back in a Day
Friday 18th
Looking out to the North Sea, Esbjerg is the second largest harbour in DK after Copenhagen, and you can't miss it. On the way in, I passed a storage area of at least a hundred wind turbine propellers laying on the ground - those things are huge! - as well as countless shipping containers in the distance. But all in Esbjerg is not sea port and shipping!
A lovely Rådhus (City Hall) adorns a large city centre, and the obligatory patios are indeed there. A massive Musikhuset, a music conservatory and university satellites are also around town. But … it was a little more difficult than I expected, for the largest city on the west coast, to find a cozy espresso place. ...
After about 40 minutes of riding through the city centre's often one-way and mostly pedestrian streets, I finally settled on the reliable cafe chain, simply known as Espresso House. A few notches above the standard coffee chains we know too well in North America, it does the job in a typical European way - so no complaints. And I managed to ride right up to the front door this time as well!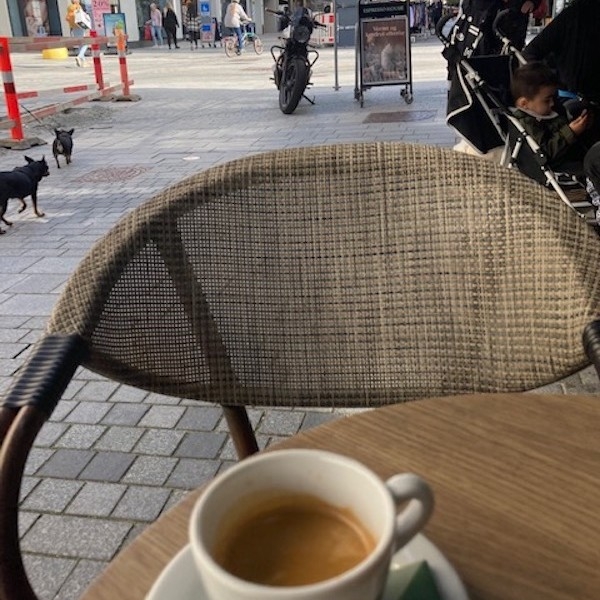 Half-way to the North Sea is The Royal Cafe
Friday 18th
A brief pit-stop in Grindsted, about in the middle of Jutland, makes for a pleasant late morning coffee. Royal Cafe is the perfect spot. Couldn't get my bike right up next to the patio this time due to the construction work closing the road to vehicles, but once they finish it will be a great stop for bikers.
Onwards to Esbjerg!
A quick stop in Juelsminde for a Moto-Espresso
Wednesday 16th
On the way home from Silkeborg, why not stop in Juelsminde?
It was a perfect end to the day on the patio at Kaas & Co. It's a peaceful and cosy spot in this beach vacation town, just a couple of hundred metres from the busy beach. Kaas … is super friendly with a beautiful shop that is part gift shop, part curiosity shop, part espresso cafe. The only thing missing was swim in the fjord!
Mental note: bring swimming trunks next time.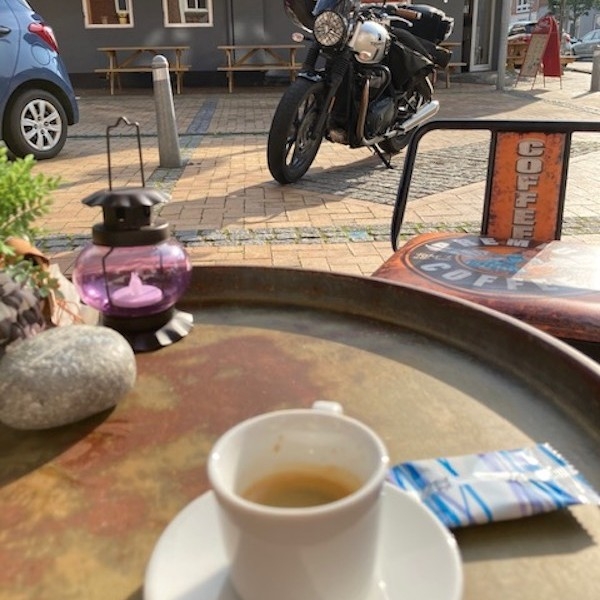 Moto-Espresso Tour checks out Silkeborg
Wednesday 16th
Cappuccio Kaffe og Kultur in Silkeborg was the next stop on the Moto-Espresso Tour around Jutland.
What a beautiful ride, about 50km from home-base Horsens, and of course I took the very-long-way home, for roughly a 180km tour today. Denmark is a motorcycle rider's dream. Perfect roads and beautiful sights all over.
Well worth the trip, Silkeborg is a relatively smaller city but has plenty of pedestrian streets and lots of cozy cafes and restaurants (as well as a football club in the Superliga). I managed to get the bike right up next to the patio for this one :) Cappucio ... is a little bit of Italy in Northern Europe.
This week feels like summer again, so I must take advantage of the perfect weather to go far and wide over the next few days! Expect more posts this week as the tour continues!
Coffee fit for the Gods! Skål, Jelling!
Thursday 10th
Moto-Espresso Tour Around Jutland goes to Cafe Sejd, Jelling

As the sign says, 'Guddommelig Kaffe,' the cortado is indeed 'divine.' A better translation might be 'Godly Coffee' or even better, 'Coffee fit for the Gods.' And the gods may be near.
Jelling has ancient Viking burial mounds which contain 10th century kings, the first of which was Gorm the Old. Quite a sight with the 'new' (12th century) Christian church popped right in between the mounds.
Cafe Sejd, you are divine!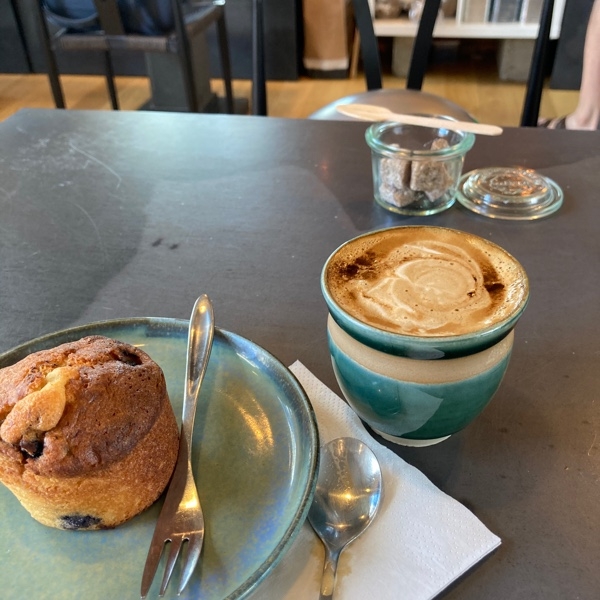 Next stop: GRUS Horsens
Wednesday 26th
With all the looking outwards lately, I nearly forgot to mention something only 5 km away! Simply called 'GRUS,' this is a small but busy hangout with daily/nightly public events ranging from wine nights to arts and creative club meets. It has a nice local and student vibe, and you can get a beautiful espresso and croissant that rivals any French place I've been to. Free parking directly across from the small patio adds to the motorbike appeal.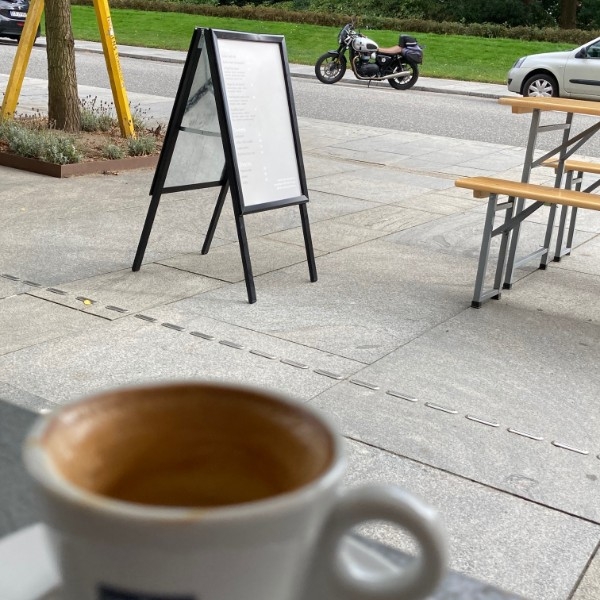 Moto-Espresso Tour around Jutland goes to Kolding
Monday 17th
Ok, it was actually a cappuccino - I needed a little more foam today. But there are so many great spots in this beautiful and historic city, not to mention a huge castle as well, which is now a museum.
As I said, there are so many beautiful cafes in Kolding, but Cafe Razz was the eventual destination. It's a lovely spot with excellent coffee and a large yet cozy patio, somewhat enclosed by the surrounding buildings. There is an extensive menu and great draught beer, wine, and more.
Apart from the coffee, the rides and landscapes in this area of Jutland are never disappointing. One thing: use GPS if you're in Kolding - there are so many one way streets in the centre, but plenty of parking. Thank you, Kolding!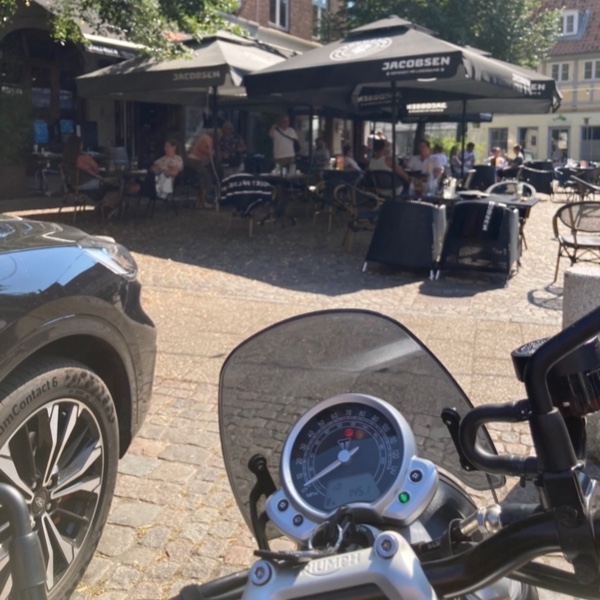 Cafe Brejning makes the List
Saturday 15th
Moto-Espresso Tour across Jutland continues, last Sunday 9 August, in Brejning, half way between Vejle and Fredericia.
A really nice surprise. Brilliant espresso, plus local draught beer and nice looking food. And it's next to the local pizza/kebab shop in case that's the ticket.
Great winding roads to and from Brejning, as well, so well worth the ride.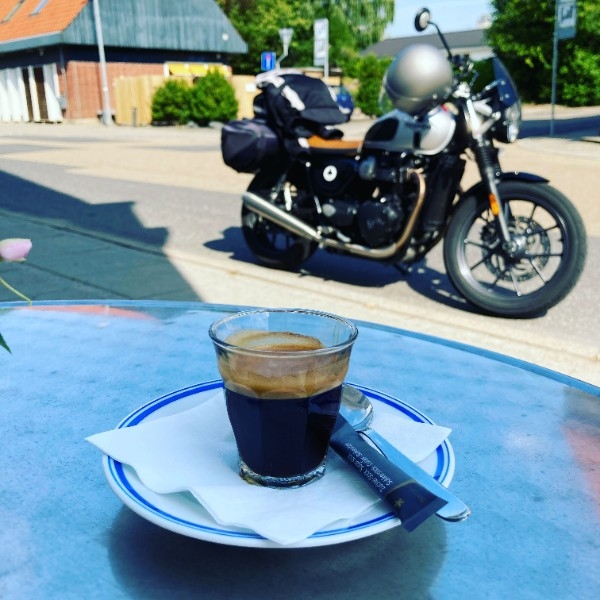 Moto-Espresso Tour around Jutland continues
Friday 7th
In my new project to map the best espresso places in Jutland, Blas Kaffe og The in Odder was yesterday's destination.
A short trip, but a beauty along the north side of Horsens Fjord. Very good espresso. Well worth the trip. Blas definitely makes the list!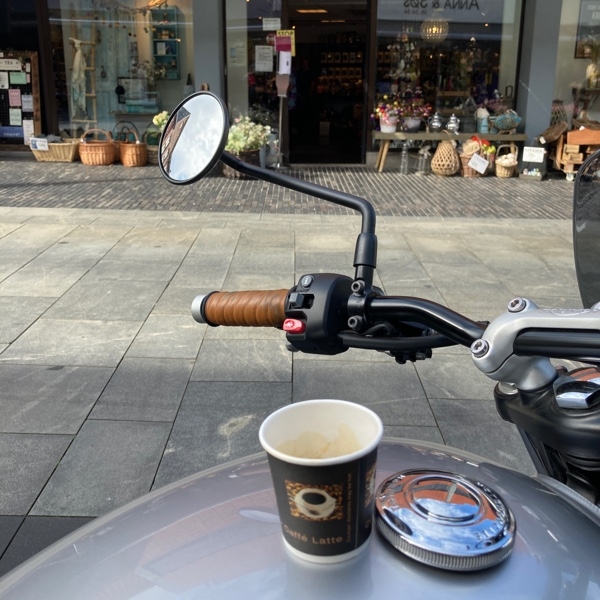 Loving Euro Motorcycling
Tuesday 4th
A little afternoon trip to Vejle for an espresso, followed by a beautiful tour around the coutryside.
Mange tak, Vejle! Vi ses!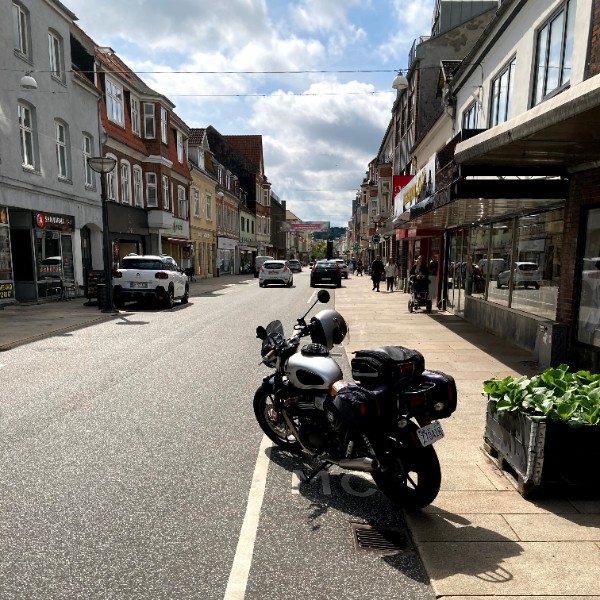 First ride in the new land
Tuesday 4th
Everything was perfect out of the truck. Fuelled up, and out for the first European ride.
Here we're looking out onto Kattegat bay at Juelsminde havn. Great fresh fish and local Danish beer (for after the ride)! Time to explore the area, and these amazing windy roads!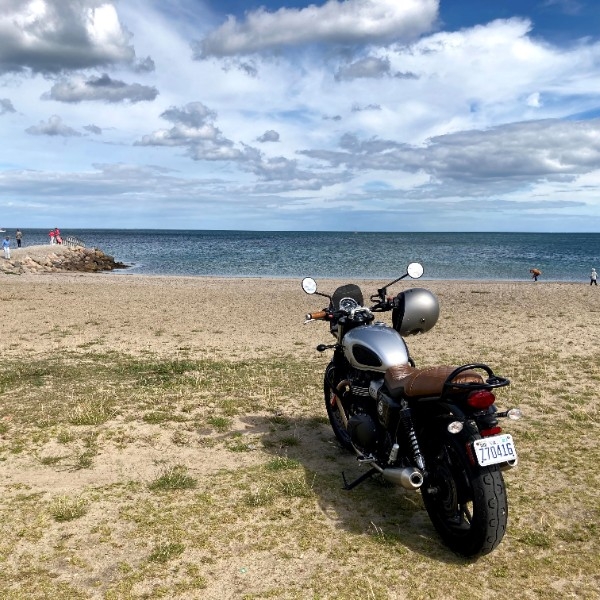 My bike finally arrived!!!
Tuesday 4th
After five weeks without her, she finally arrived in Denmark on the truck!
Platinum, in the US, and Move-it, in DK, handled the bike beautifully (despite being a little cramped, under several blankets and next to all our stuff, all was good - absolutely relieved!).
Now time to check all fluids, cables and tires.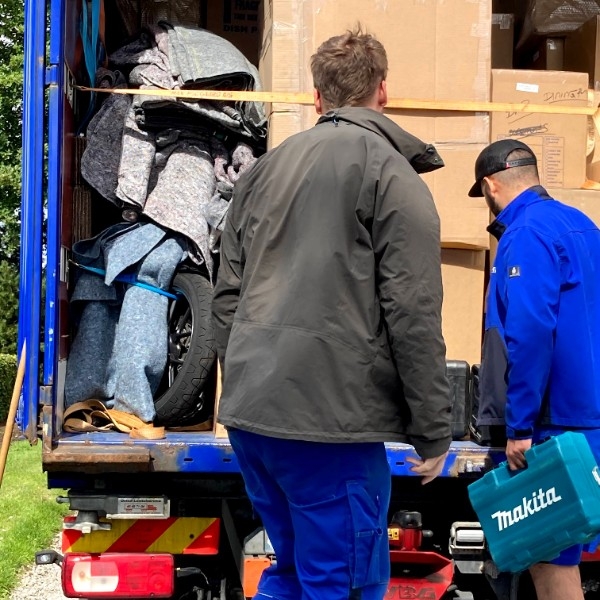 I'm Riding Solo for Men's Health in The Distinguished Gentleman's Ride
Monday 3rd
On Sunday the 27th of September, I'm riding solo in The Distinguished Gentleman's Ride with fellow men and women across the globe to raise funds and awareness for prostate cancer and men's mental health on behalf of Movember.
Men die on average 6 years earlier than women and for largely preventable reasons. The number of men that are suffering is growing, and we need to do something about that. So, before I press my tweed and polish my boots, I'm asking you to join me in raising funds and awareness for these causes by donating what you can for this meaningful cause and to help the men we love, live happier and healthier lives.
My Sponsors
---
Hope you reach your goal Robert.
$123 USD