My Blog
---
Stick-it to Cancer
Tuesday 11th
We appreciate all the love and donations we've been getting from friends and family to raise money for men's health and prostate cancer.
To show some appreciation - I've made some 2020 F*ck Cancer stickers for everyone who donates to our fundraiser. I'll be reaching out in the next couple weeks to everyone who donated to get mailing addresses so I can send you a sticker.
We also thought it would be a cool way to represent Roger (my father-in-law) with his initials (rst) in the design. Roger is responding well to his chemo these days and enjoyed a feast of pork shoulder this weekend on our deck.
If you donate - DM me your mailing address.
I will start shipping mid next week when they arrive.
We will also be doping a custom skate deck and a custom illustrated helmet that we will raffle off to two lucky winners in September. More cool prizes coming.
Thank you all for giving to a good cause.
Erik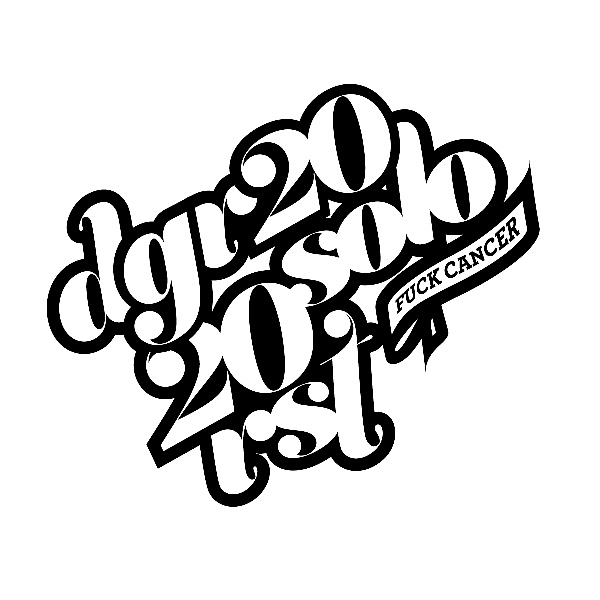 I'm Riding Solo for Men's Health in The Distinguished Gentleman's Ride
Sunday 9th
On Sunday the 27th of September, I'm riding solo in The Distinguished Gentleman's Ride with fellow men and women across the globe to raise funds and awareness for prostate cancer and men's mental health on behalf of Movember.
Men die on average 6 years earlier than women and for largely preventable reasons. The number of men that are suffering is growing, and we need to do something about that. So, before I press my tweed and polish my boots, I'm asking you to join me in raising funds and awareness for these causes by donating what you can for this meaningful cause and to help the men we love, live happier and healthier lives.
My Sponsors
---
Erik, All the best on your fundraising efforts and to Katie's dad on his battle with prostrate cancer. Enjoy the ride, Jamie
$500 USD
Together we will defeat this ugly enemy. Keep up the fight
$262 USD
Yo, gotta have rounded numbers... let us correct the weirdness. #F'Cancer! Great cause, great Organization, Great Peeps! 🍻 Chat Soon, Mekanic
$252 USD
Great work my friend. Cheers!
$200 USD
Hope this helps you maintain a top 2020 Leaderboard position. Thanks for supporting the DGR. www.bdscycles.com
$156 USD
I'm sorry Roger is dealing with that. My best to all of you.
$108 USD
Wishing Roger much strength in his fight!
$104 USD
I think I can... I think I can ... I think I can .....🚂🚂🚂🚂
$104 USD
Pinkies up playboy, keep up the good work!
$104 USD
Hope you get there!!!! All the stops you pulled out ....
$104 USD
Keep up the great work for a great cause
$104 USD
F cancer, happy to support.
$104 USD
Fuck Cancer Bruh! Stay dapper my dude.
$104 USD
Love the videos but I'm sure I'll like the dumplings more!
$104 USD
Good on ya PK. Make sure Ev knows the power of giving. Not karma (I don't believe in that as I see so many good people suffering), but more about care for people you don't even know - yet know they exist.
$103 USD
Your Dapper Parents In Montreal
So proud of you Erik...Rodger we're thinking of you xoxo
$100 USD
Will pay double for a date!
$100 USD
Have a great ride and thank you for doing this and for the opportunity to contribute! Have fun...
$100 USD
Sending our love and support.
$52 USD
Have a great ride and stay dapper!
$52 USD
Nice work buddy. You got with the hot tub vid!
$52 USD
Ride on for a good cause!
$52 USD
Thanks for your efforts!!
$52 USD
The prostate cancer fight is close to my heart as well. Sending healing prayers to Roger and your family. 🙏
$52 USD
Keep up the good work brother
$52 USD
I hate when friends shake each other down for things like this. Like I despise it. But getting into a hot tub in a suit while drinking champagne was amusing and shows your dedication.
$50 USD
Bonjour Erik, Bonne chance et merci d'aider cette grande cause! Claude et Mariette Champagne
$35 USD
Hey Erik, so proud to see how much you've done for the cause! Hope the ride goes as smooth as your donations have been coming in. Good luck with achieving the full goal, you should be very proud and happy of your success so far! Much love, - Kris and Sam.
$35 USD
Thank you for the postcard to let us know about your upcoming ride! We are happy to support your cause and Roger's fight. The Baldwin Family neighbors
$26 USD
Just donating... don't need the skateboard.
$21 USD
good luck buddy. You Katie and her dad will be in my prayers
$21 USD
good luck on your ride and goal
$21 USD
Couldn't be happier to support your ride. #fuckcancer
$21 USD
Here's at a great ride for an great cause!
$21 USD
I hope it was a great ride today. Loved your fundraising videos. Fuck cancer! Lots of love, buddy
$21 USD
Well done! Thanks for doing this!
$21 USD
Way to kick cancer in the a$$!
$21 USD