My Blog
---
And I'm done !
Tuesday 29th
Great day yesterday ;-)
Started quite chilly early on but warmed up well & turned into a gorgeous day. I was escorted, at a suitable distance, by two friends of mine & I thank them for their company. I also press ganged a friend of mine to come & take some decent pictures which I'll try to upload
Thanks to everyone who's donated to my ride. I know things aren't easy for many people at the moment but it's been heartwarming to see your generosity & it gave me a warm fuzzy feeling yesterday as I made my way around some of Kildare's back roads
Although my ride is finished the good work of the DGR organisation continues & there's always a need for more money. If you haven't managed to donate yet it's not too late. The donations pages remain open.....
See you all next year, Jochen
[removed][removed]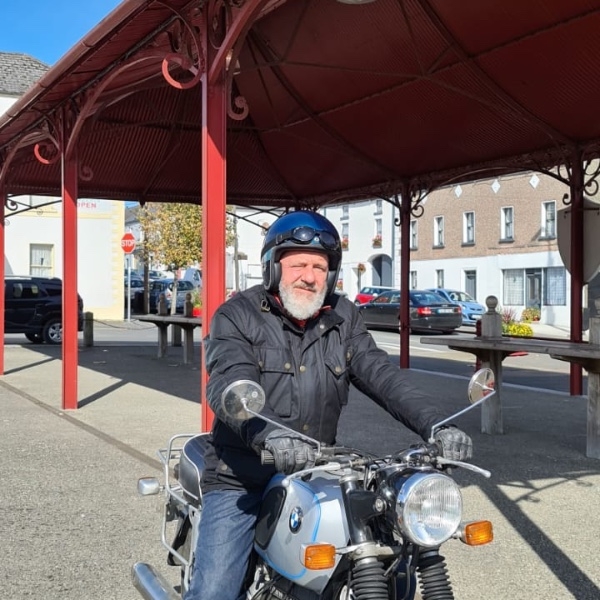 Thanks everyone
Wednesday 23rd
A bit of a late start to the fundraising due to the times that are in it but I'm up & running now
And I have to say I'm very impressed with the support so far. Thank you all so much. Now go & see if there's any loose change down the back of the sofa for this worthy cause 😉
I'm Riding Solo for Men's Health in The Distinguished Gentleman's Ride
Tuesday 22nd
On Sunday the 27th of September, I'm riding solo in The Distinguished Gentleman's Ride with fellow men and women across the globe to raise funds and awareness for prostate cancer and men's mental health on behalf of Movember.
Men die on average 6 years earlier than women and for largely preventable reasons. The number of men that are suffering is growing, and we need to do something about that. So, before I press my tweed and polish my boots, I'm asking you to join me in raising funds and awareness for these causes by donating what you can for this meaningful cause and to help the men we love, live happier and healthier lives.
My Sponsors
---
Hi Jochen,Only too happy to donate for a great cause and best of luck with it
$305 USD
Well done Jochen on another charitable event. We wish you the very best, from all at Pioneer Security and Merrion Security.
$302 USD
Best wishes Jochen. Great to see you doing it again. $$$$$$$
$73 USD
Fair Play Jochen, hope the weather is good to you.
$73 USD
Hope it does not rain while I am there :-)
$73 USD
well done . . . . . again.
$66 USD
Fare Play Jochen, Great Cause, Hope you get the weather and have a great day
$61 USD
Good to see you putting that helmet to good use young man
$61 USD
A great cause.Well done Jochen.
$49 USD
Well done and good luck Jochen
$49 USD
Best of luck Jochen, hope the weather stays dry. Very good cause.
$37 USD
Best of luck Jochen, great cause.
$37 USD
Hope you had a great day, weather was pretty kind too, happy to donate to a great cause, keep er lit!!
$35 USD
Good Luck Jochen, keep 'er lit!
$29 USD
All the best Jochen. Great cause, give it socks!! stay safe. Regards Jay
$24 USD
Best of luck Jochen and a very wordy cause.
$24 USD
Hi Jochen, Great cause. Best of luck with it.
$24 USD
Good luck with the ride. Great to see someone in Dublin participating in this event.
$24 USD
Best of luck on Sunday Jochen, have a great day :)
$12 USD