My Blog
---
A Thank You To My Sponsors (Week 10)
Saturday 3rd
I wanted to say thank you to all my my sponsors. I had an incredible 99 sponsors this year which I think is a record for me. Your collective generosity never ceases to amaze me especially during these uncertain times. Much love to all of you. xo
The Magic of Riding (Week 8)
Saturday 19th
In 2011 my younger brother Scott and I were talking about cars. He had recently started riding and we were talking about the difference between motorcycles and cars. It was during that conversation I realised I would probably never own the cars I read about in Motor Magazine but I could own some very fast bikes! I promplty did my two day HART course, failed it then went back a week later to resit it and passed (lol).
My first bike was a Honda CB400, which I loved for 18 months but I craved a fast bike. From there was a Ducati Streetfighter 848, Ducati Monster 1100 Evo, BMW RnineT, Harley Davidson Dyna Low Rider S, Harley Davidson Fatbob 114, Triumph Thruxton R, Triumph Scrambler 1200 XE and my current rides Kawasaki ZH2 and Suzuki GSX-R750 "Slabbie".
There is something special that riding makes you feel. It makes you smile, it allows you to clear your head, it's an excuse to go on an adventure with no destination. You make new friends through riding too which only expands the support around you.
I can't recommend riding enough, so if you've never tried up sign up for rider training, give it a go and join the community.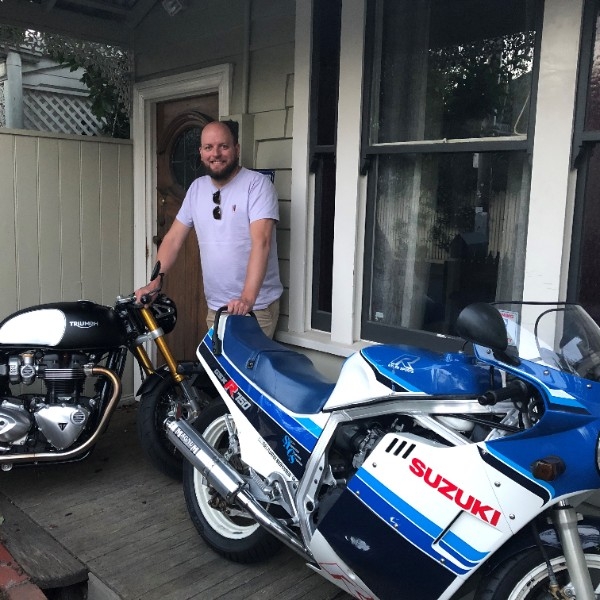 To my colleagues (Week 7)
Saturday 12th
Well, the news was not good last Sunday with Melbourne in Stage IV lockdown for at least another two weeks. Still, it hasn't dampened my spirit or my passion for the cause this year. I'm currently drafting a route on Google Maps of the most interesting ride I can think of within 5km of my house. I've found two other people on my street who will also being doing the ride as well.
This week I would like to give a special shout out to my colleagues at Insurance Australia Group (IAG). I've worked there for 13 years and in that time I've made many friends. It's always been a company with a strong focus on supporting mental health and that comes through in the people that work there as well and how they support one another, particulary this year. They've also been incredibly supportive of DGR year in year out. You guys are the best!
This week's photo is from the 2016 ride. We had a lovely bloke that year that did portraits. I grew a moustache for the the ride that year. This is when Bec and I first started dating so I probabaly owe her a shout out as well for staying with me through this expermental look.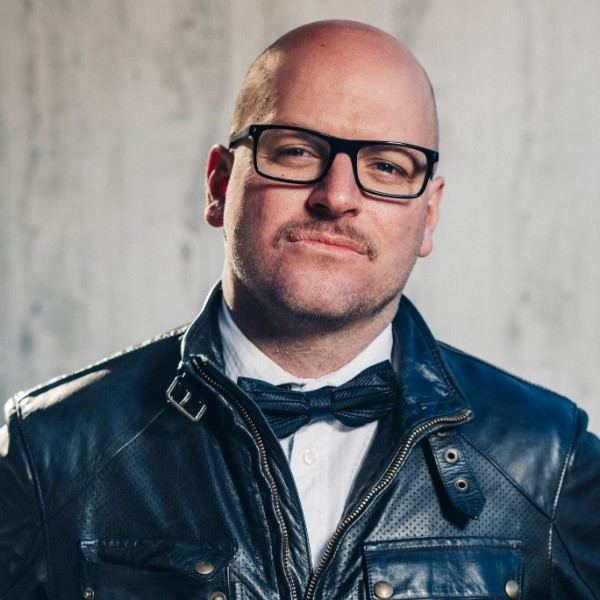 3 Weeks To Go! (Week 6)
Saturday 5th
The ride is only three weeks away now. I'm holding my breath for this Sunday when the Victorian Governement updates us Melburnians on the the plan for easing restrictions. Mental health wise it's been taxing to be in lockdown for this long but I am lucky. Parents are trying to jointly homeschool their childern and hold down a job. Single people are living in almost complete isloation from their friends and family. I've been lucky in having Bec with me and just having to focus on work. I've been reaching out to friends and trying to stay as connected as I can to those that are important to me. Look out for those that are doing it tough, we're nearly there!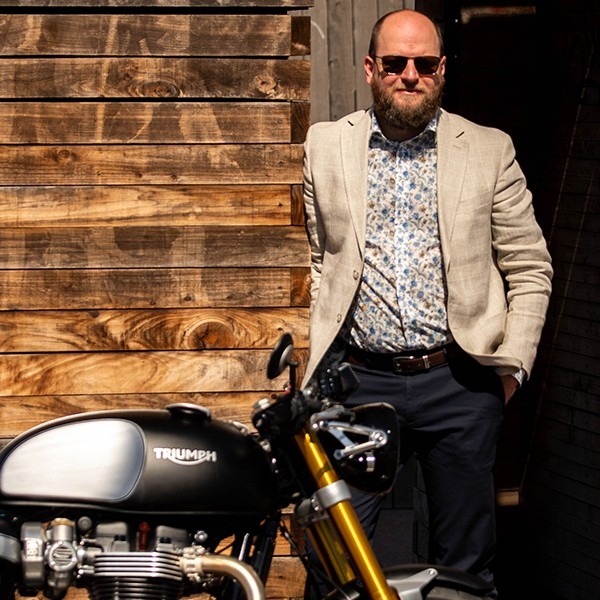 Melbourne (Week 5)
Saturday 29th
My ride is Melbourne. For nearly 25 years I've called this town home. It's a beautiful city that always has something on. Right now though Melbourne is in going through some of the strictness lockdown conditions in world. That being said the spirit of the people here has been great. I've gotten to know my neighbours a lot better. I've gotten to get to know the people who work at and run my local businesses on a first name basis. I've started to appreciate the little things a little more, like a sunny day in my local park. That being said, things will be better again soon and Melbourne will go back to its vibrant self once again. Hang is there Melbourne!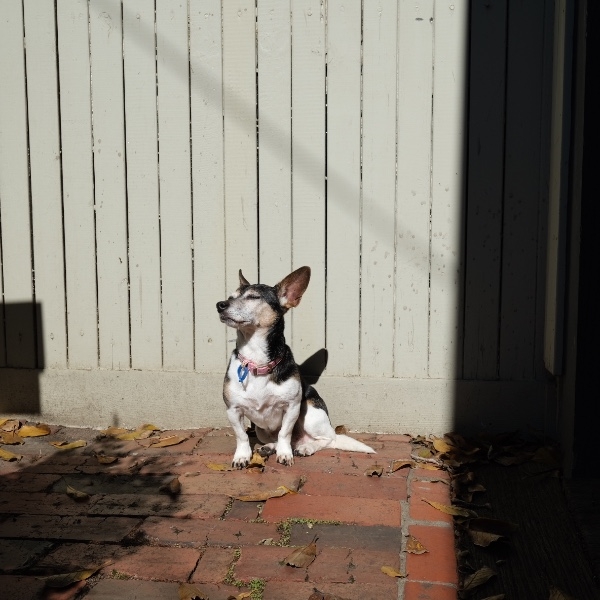 Oh Brother (Week 4)
Saturday 22nd
Everyone who rides in DGR rides for someone. For me one of those people is my younger brother Scott. As an older brother your relationship evolves but deep down you are always your brother's keeper. There are times when life gets busy and you lose connection with what's going on your brothers life. Stay close, listen and make time for your brother. I'm proud of my little brother, particularly how he has handled the last eight months of uncertainty. Scott also got me into riding so this post is for you brother.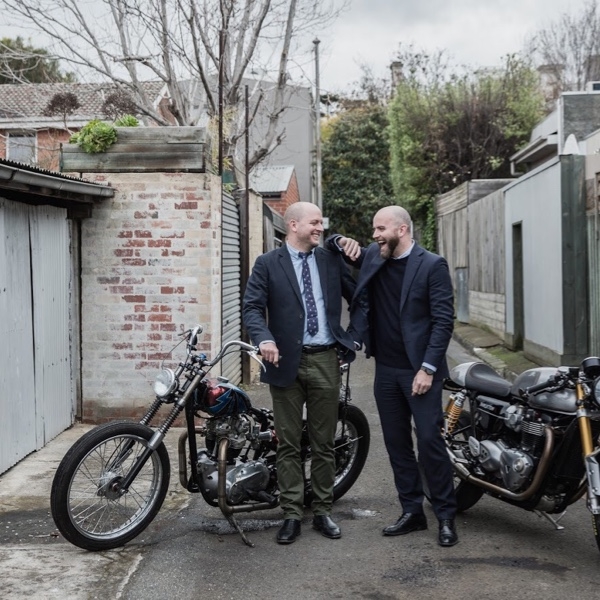 Friends (Week 3)
Saturday 15th
Motorcycles give you an opportunity to meet new people and make new friends. I've been very fortunate to make great friends through riding. Ryan, Scott and Pete are I have become best mates over the years. We all met through a social motorcycle club years ago. We've had many rides, nights out and nights in the garage working on bikes. Beyond the jokes and banter are three guys I know I chat to about life. So this post is dedicated to them! Thanks fellas!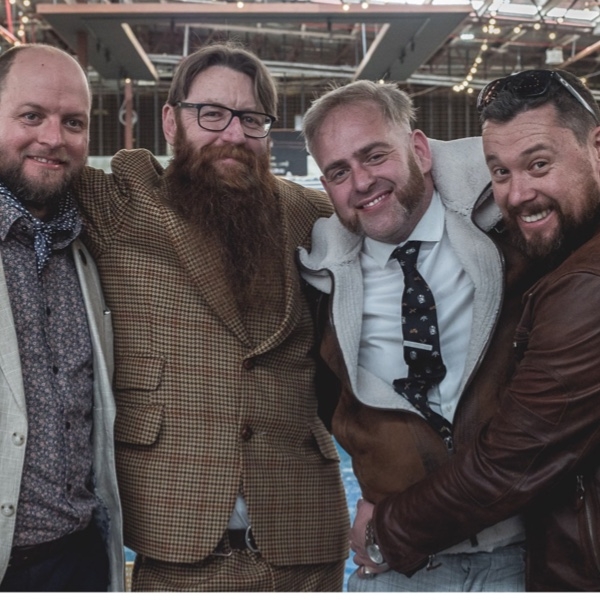 Thanks Mum (Week 2)
Monday 10th
I had a bit of slow start to my fundraising this weekend so it was a really pleasant surprise to get a large donation from my Mum.
I'm very lucky to have two very encouraging women in my life in my Mum and my wife, Bec. I'm even luckier that they both get on so well!
While this is the Distinguished Gentleman's Ride women play a vital part in men's health whether it's someone to talk to when things don't feel like they are ever going to get better or that encouraging voice to go and tell you to get your prostate checked! The support we get from women at the Melbourne ride grows every year, we couldn't do it without them (there also the best dressed on the day).
This week's photo is from DGR Melbourne 2008. That year I owned a Harley Davidson Fatbob 114 so Triumph loaned me this beautiful Triumph Bobber Black with a quarter mile kit. The bigger front forks and dual brembo brake calibre fixed the standard bikes biggest shortcoming (the standard Bobber was underbreaked with a single front brake calipre). For a cruiser, this thing went like a stabbed rat!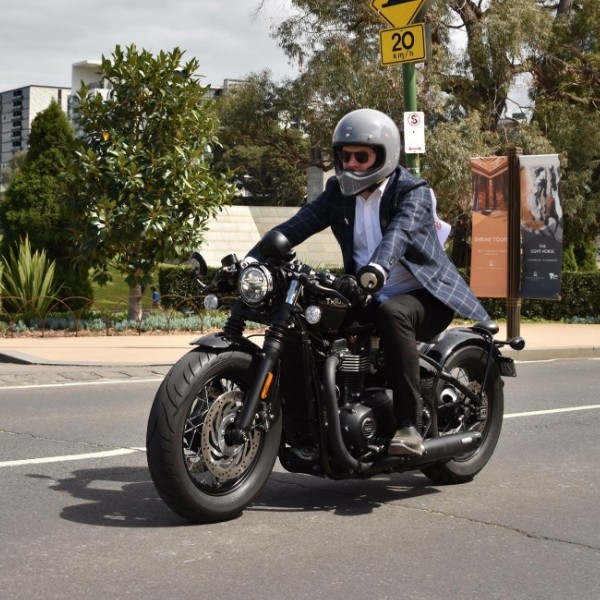 Gentlemen Start Your Engines (Week 1)
Sunday 2nd
Registering for DGR yesterday feels like one of the most normal things I've done in months.
in a way it feels good to have some purpose outside of work and being a husband.
This years ride is going to be a little different as I'll be riding solo for men's health this year. Ususally at this time of the year I would be well into fundraising and the organisation of the Melbourne ride with some of my best mates (Ryan, Scott and Pete).
The show must go on though. Each week I'll commit to updating my blog, posting photos from past events and sharing with you what DGR is all about.
This weeks photo is from last years event outside The Malthouse Theatre.
Thanks for your time and consideration in donating to DGR as one of your charities.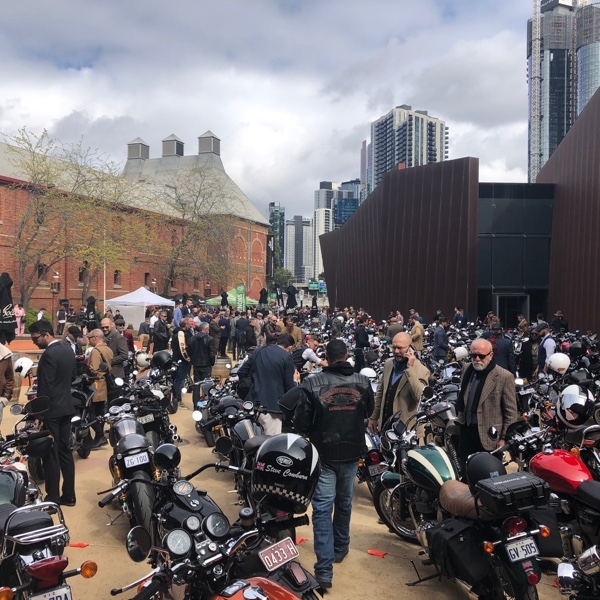 I'm Riding Solo for Men's Health in The Distinguished Gentleman's Ride
Saturday 1st
On Sunday the 27th of September, I'm riding solo in The Distinguished Gentleman's Ride with fellow men and women across the globe to raise funds and awareness for prostate cancer and men's mental health on behalf of Movember.
Men die on average 6 years earlier than women and for largely preventable reasons. The number of men that are suffering is growing, and we need to do something about that. So, before I press my tweed and polish my boots, I'm asking you to join me in raising funds and awareness for these causes by donating what you can for this meaningful cause and to help the men we love, live happier and healthier lives.
My Sponsors
---
Belstaff BMW Jacket, thanks Neil
$236 USD
Keep up the great work mate on this awesome cause!
$145 USD
super proud you are ridings this year even if solo and doing circuits of your neighbourhood
$112 USD
Mark, Good luck with your sponsorship and have a safe ride.
$112 USD
Make sure you ride past Otter's!
$77 USD
You legend Mark! Thanks for raising the awareness of such a meaningful cause. Best wishes!
$77 USD
Awesome Initiative Big Boss!!! You're A Living Legend!!! Keep the Ride On :)
$76 USD
Sensational work as usual MB!
$76 USD
From one handsome bugger to another X
$76 USD
Killing it as always Big Boss! Happy to be a supporter again!
$76 USD
I'm inspired each year by the ride and more so this year given the challenges environment in which you gents are innovating! Keep up the good work.
$76 USD
Great cause and all the best with the fundraiser efforts mate
$75 USD
Good luck on the fundraising Mark, great cause!
$75 USD
Such a great cause Mark and one that's close to my heart.
$74 USD
Another year supporting a worthy cause during trying times. Well done, Mark. Hopefully, the donations go a little way to help reduce the stigma surrounding mental health and to improve treatment for prostate CA.
$74 USD
Have an amazing day! Big love to you and Bec x
$73 USD
I could not miss a year supporting this. Enjoy the ride.
$73 USD
Amazing effort, Mark 💙 PBOH
$72 USD
Well done Mark for continuing your great fundraising work during lockdown! Good luck! Tom and Margaret
$52 USD
Great cause. Good luck Mark and Rebecca. Fingers crossed the Vic roadmap opens up yours for the day!
$38 USD
Cheers to you and Bec making a difference! Love the passion and positivity!
$38 USD
Great Cause! Good on you Mark!!
$38 USD
This is a really worthy cause Mark. Just lost a good friend to prostate cancer a few months ago. Wishing you all the best in reaching your target and enjoy the ride.
$38 USD
Really proud of you mate. You're doing an amazing thing here. Thank you
$38 USD
Awesome work Mark! Such a great initiative.
$38 USD
Certainly a different ride for you this year. Enjoy your local suburb and I hope you raise a stack of money.
$38 USD
Good onya Brownie - you are a very distinguished gentleman.
$38 USD
Well done on another great year of making a difference!
$38 USD
An important cause, and given my riding history, better you not me :)
$38 USD
Good to see the support you continue to get for this great cause Mark.
$38 USD
So many reasons for me to donate to this amazing cause - and what a fantastic way to raise money!
$38 USD
Please wear your kilt for the solo ride this year hahaha.
$38 USD
Thanks for reaching out on this Mark. this cause means a lot to me personally. Good on you for being involved.
$37 USD
well done for doing it alone and still supporting an important cause
$37 USD
Well done mate. Don't forget to send a selfie mid ride!
$37 USD
Great work Mark to keep this up even in a year when we can't all ride together. Good man.
$36 USD
Keep up the good work Mark!
$36 USD
Good luck reaching your goal guys! Hope this helps xx
$36 USD
A great cause and love the moustache !
$36 USD
Good on you Mark. Great cause
$36 USD
This is Great! Thanks Mark! from your ER team.
$31 USD
What a great effort, and for such a good cause. Great stuff!
$27 USD
Great work Mark. Impressed with your perseverance during CoVid and hope the ride goes well.
$23 USD
Good lad, enjoy the ride!
$22 USD
Once a camper, always a camper. Love you lots
$19 USD
Such a great cause! Go Mark :)
$15 USD
Ride on Mr Brown! Hope the sun is shining for you ☀️
$15 USD
Good luck, Mark! Hopefully by the time you do this, you will be able to go more than 5km from home!
$15 USD
What a fantastic cause indeed. Happy riding!!
$15 USD
I hope you enjoyed the ride. Great cause.
$15 USD
Great cause - Well done - enjoy the ride
$15 USD
Keep on riding Mark, always onwards!
$15 USD
Give it a fair suck of the sauce bottle mate!
$15 USD
Great work Mark. I bet the bike needs a good run
$15 USD
Good on you Mark! enjoy the ride!
$15 USD
Good luck Mark, enjoy the ride!
$15 USD
What an awesome initiative Mark. Always important, but, now more than ever. The uncertainty we are facing as a community, a nation, and globally is taking its toll on many of us. Well done.
$14 USD
I hope this helps you reach your goal Mark!
$8 USD