The Distinguished Gentleman's Ride is an automotive fundraising event. We endeavour to make the ride as safe as possible for all participants of the ride as well as those around us. We have enlisted the help of www.riskfacilitator.com to highlight safety issues and address them.
They have also been set up with an email address safety@gentlemansride.com for any queries or feedback.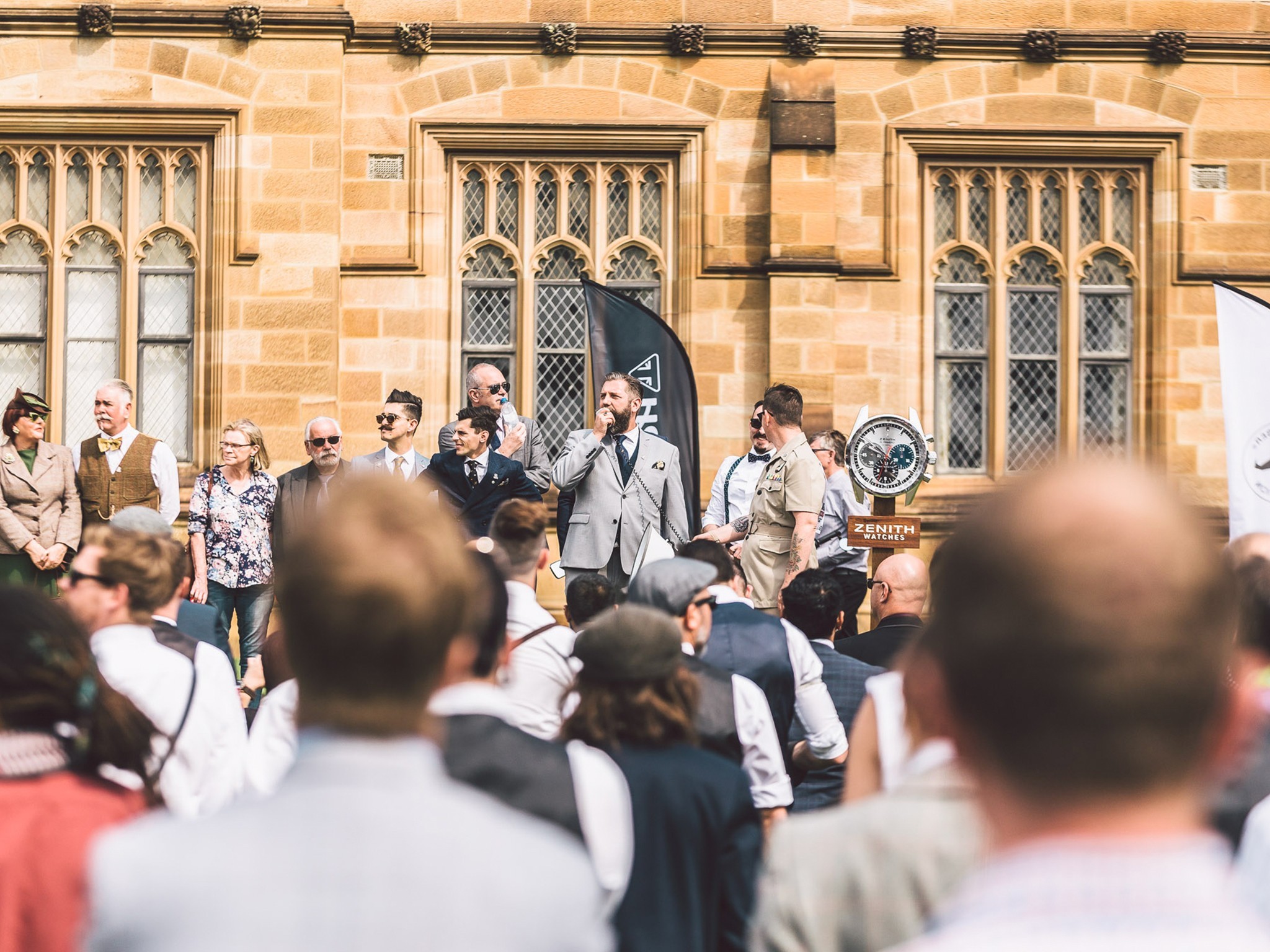 Collision with another vehicle or stationary object.
Control - The Ride leader will give a safety briefing prior to takeoff to remind all participants that bikes should maintain a safe distance from each other and ride in a safe manner.
DGR will also send an event memo to all registered participants prior to the event highlighting dangers and risks and how to manage those risks.
Malfunctioning motorcycle as a result of poor maintenance or age.
Control - Organisers will attempt to have a sweeper vehicle with the capacity to safely move broken down vehicles. The vehicle should contain a tool kit, first aid kit (or a first aid certified provider riding at the rear of the pack with a first aid kit). This may not be possible in each domicile. Please ensure your bike is in working and safe order before joining us on the event.
DGR will create imagery throughout the campaign to promote to participants that their bike needs to be in a roadworthy state. This will be included in the safety memo emailed to all registered participants.
Infringement of local law as a result of inappropriate riding behavior.
Control - Inappropriate riding is not accepted. Organisers will announce that inappropriate riding behaviour will not be accepted and anyone who attempts to ruin the event will have their number plate details given to local authorities.
DGR will include a warning in the safety memo.
Injury as a result of inappropriate personal protective equipment (PPE).
Control - All riders must wear equipment that meets local legislation requirements. Especially helmets and goggles.
DGR will include this in the safety memo we email out.
Injury as a result of incident or accident caused by inclement weather conditions and ability to control the motorcycle.
Control – In the interest of safety and bad weather the organiser can postpone rides if the weather appears unsuitable.
DGR will give access to ride hosts to communicate this via email and facebook to all participants.
Motorcycle group becomes too large to manage in terms of briefing, safety and overall oversight.
Control - We encourage the use of loudspeaker (if possible) to ensure participants can hear the pre-ride safety briefing. Organisers to monitor and record numbers of actual participants in order to safely estimate the next year's numbers. DGR will continue to promote itself as a classic styled bike event to keep the number of attendees down.
Riders should also print out the details of the ride to ensure they have them on hand at the event.
Excessive sun exposure resulting in dehydration, fatigue and sunburn contributing to incident or accident.
Control - Rides encouraged to start at places that offer shelter, food and drinks. The event is short and usually only goes for approx. 3 hours. If it is expected to be extremely sunny or hot, encourage riders to bring sunscreen.
DGR will address this in the safety memo to all registered riders.
Riders speeding to catch up with group if group is separated at intersections.
Control - The route will be well mapped out and published in advance. This is a suggested route with participants choosing alternative routes if they feel unsafe. The route will be covered at the briefing. Each ride has multiple re-group points to ensure people do not rush to catch up to other riders.
DGR will address this in the safety memo to all registered riders.
Excessive speeding resulting in an incident.
Control - The speeds on the ride will be low, managed by lead riders and marshals. DGR is a slow-paced, short event that takes place in busy locations to ensure the speed is limited.
DGR will address this in the safety memo to all registered riders.
Intoxicated while riding resulting in an incident.
Control - If someone is deemed intoxicated they must be removed from the ride and local authorities informed.
DGR will address this in the safety memo to all registered riders.
Inadequate parking at start, finish and stop locations resulting in traffic congestion, illegal parking and traffic hazards.
Control - Organisers are advised to select areas suitable for the numbers they are expecting. Some rides may have unexpected riders join through friends. We ask that all riders register to ensure we can provide adequate space for these riders.
Deliberate or unexpected incursion by motorists into the ride group.
Control - Remind participants of our gentlemanly ways and if the vehicle does not cause injury or damage to a participant regardless of how it intrudes, give it room and let it carry on.
If the vehicle causes injury or damage to a participant:
- Ensure that the welfare of the rider(s) is attended to immediately and that the safety of all other participants and the general public is maintained.
- Ensure the welfare of the motorcycle is seen to and obstruction of traffic flow is minimized.
- If the motorist fails to stop, DO NOT pursue them, simply ensure that all details of the vehicle (make, model, colour, license plate number) are recorded to pass on to police.
- If the motorist stops to assist, DO NOT threaten, abuse or attempt to engage the motorist. Instead, have them wait in a safe place until police arrive.
DGR will also address this in the safety memo emailed out to all participants.
Local law enforcements cancel the ride.
Control - If required by local law organisers you should consult and communicate with local law enforcement prior to and during the event if required (each country has different rules).
If the ride is shut down accept the request, note the name of the enforcement officer and the details around it.
Riders should then finish their ride and head to the final location using which ever route they wish to use.
To report any incidents please click here and complete the incident report form
For any other information send an email to safety@gentlemansride.com