My Blog
---
I'm riding in memory of my brother, in support of suicide prevention, and other common men's health issues
Wednesday 16th
Friends and loved ones,
In September of 2007, my family experienced a tragedy in the loss of my brother Douglas to suicide. The months leading up to this life changing event, and the years after, were extremely painful and difficult to navigate. Douglas was an avid motorcycle enthusiast, and rode many bikes through his life. After his passing I inherited Doug's last bike, and have ridden it ever since. Throughout the years there have been other men in my life who have struggled with depression, thoughts of and attempts at suicide. The stats on male suicide and depression are staggering, and it's unfortunately very likely most of us have friends and family who've battled with these issues.
This September 27th, I'll once again be joining men and women around the world, riding my brother's bike, in the Distinguished Gentleman's Ride: a motorcycle ride raising funds and awareness for men's health issues - including mental health and suicide prevention, and prostate cancer. For me, this is an opportunity to honor my brother, support men facing these issues, and raise funds and awareness to help prevent suicide and other common men's health problems.
Please join me by showing your support for the men in your life - your fathers, your sons, your uncles, your brothers, and friends - by donating to this cause, promoting and/or joining this event.
Thanks so much for your support... Shiny side up!
-David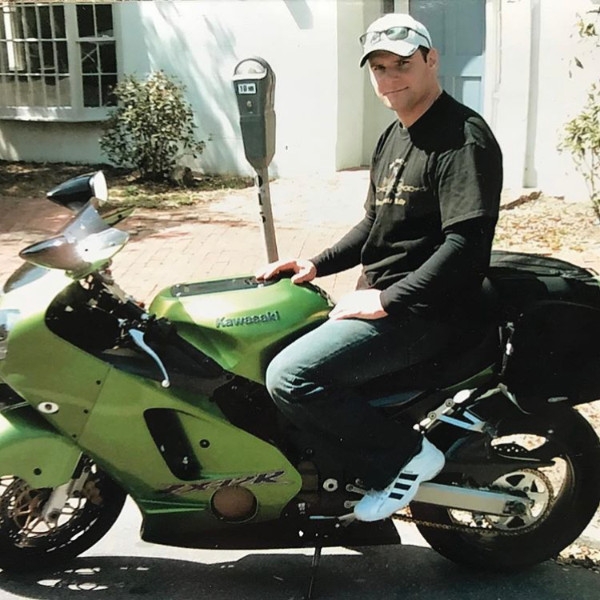 My Sponsors
---
Here's to all that's ahead. -D
$510 USD
So proud of you Dave and I remember your bother! He was a handsome and wonderful guy!
$510 USD
💓 Love You 💓 Love Doug 💓This ride that you organized in his memory to help others
$208 USD
Brian,chris,brady,bryce Catanella
We love you Uncle Dee-bur and are so proud of you - good luck and have a great ride brother!
$208 USD
Billy Kat Charlie Andy Jay Burris
$208 USD
Love you, brother - ride safe
$208 USD
Have a great ride brother
$104 USD
Very proud of you Termite!!!
$104 USD
David, you and your family can always count on the love and support of the Andonian Family. We wish all the riders success in awareness and a safe and inspiring ride.
$104 USD
Our stories are connected and our hearts are with you in this. Love you brother.
$104 USD
Best Wishes on the Ride!!
$104 USD
Hi Dave, I lost my younger brother to suicide in 2015 - he was 52. Great guy with 2 wonderful girls, who are now in college and doing really well. Still so hard to understand. Have a great ride tomorrow!!
$104 USD
Fausto & Kourtney De La Cruz
$104 USD
I hope it is a huge success!
$104 USD
Great cause! Thinking of your brother, and sending your family lots of love!
$104 USD
Kristen Cahill & Her Pride
Keep shining that not-so-little light of yours. It radiates for us all. xo
$104 USD
Praying for you love you!
$78 USD
Great job Dave. Miss you, Doug!
$54 USD
Cheers to you, Dave. Our thoughts are with you ❤️ James & Ashley
$52 USD
Love you!!! Supporting you and with you in this❤️ Chad &beck
$52 USD
Love and Blessings!! - Ashley & Jeremy - Numbers 6:24-26 -
$52 USD
Thank you for championing this cause and sharing his story.
$52 USD
God bless. Ride safe. Well done.
$52 USD
We love ya, la Uncle David!
$52 USD
love to you and your family!
$52 USD
Courtney And Bill Darling
$52 USD
Here's to a rain free ride! 🏍 Good luck and great cause!
$52 USD
Michael And Erika Mcginley
$50 USD
Alexandra Swallow & Nick Gares
$42 USD
Love you, Dave! Such a an amazing thing you're doing and we're excited to support you in it.
$25 USD
Great thing you're doing man, have a safe ride
$21 USD
Love this and you mah dude. I'll make sure there's a whole lot of The Killers/Brandon Flowers on my playlist this week in honor of Doug ;)
$21 USD