Total Raised
$4141
First Year
2018
Total Events
5
My Blog
---
This is personal and for the brotherhood
Wednesday 27th
My first ride for DGR I had slowly rising PSA levels, well within normal range for my age. My GP was really on top of things and suggested a referral to urologist and MRI. The MRI identified. a mass - so onto the biopsy and the PET scan and then told by urologist to 'get affairs in order' as he said ' this is bad' the cancer has spread to my lymph nodes.
Prostate and lymph nodes removed. All ok till rising PSA levels post surgery, so referral to oncologist. After review by oncologists decision to proceed with Chemo based upon latest research rather than targeted radiation therapy.
Chemo treatment. Hormone treatment (yuk- but did really find my female side).
Post chemo and hormone treatment - PSA levels undetectable - well less than 0.008. Best news ever!
Testosterone back to normal.
2 years in remission!!
So the ride is all about raising money for continued research. Research has saved my life and it can save save many more including your brother, uncle, father. son or mate.
I've known a few men who are living with effects after treatment, others that are going through the early stages of detection and others that have passed on.
It's not pleasant experience so let's do our best to make it as good as it can be!
Thanks for your donation x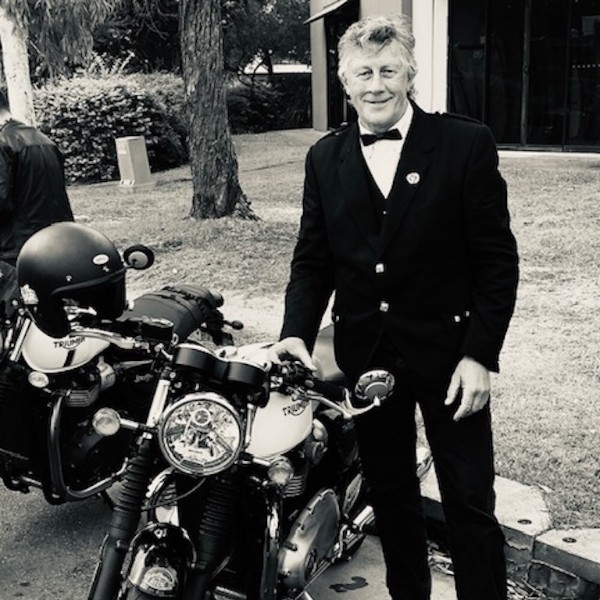 I'm Riding for Men's Health in The Distinguished Gentleman's Ride
Thursday 24th
On Sunday the 22nd of May 2022, I'm riding in The Distinguished Gentleman's Ride with fellow men and women across the globe to raise funds and awareness for prostate cancer and men's mental health on behalf of Movember. Men die on average 6 years earlier than women and for largely preventable reasons. The number of men that are suffering is growing, and we need to do something about that. So, before I press my tweed and polish my boots, I'm asking you to join me in raising funds and awareness for these causes by donating what you can for this meaningful cause and to help the men we love, live happier and healthier lives.
My Sponsors
---
All the best Geoff, cheers Derek & Gillian
$75 USD
You've done so well Geoff. You look very dapper in that suit.
$74 USD
Congratulations on your successful fight and on your paying-it-back, Geoff. Very admirable.
$74 USD
Love you Geoffrey ya big idiot. Don't stack.
$74 USD
Enjoy the ride, but be careful on the very wet roads.
$73 USD
Well done for all you do. Enjoy the ride! 😊
$37 USD
You go guy!! Would love to catch up with you and Ali xxx
$37 USD
Good for you Geoff!! Best of luck ♥️
$37 USD
Love you heaps Uncle Geoff <3
$36 USD
Enjoy the ride. Hopefully it isn't raining or you have a distinguished wet weather outfit planned. Love always.
$35 USD
Glad you are still around to enjoy the ride.
$35 USD