My Blog
---
2005 Euro! Thank You! Danke! Merci!
Tuesday 13th
Über 2000 Euro! Danke noch mal an alle Spender! Platz 96 im Leaderboard weltweit! Nummer eins in Österreich!
Damit haben wir heuer ein schönes Zeichen für die Gesundheit aller Männer gesetzt.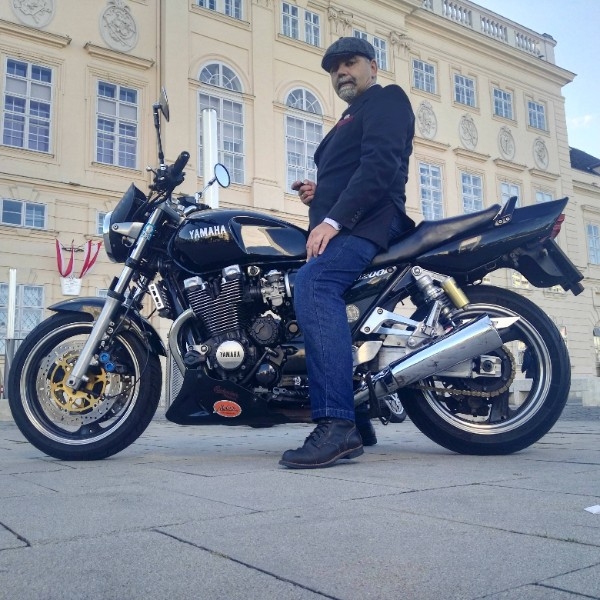 Nochmal Danke!
Sunday 4th
Aber es geht noch bis 11.10.2020 und die 2000€ sind nicht mehr weit entfernt!
Geht da noch etwas?
Liebe Grüße und gesund bleiben,
Euer Gerhard Weixler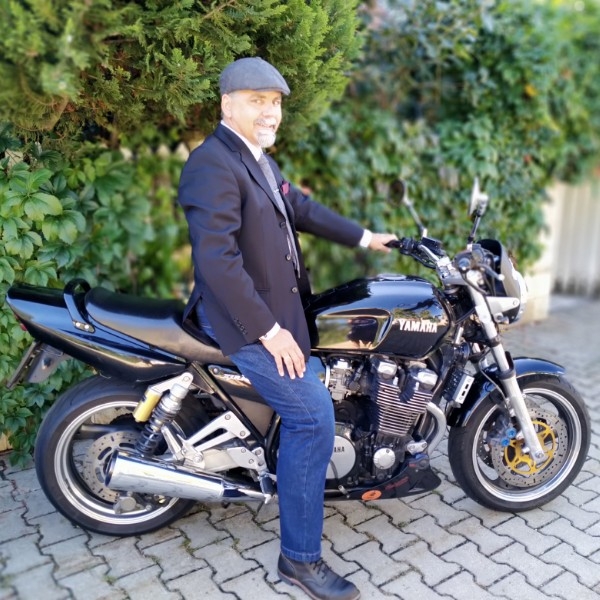 Vielen Dank an alle Unterstützer!
Monday 28th
Danke euch allen! Ich habe gestern alleine den DSG2020 absolviert und dabei doch einige Freunde und Mitstreiter getroffen. Zufällig natürlich an den vier Stationen Museumsquartier, Burgtheater, Börse und Postsparkasse.
Mit eurer Hilfe sind über 1800 Euro zusammengekommen. Die Spendenseite ist noch bis 11.10.2020 offen, Also wenn noch jemand spenden will und damit hilft die 1800 Euro deutlich zu übertreffen geht das noch länger.
Unten auf der Seite sind auch ein paar Fotos von der DGR2020 Fotorally Vienna. Mit dem Hashtag #dgrvienna2020 findet ihr in den sozialen Medien auch noch Fotos von anderen Teilnehmern.
Nochmal danke für alle Spenden im Namen der Movember Organisation!
Einen schönen Wochenstart und Stay Healthy!
Gerhard Weixler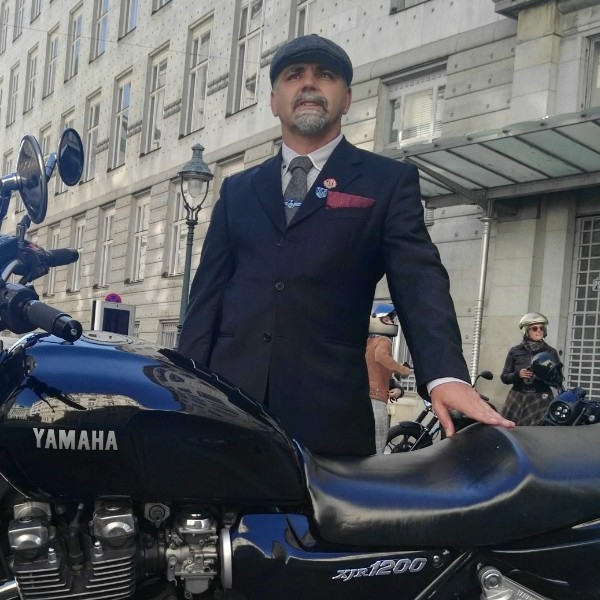 2 Tage noch und 1700€ greifbar!
Friday 25th
Ihr seit wunderbar! Trotz des harten Jahres haben wir zusammen einen neuen Rekord geschaft! Findet sich noch jemand für die Spende die den Betrag auf über 1700 hebt?
Danke Gerhard
Drei Tage noch!
Thursday 24th
Helft mit etwas für die Männergesundheit zu machen und spendet bitte noch! Danke an alle bisherigen und zukünftigen Unterstützer!
Stay healthy / Bleibt gesund!
Ziel erreicht aber vielleicht geht noch mehr?
Wednesday 23rd
Gerne würde ich das letzjährige Ergebnis übertrumpfen.
Schaffen wir das gemeinsam?
Danke hier noch mal an alle Spender!
Gerhard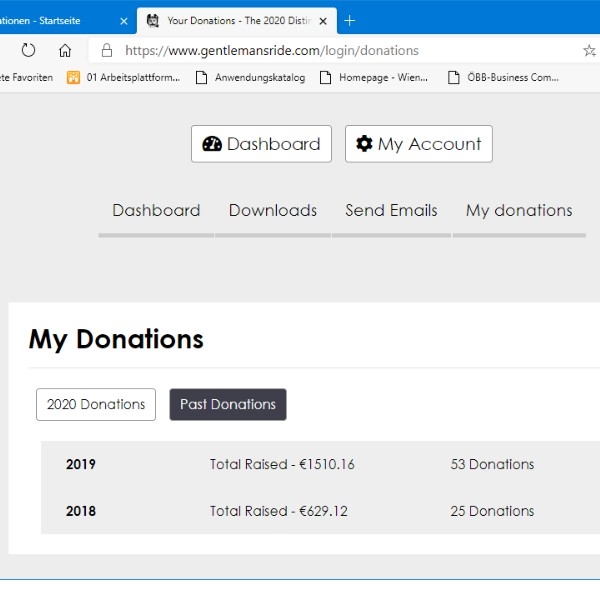 104€ fehlen noch auf das Ziel! 4 Tage Zeit!
Tuesday 22nd
Danke schon mal an alle Spender und alle die noch etwas beitragen werden!
Wetter soll ja durchwachsen werden.. Schauen wir mal ;)
Ich habe die Stadt jedenfalls wetterbedingt auf Wien geändert. Mit Anzug im Regen bis Graz wäre doch etwas weit :)
Gerhard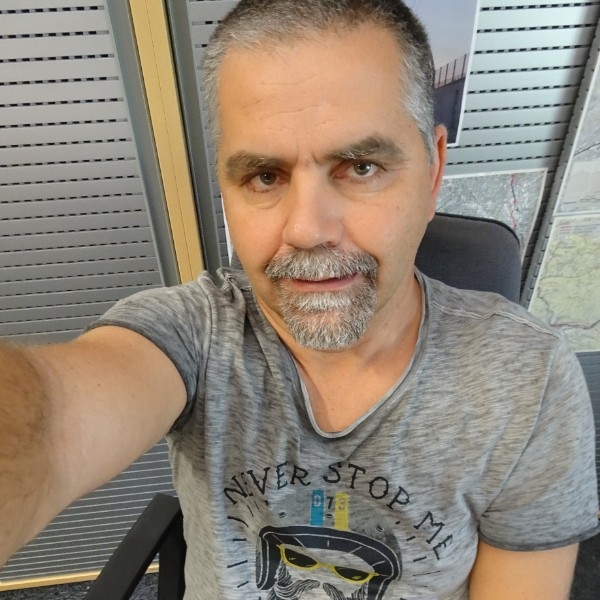 199€ fehlen noch und noch 16 Tage Zeit!
Monday 7th
Danke an Alle Spender. Bitte verbreitet den Spendenaufruf und helft mit mein letztjähriges Ergebnis zu überbieten!
Danke herzlich an alle!
Gerhard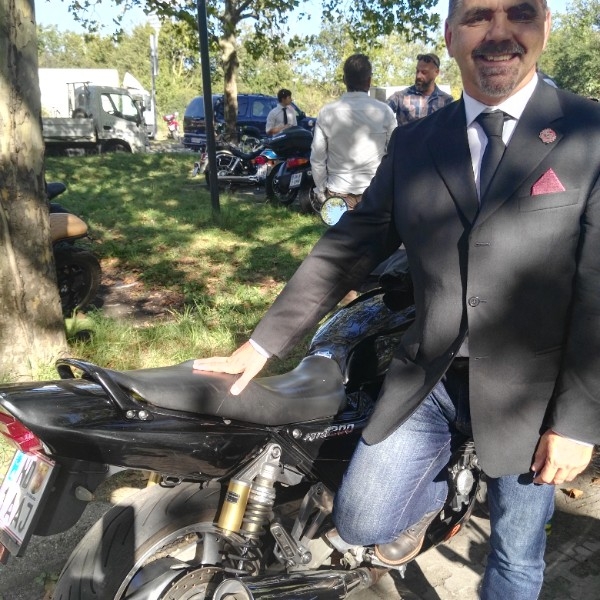 298€ fehlen noch zum Ziel
Wednesday 2nd
Danke an alle bisherigen Spender! Es ist härter als letztes Jahr und trotzdem sind wieder so viele bereit etwas zu verändern!
Daher nochmal herzlichen Dank und teilt den Aufruf, helft mit eine möglichst große Summe für die Gesundheit aller Männer dieser Welt zu erreichen!
Gerhard
Bitte weiter um fleißige Unterstützung!
Friday 28th
Wir haben den Betrag aus dem Fachbereich bereits erreicht und die Party steigt. Werde mir was überlegen um diese nach den im Oktober geltenden Coronaverhaltensregeln abwickeln zu können.
Alle die noch nicht gespendet haben dürfen das gerne noch erledigen!
Da auf die 1000€ auch nur mehr 7€ fehlen habe ich mir (so wie letztes Jahr) erlaubt das Ziel auf 1500€ anzupassen!
Also für den guten Zweck!!
Danke Gerhard
Freunde, Kollegen Danke!
Tuesday 25th
118€ bis zu meinem Ziel!
Nur noch 26€ für die Leberkäsechallenge! Also wenn einer aus dem Fachbereich 30€ spendet gibt es im Oktober Meterwurst und Leberkäse satt! Dafür haben wir noch 32 Tage Zeit!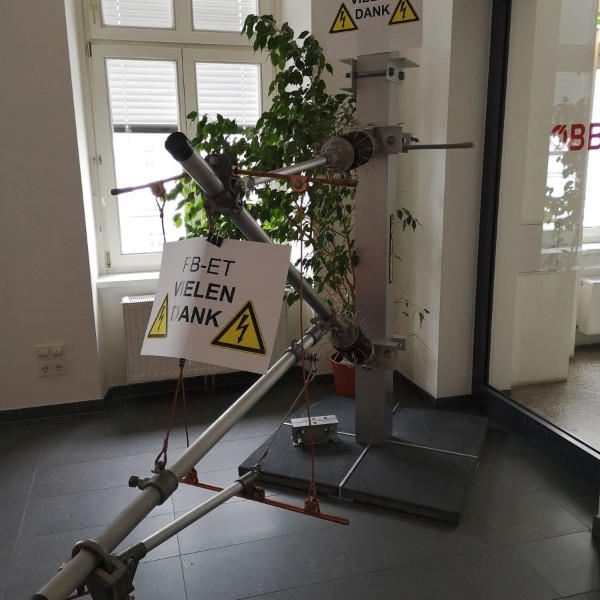 Danke an die Spender der letzten Tage!
Sunday 23rd
Nur mehr 180€ bis zu meinem Ziel!
Für die Fachbereichschallenge fehlen auch nur mehr 88€
Danke!!
Vielen Dank an meinen alten Freund Didi!
Thursday 20th
Deine sehr großzüge Spende hat mich gestern tief berührt. Ich hoffe wir treffen uns in nächster Zeit mal wieder persönlich!
Ride Hard, Live Gentle and stay healthy!
Danke!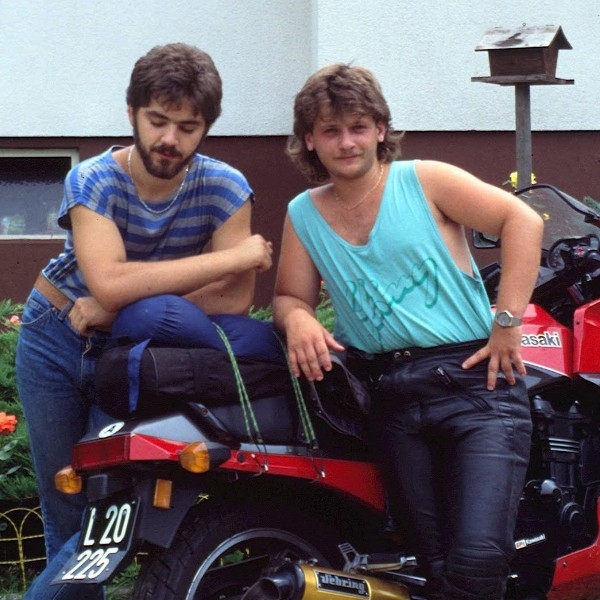 Liebe Mitarbeiter aus dem Fachbereich!
Thursday 20th
Nur noch 242€ für unsere Jausenchallenge! Meterwurst und Leberkäse! Natürlich auch Erfrischungsgetränke! Und außerdem lege ich 60€ on Top drauf.
Also lasst mich nicht im Stich und spendet fleißig!
Gerhard
Noch 38 Tage!
Friday 14th
Danke an die Spender der letzten Tage!
519€ fehlen noch zu meinem Ziel. Bitte helft weiter und teilt den Spendenaufruf an eure Freunde und Geschäftspartner damit möglichst viele auf den Zweck aufmerksam gemacht werden und meine Fahrt unterstützen!
Für die FB Partychallenge fehlen noch 262€. Sollten wir die noch erreichen lege ich 60€ drauf! Natürlich gibt es bei Erreichen des Ziels im Kollegenkreis auch wieder die Würstel/Leberkäsejause!
Das sollte auch zu schaffen sein!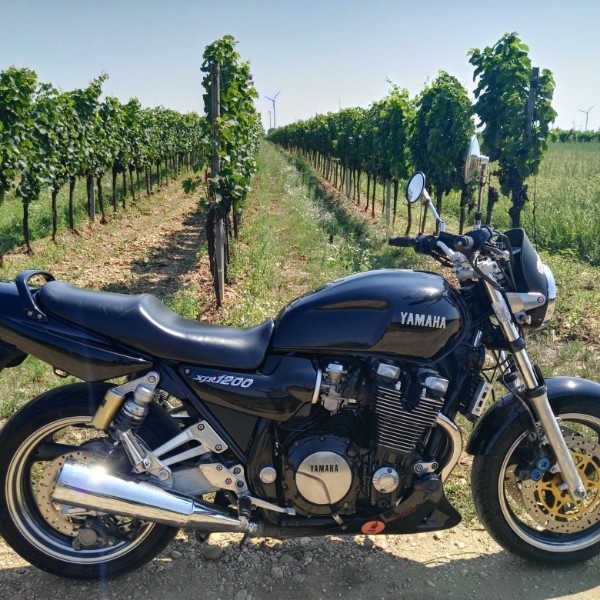 Danke an die heutigen Spender!
Monday 10th
Es läuft!
Es fehlen am 14. Tag nur mehr 50$ auf die 500$ Wer willnochmal wer hat noch nicht!
FB Partychallenge noch 350 Euro auf die 600 Euro und die Party steigt! Wir sind immerhin mehr als 50 Mitarbeiter im FB! Also sollte es sich ausgehen!!
Es gibt Leberkäse und Meterwurst mit diversen Beilagen. Diesmal bleibt scher keiner hungrig! Versprochen. Auch lege ich 60,- oben drauf wenn wir den Betrag erreichen!
Danke noch mal Gerhard
Bike ist fertig!
Sunday 9th
Heute mal alleine, aber mit euch, in die Weinberge hinter Neusiedl. Gehen sich nächste Woche die 600€ aus?
Schönen Sonntag,
Gerhard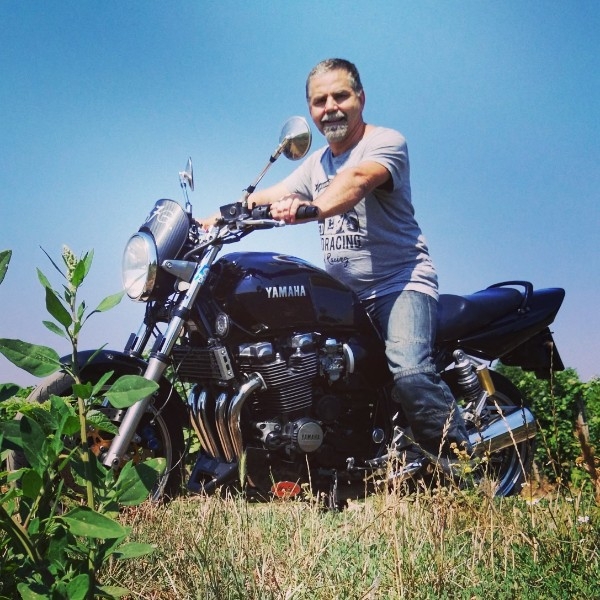 Danke an die heutigen Spender!
Thursday 6th
Es läuft! Aber nicht aufgeben jeder darf spenden! Ob große Beträge oder viele kleine ist egal.
Es fehlen am 11. Tag nur mehr 73$ auf die 500$ Wer willnochmal wer hat noch nicht!
FB Partychallenge 251/600!
Danke den ersten Spendern!
Tuesday 4th
Danke den ersten Spendern!
Heuer werde ich für meine steirische Heimat fahren und Graz unsicher machen.
Gerne darf die Spendenseite geteilt werden und Werbung für meine Fahrt gemacht werden.
Jeder Euro zählt und hilft irgendwo auf der Welt einem Mann ein paar Jahre zu schenken. Wer weiß, vielleicht auch einem uns nahestehenden.
Also fleißig weiterspenden und teilen!
Danke!
I'm Riding Solo for Men's Health in The Distinguished Gentleman's Ride
Friday 31st
On Sunday the 27th of September, I'm riding solo in The Distinguished Gentleman's Ride with fellow men and women across the globe to raise funds and awareness for prostate cancer and men's mental health on behalf of Movember.
Men die on average 6 years earlier than women and for largely preventable reasons. The number of men that are suffering is growing, and we need to do something about that. So, before I press my tweed and polish my boots, I'm asking you to join me in raising funds and awareness for these causes by donating what you can for this meaningful cause and to help the men we love, live happier and healthier lives.
My Sponsors
---
Viele liebe Grüße von Rudolf Häusler!
$118 USD
Eine wunderbarefahrt wünsche ich. Lg. Helmut.
$103 USD
Liebe Grüße von deinem ehemaligen Zimmerkollegen
$61 USD
Alles Gute Gerhard! LG Günther
$49 USD
Danke Gerhard für deinen Einsatz!!! LG Peter
$48 USD
Hallo Gerhard, so wie jedes Jahr finde ich den Gentleman's Ride voi gscheit und wünsche dir auf gut steirisch viel Schneid und Freid bei der Fahrt durch Graz :)
$35 USD
Lg aus der wunderschönen Wachau (wenn keine Touristen da sind) Max
$24 USD
Well done (statt medium rare ;-)). Super Job! Endlich amoi a aundara! Jetzt wirds Zeit für ein, zwei, vierzehn Bier!
$12 USD