Total Raised
$2886
First Year
2022
Total Events
1
My Blog
---
Thank you
Friday 27th
There is still time to donate as June 5th is the deadline for donations for the 2022 Campaign for men's health.
Funds raised by the DGR are invested into prostate cancer and men's health initatives around the world through our official charity partner, Movember.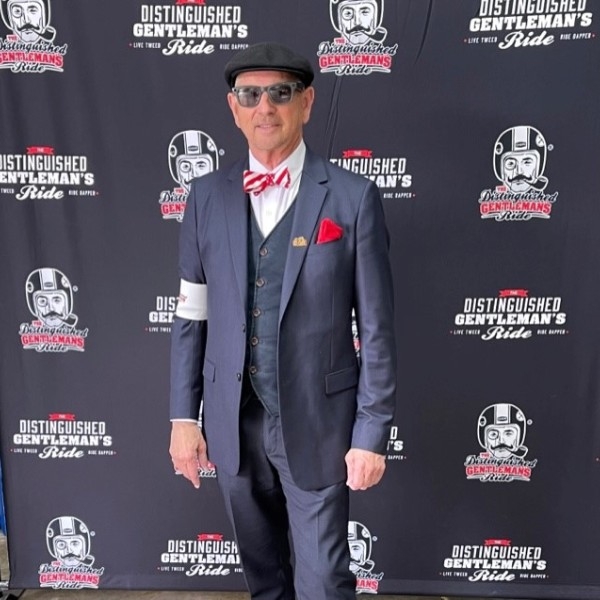 Thanks to all my friends
Wednesday 18th
There are only a few days until we go😁
I am so grateful to all my friends and family and business associates who are supporting the DGR 2022.
Dapper Up!
Drive On🛵
Why we ride
Friday 13th
We are riding for all the guys out there..
Please consider making any size donation which is tax deductible. All funds go directly to the foundations. None of these funds go to the rider that you sponsor.
I'm Riding for Men's Health in The Distinguished Gentleman's Ride
Tuesday 3rd
On Sunday the 22nd of May 2022, I'm riding in The Distinguished Gentleman's Ride with fellow men and women across the globe to raise funds and awareness for prostate cancer and men's mental health on behalf of Movember. Men die on average 6 years earlier than women and for largely preventable reasons. The number of men that are suffering is growing, and we need to do something about that. So, before I press my tweed and polish my boots, I'm asking you to join me in raising funds and awareness for these causes by donating what you can for this meaningful cause and to help the men we love, live happier and healthier lives.
My Sponsors
---
Thank you for supporting and spreading the message for Men's health!
$260 USD
May your 'stache flow ever so freely.
$250 USD
Have a wonderful ride. Go Jeff!
$104 USD
Way to go Jeff! And such a worthy cause.
$104 USD
Thanks for riding for a great cause!
$104 USD
Pop a wheelie and show off for your admiring fans. Good luck and have fun!
$104 USD
That's awesome Jeff! Great to see you standing for something you believe in.
$104 USD
Be Vintage! Be Classic! Be Extraordinary!
$104 USD
Nice work, keep this going! - Kevin
$52 USD
Thanks for helping with a great cause!
$52 USD
Good luck with your ride.
$52 USD
My father-in-law had prostate cancer so thank you. Good Luck!!!
$26 USD
Great cause. Good luck on your ride!
$21 USD
You be stylin for an amazing cause. Hits home to so many.
$21 USD