---
THANKS!!!! Wow - so many great sponsors
Wednesday 26th Apr 2023
The support on my first Distinguished Gentleman Ride blows me away!! This is truly a great show of support for a wonderful event, that supports men's health. I will continue to work at drawing more attention and support for the ride.
Please share with your friends.
JIMMY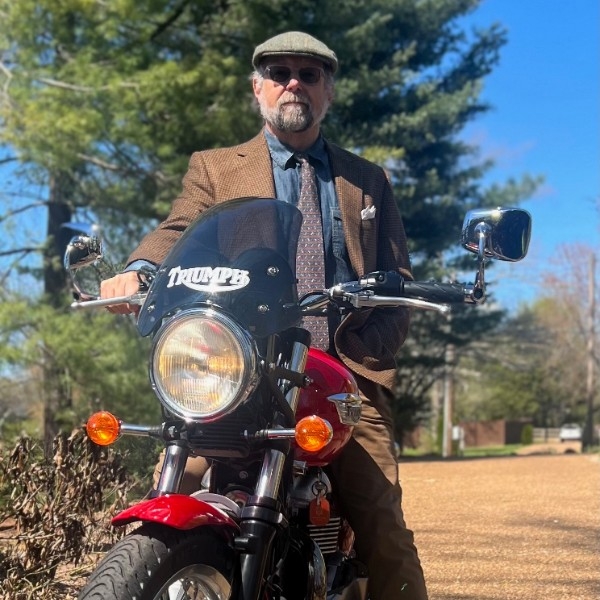 My first Distinguished Gents Ride
Monday 3rd Apr 2023
An old high school friend sent me the information about the Distinguished Gentleman's Ride, and I thought it sounded like a ton of fun. When I researched it and realized that it was a global event and that it supports things close to me - I was all in. Then along comes a neighbor selling a Triumph Thruxton. It all fell into place.
Men's health, especially mental health & suicide awareness is so important to talk about and get out in the open. I am delighted to be doing my first of what I hope to be many DGR events.
Please check out my video
https://www.youtube.com/watch?v=HAJNvuK2nBk
I'm Riding for Men's Health in The Distinguished Gentleman's Ride
Thursday 30th Mar 2023
On Sunday the 21st of May 2023, I'm riding in The Distinguished Gentleman's Ride with fellow men and women across the globe to raise funds and awareness for prostate cancer and men's mental health on behalf of Movember. Men die on average 6 years earlier than women and for largely preventable reasons. The number of men that are suffering is growing, and we need to do something about that. So, before I press my tweed and polish my boots, I'm asking you to join me in raising funds and awareness for these causes by donating what you can for this meaningful cause and to help the men we love, live happier and healthier lives.
My Sponsors
---
J.P. Bourtin & Highcrest Capital
Have a great ride Jimmy. The entire Highcrest Capital team is rooting for you!
$1,000 USD
Awesome cause! Awesome project! Be safe and hope you have a blast.
$510 USD
Go Jimmy go! And thank you for helping and promoting a great cause.
$208 USD
doing the work for us when others can't...
$173 USD
Such a great thing you are doing. Stay safe and enjoy the ride
$104 USD
Love the cause and love the gentlemanly look!
$104 USD
Go Jimmy! And, never take off that classy hat!
$104 USD
Ride on! Ride on! My brother!
$104 USD
Great cause and motorcyle. Be safe and Rock On, Jimmy
$104 USD
Hi Jimmy It's a great cause. Happy to senate. Jakob 😁
$104 USD
Have fun and a safe ride!
$61 USD
Nice bike and great cause!
$52 USD
What a serendipitous gift to run into you guys in the hall. The beginning of a fun friendship.
$52 USD
Have fun! I did this last year in ATL.
$50 USD
Ride well young fella and thanks for making a difference!
$26 USD
Ride on Jimmy, important cause!
$21 USD
Great to have you along for the ride! Many thanks for supporting this awesome event. Cheers.
$21 USD