---
We are not alone...
Wednesday 3rd May 2023
Last year was my first DGR and it was everything I expected it to be. Gentlefolk from all walks gathered to raise each other up and ride motorcycles.
As a man, as a son, and as a father of young men and women, I have a lot of lessons to learn and pass on. Growing up the my father, uncles, and other male role models in my life thought that to be a man you have to be tough, and to be tough you have to endure the things that may even take life away. I can honestly say that my childhood has a lot to do with the way I handle my mental health today. It has a lot to do with the fact I never stayed consistent with my mental or physical health. It wasn't until I had children when I realized that taking care of them was one of the most important things, I could be doing for myself.
10 years ago, I made a life change and decided to take a job my aunt offered me at our family funeral home. I like to think she saw something in me I didn't and that's why she brought me on board, but I may just be patting myself on the back. I must admit when I took the job, I was a little scared of what I was facing as I had worked here before and decided that this profession was a lot to handle emotionally. I was 20 years old, invincible in my head and had decided that death just wasn't something I would give energy to. Through my twenties I lost some friends, some my age, some older and it made me realize that death didn't have a criterion.
Being part of a family-owned funeral home we develop a close bond with the families we serve. I keep up with some and we share stories and memories of our lost loved ones. I can say that it helps me cope with not only my losses but my everyday life and the emotions I deal with at work. One of the things that attracted me to the DGR besides the badass motorcycles was that it is done to bring awareness to men's health. I have known about the ride for years and always wanted to join in the fun and do my part in bringing awareness to men's health.
In October of 2019 I was on the other side of the arranging table for the loss of my mom. For years I knew the day would come and I thought I was mentally prepared for the day but it turns out I was completely wrong. For years I tried to empathize with families suffering from mental health problems because of losing a loved one, but I realized that I was not doing good enough because of the overwhelming devastation I felt losing my mother. This is one of the many things that made me join in raising money for Mens Mental Health awareness. I could feel myself going down a dark path when my mom passed and it wasn't just her passing that was taking me down but, so many other things I was battling with all at once. Her death was the catalyst to this downward spiral of my mental health breaking down.
I later took a hit to my pride and ego a sought help to get me back on track, for myself and my family. I was so unaware of how many obstacles I was facing and the ways I could deal with them. Sometimes our pride and ego as men get in the way of our growth mentally and this is where I was struggling the most. Today I am open to changing the way I deal with my mental health, and I know what I need to do to nurture it. One way I found out is getting on my motorcycle to clear my head and remember that I am not alone in this fight. I see all these ladies and gents getting Dapper, sharing laughs, trading stories, and riding motorcycles for Distinguished Gentleman's Ride and I know that I am not alone.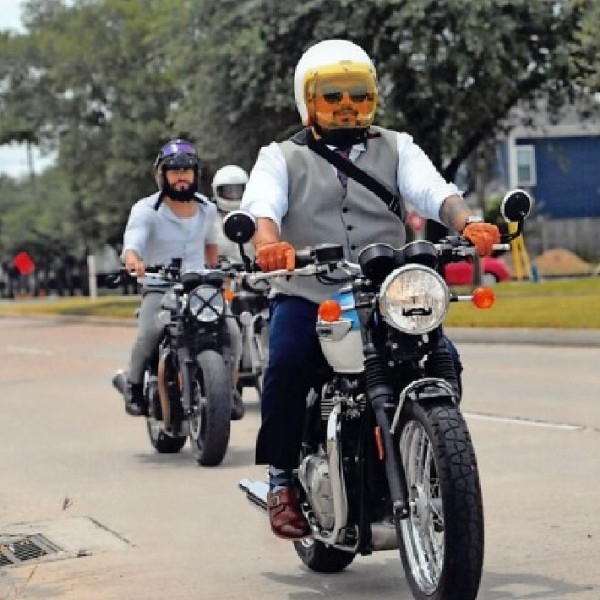 My Sponsors
---
Keep up the good work Joey!
$651 USD
I will always be your biggest cheerleader! I'm beyond proud of you, I see alll the effort you put into this and it amazes me❤️. Love, Kayla! Xoxo
$218 USD
Good Job, keep up the great work.
$208 USD
Cedeno And Salinas Funeral Home
We are so proud of you! Way to go!
$104 USD
Cheering you on brother! Have a great ride!
$104 USD
Thanks for advocating for this great cause. Good luck!
$104 USD
Ride Proud Distinguished Gentleman !!!
$100 USD
This is inspiring, thank you for raising money for such an important cause.
$57 USD
Proud of you! Love you! ❤️
$52 USD
From the Guinea Pigz Thank you for setting a great example for us.
$42 USD
I enjoyed reading your message Joey. Such a great cause 👏 Be safe ✌️
$36 USD
Good luck! I hope you surpass your goal!
$26 USD