---
What is my DGR Grand Tour
Sunday 6th Aug 2023
What is my DGR Grand Tour
After my wife Carey passed away in the spring of 2021, I bought a motorcycle, and my first extended ride was a solo ride in connection with the Distinguished Gentleman's Ride (DGR). Over the next year I continued to enjoy riding especially where it served the purpose of benefiting others.
For the 2022 DGR, I expanded my ride to a thousand mile trip around Lake Michigan leading up to the formal ride in late May. Late in 2022 after selling our home and deciding to retire, I wanted to continue to ride, but looking for a purpose, I settled on the idea of seeing how many of the 800 cities worldwide which have hosted DGRs I could visit over the next few years. Hence, the DGR Grand Tour was born.
While I plan to pass through as many DGR cities, and make contact with local riders if I can, my primary objective is just to visit different parts of the country and eventually the world. Wherever I stop I talk about why I'm riding, in support of Movember and Men's Health, with the hope that my actions will help the cause.
Life is a Journey - I'm enjoying the Ride!
For additional details and commentary please visit Distinguished Gentleman's Ride Grand Tour.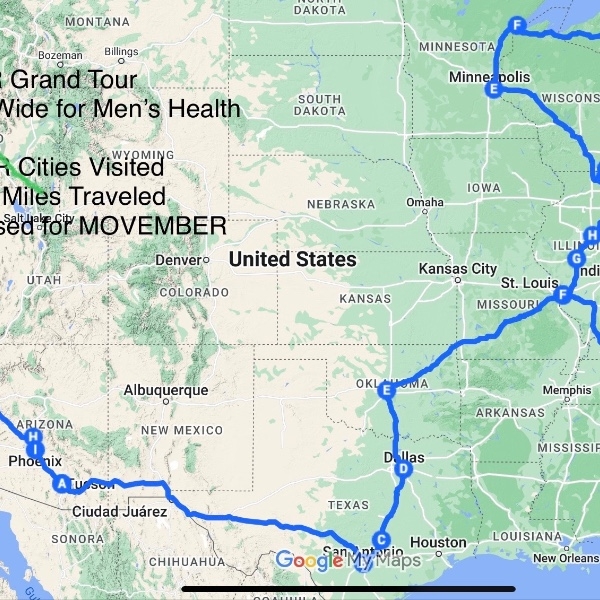 Motorcycle Riding for the Benefit of Others
Friday 5th May 2023
Raised by loving parents who always supported my motorcycle riding. I got my license when I was 16, rode a dirt bike at the University of Colorado, a touring bike while at Price Waterhouse, then rented Harleys after that.
After my wife Carey's passing on March 15, 2021, I immediately bought another bike, BOB, my Big Old BMW and rode in support of the Distinguished Gentleman's Ride. That same year, I also visited senior centers with my fellow BMW Club members as well as riding in the Toys for Tots
Over the past year I felt uncomfortable that I was having so much fun after losing Carey, but two things helped me come to grips.
First Janelle Kaz's article Are You Playing a Finite or Infinite Game of Motorcycling? helped a lot if for no other reason than it gave me a Headline for what I'm doing.https://www.motorcyclistonline.com/story/news/motorcycling-and-the-game-of-life/
Second, the recent publicity about the keys to happiness got me thinking. Having been clinically evaluated as having hedonism as one of my top motivations for behavior, I came across the concept of eudaimonic (you da' monic) happiness. In contrast to hedonic happiness which focuses on seeking pleasure and enjoyment, eudaimonic happiness focuses on the ancient philosopher's idea of seeking meaning or purpose. https://www.thoughtco.com/eudaimonic-and-hedonic-happiness-4783750
I can buy into this, which explains the happy place, where I am today.
My DGR Grand Tour Ride Card
Monday 1st May 2023
A year ago when I took my "Long Way There" ride aroundLake Michigan, I had a make shift poster on my windshield to convey what I was riding.
This year, besides my major promotion piece was my DGR GT license plate. However when I attended bike week in Arizona in full DGR Kit: pink shirt, bow tie, pipe and DGR armband and hat, while I stood out in a sea of Harley Black & Orange, and engaged in a lot of conversations, I needed a better way to remind people who I was and what I was doing.

Fortunately, a morning at a local FedX office allowed me to put together a two sided card , which combined with easy to read QR codes should work.

The most important side was the front where I directed readers to the TrueNorth website and all the information and resources they can provide about prostate cancer - I personally though that adding the line about sex and intimacy was a nice touch seeing as one in eight men will be diagnosed with prostate cancer in their life times, and well . . .
The other side talked a bit about my ride along with the link to donate. Not sure if they were effective in getting the word out, but they could not have hurt.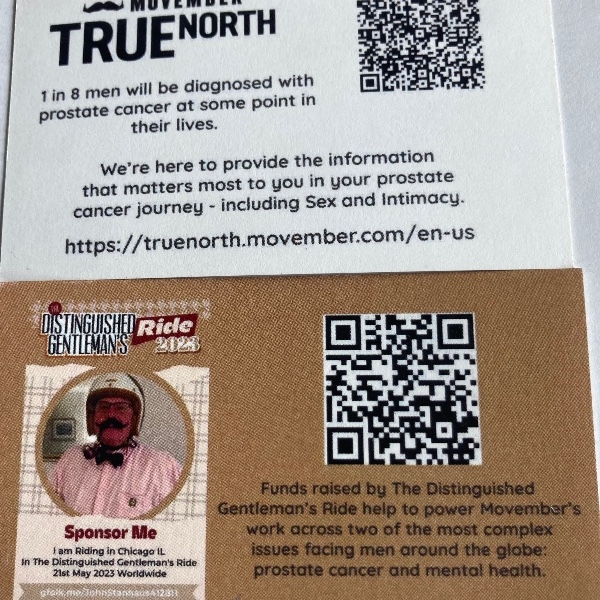 Visit to Movember's Offices
Sunday 16th Apr 2023
I formally kicked off the Winter 2023 leg of DGR Grand Tour with a visit to the offices of Movember in Santa Monica. Movember is the qualified 401 c 3 organization to which all donations to the Distinguished Gentleman's Ride flow to.
In sitting with Ami Shah, Movember's Director of Global Program Implementation for their cancer portfolio, she briefly spoke about their flagship program True North. In all honesty, I had no idea how deeply involved Movember was in supporting so many aspects of prostate cancer. TrueNorth is a website that was designed to support patients diagnosed with prostate cancer. So it offers resources, a support network and empowers patients to make an informed decision about their treatment.
Seeing as in the USA 1 in 8 men will be diagnosed with prostate cancer at some point in their lives, every man, and the people who love them, should be aware of TrueNorth:Movember's work and their "The Right Care at the Right Time" approach. They will be glad that they did.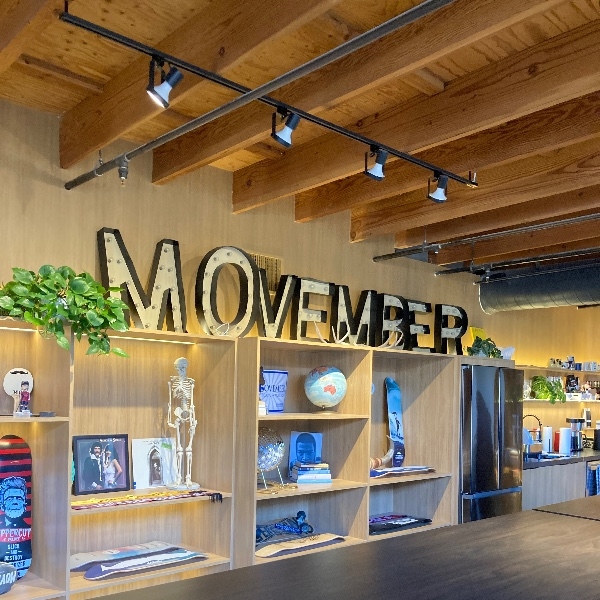 Join our team as we ride for The Distinguished Gentleman's Ride!
Friday 24th Mar 2023
On Sunday the 21st of May 2023, we are teaming up to ride in The Distinguished Gentleman's Ride with fellow men and women across the globe to raise funds and awareness for prostate cancer and men's mental health on behalf of Movember. Men die on average 6 years earlier than women and for largely preventable reasons. The number of men that are suffering is growing, and we need to do something about that. So, before we press our tweed and polish our boots, we are asking you to join us in raising funds and awareness for these causes by donating what you can for this meaningful cause and to help the men we love, live happier and healthier lives.
My Sponsors
---
Global Recruiters Network Inc
$10,000 USD
The Altum Fund James & Mary Perry
$500 USD
Nice work John! Congrats to Amanda too!
$208 USD
John, sorry we missed seeing you in CA during your last ride. Hope our paths cross soon. Safe travels! -Chris, Katherine & the kids
$208 USD
Thanks for supporting men's health and enjoy the ride
$208 USD
Really proud of you, John, for your devotion to DGR to help overcome prostate cancer and improving men's health.
$208 USD
Anita Nagler And Bob Moyer
$208 USD
Thank you for bringing attention to such an important cause!
$208 USD
John, I enjoyed reading your webpage and learning more about your commitment and journey. Well done and way to go!!!
$208 USD
Kevin And Chrissy Collins
$208 USD
Best Wishes, Ron Via, Northwestern Mutual
$104 USD
Have a great ride and be safe! Jean and John Atchison
$104 USD
Keep it up , John . Best from Geneva
$104 USD
Good luck with the ride John! Looks like alot of fun!
$104 USD
Here's to your 2023 effort!
$104 USD
I hope the ride was great. Sorry to be late with the donation. Cheers! Aaron and Ellen
$104 USD
Hopefully late is better than never! I want to support this wonderful cause and your commitment to it. Carol
$104 USD
may the sun always be on your face and the wind behind you.
$104 USD
John, Ride safe! We wish you a satisfying, meaningful experience. Thank you for your charity; prostate cancer brings new seasons to life. Rob and Ellen
$104 USD
John, wishing you smooth roads, clear skies and hospitable spectators.
$104 USD
Way to go John, great trip
$104 USD
Good luck, John. Joanne and Frank
$104 USD
You ROCK! See you on the pickle courts soon, best wishes for a smooth ride.
$104 USD
Hi John! We continue to be impressed with your commitment to men's health! Hopefully your sore bottom/sciatica have improved and we look forward to playing pickle with you this summer!
$104 USD
Happy to contribute & help the cause.
$104 USD
A great ride for a great cause. Ride well, John.
$104 USD
What a terrific way to do good and set an example. Best of luck!
$100 USD
Have a great ride, John... Barbie
$100 USD
Stoller & Yount Family Giving Fund
$100 USD
John, Hope you have safe and enjoyable ride! Best, Scott
$52 USD
You're a great ambassador!
$52 USD
Thanks for including me in your cause. I'm happy to help!
$52 USD
What a wonderful cause. Happy to support you!
$50 USD
Hi John. In the Jewish faith "18" signifies "chai", or Life. 36 is double chai! In honor of you and your late wife. You're doing some meaningful stuff. 👍
$37 USD
We wish you good health and a good ride.
$26 USD