Total Raised
$16029
First Year
2021
Total Events
2
My Blog
---
Special Thanks to Members of Team John Chicago
Thursday 2nd
The folks at Motorworks Chicago, besides getting me on Bob a year ago, and leading my DGR Team, also really came through after Bob broke down in the UP. Johnny Scheff tried to help me diagnose the issue remotely, and suggested how I might get a UHaul, also arranged for me to ride a new BMW R nine T on Sunday in the formal Parade. In addition their crew helped me unload Bob from the truck at their shop. Obviously without their support it would have been a very different story so, Thank You!
Also without the support of my fellow members of the Chicago Region BMW Owners Association, I would have been unlikely to consider, let alone undertake the Long Way There. From the first Monday Hot Dog meet up a year ago, to the Summer Solstice sunrise run to the Thanksgiving morning run recreating the route of the Chicago Times-Herald race, first automobile race in the United States held in 1895, everyone has been extremely welcoming and supportive and have been instrumental in getting me to where I am today.
Special shout out to Michael Williamson (whose natural passion for motorcycles and adventure led him to go so far as to recreate from articles of the period the route of the Chicago Times- Herald race) for introducing me to: the advantages of having more than one bike - mid winter flights out and then riding from Las Vegas; and the real idea behind serious Adventure riding - kind of like backpacking and camping in the outback but with motorcycles. The fact is I never particularly liked backpacking when I was at school in Colorado, and my knees are likely not up for any serious off-road riding, but now I understand the concept.
Members Matt Coyne and Mark Novak who took the time to share their favorite rides in the Upper Peninsula and northwestern Michigan. I'd have unlikely found the route I took to Paradise, and while I still have yet to hit the Tunnel of Trees, I know what I'm looking for the next time I'm up there.
Finally, club president Patrick King. From our first meeting where this bearded distinguished looking dude rode up on a duck/duct taped up GSA (after a spill on a BDR), took the time to make sure I didn't tumble into any other bike when attending my first hotdog run; to leading our first group ride - the Summer Solstice Sunrise Run (complete with 90 mph catch up sprints on Lake Shore Drive and random Dodge HellCat burnouts in front of Buckingham Fountain) he was always cordial and welcoming. He has also encouraged me to write articles for the monthly newsletter, (as if I needed any) as well as putting me in touch with Johnny at Motorworks, and ultimately was part of our Motorworks DGR team, which per the last report was the eighth highest fundraising team in the world.
As I have said many times, motorcycle riding, especially for charity, provides me so much joy after Carey's passing. All of these folks are part of making that happen, which is most appreciated.
Some Memorable Interactions along the Long Way There
Wednesday 1st
One of the best things about riding Bob is how it helps in engaging strangers in conversation, a plus for a natural introvert. This was especially true riding around rural Wisconsin and Michigan while wearing a bow tie. A few interactions which I enjoyed.
On Day 1, about two hours out, I stopped for gas near the town of Belgium WI. On the other side of the island was a young dude with a pickup truck, who was wearing a t-shirt with a fireman emblem. We started talking about riding and he remarked it was a great day to be riding to work, I guess it was the tie. I asked if he was a fireman and subsequently learned: he did serve as a volunteer fireman, but his primary job over the last 20+ years was a trainer of I guess search and rescue dogs, which he felt very fortunate as it was his ideal job (guess so); he actually had a child in the truck with him, and they were off to a one hundredth birthday party for maybe a grandfather! I thanked him for his service and told him to convey my best wishes to the Birthday Boy. Not sure I'd have been able to learn and share that if I was in my car.
Near the end of the day I stopped at Tahquamenon Falls State Park. It was a pleasant quarter mile stroll to the Upper Falls, and on my way I passed a young couple whose two young boys were riding in a radio flyer wagon, and commented that "they had the life". The father hesitated, but for a moment and replied "It looks like you rode here on a motorcycle, are snacking on some beef jerky and are walking to visit the Upper Falls on a late Thursday afternoon . . ." I caught his drift, and I'd have to agree, I'm enjoying myself far more than I deserve.
After checking into my hotel in Paradise, I was told I might still be able to get something to eat at the Wheelhouse Diner, a mile back up the road, so I went over just after 9. (I have a great app WHIB on my phone, which makes it easier for me to know Where Have I Been.) As the diner was officially closed I went in the back to the bar, where Kate the bartender suggested a Patsy, kind of like a pot pie, but with the gravy on the outside, so what the heck. After a bit, three dudes of my vintage joined me a the bar, and after a few minutes of their kibitzing with Kate, John next to me couldn't remember her name, but I got it out of her when I asked for extra gravy, he got over the bow tie and we started talking. Seems they had been fishing on the lake all day and decided to come over after dinner for a (three round) nightcap, so I started pitching my ride, but none of them had their phone to read my QR code. Kate was smart enough, as when we asked if she had a phone, directed me to the bar's landline😕. Although I didn't get a new sponsor, I atleast raised the awareness of Men's Health issues in the UP, which was the whole premise (as weak as it may be - I just wanted to ride) behind the Long Way There ride.

The next morning in the breakfast area of the Magnum Grand Hotel, I ran into Doug, the dude who I struck up a conversation with the previous night as I was unloading my bike, and who had shared my concern with the increasing noise that Bob was making. It turns out Doug: lives in the Minneapolis area; is a DirtBike Coach for DirtBike Tech, a riding academy operating as a non-profit offering instruction on dirt bike riding for all ages and abilities; was on a four day trip scouting roads for Butler Maps; had ridden the DGR in the past, and ultimately sponsored my ride. A real nice guy, see the picture of his 2013 DGR ride in my photo gallery.
Early Video and Pics from my Motorworks Chicago Team!
Monday 30th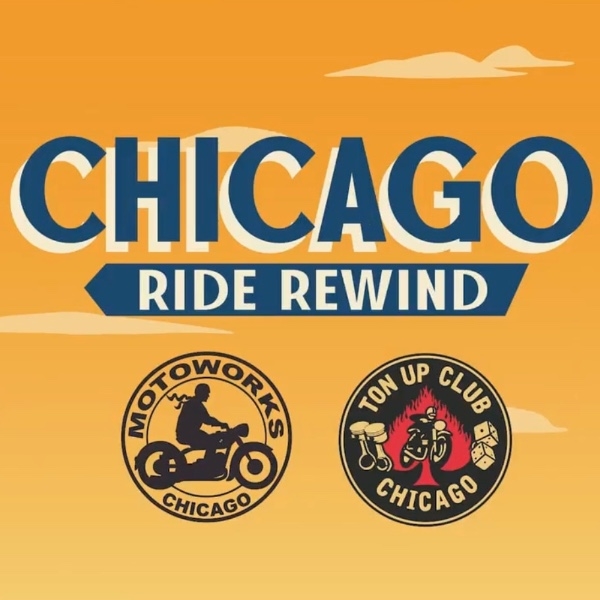 The Distinguished Gentleman's Ride on 22 May, 2022
Sunday 29th
My plan was to arrive from Grand Haven at Motorworks in Chicago by 8:30, the one hour time change helped, but it still meant a 5:30 CDT wake up call.
Although it was a wrinkle, the team at Motoworks were able to help me unload Bob, allow me to park the UHaul across the street and get me set up on a new BMW nineT all in time to ride and arrive at the the start point by 10 AM, two hours before the scheduled noon departure.
There will be a lot of pictures and even a professional video prepared eventually, but in addition to a couple of pictures of my own I have a few memories worth sharing.
The weather turned out better than forecast, so I was able to ride comfortably all day, kitted out in my french cuffed shirt, braces, matching cranberry tie and cumberbund, topped off by the REI down vest. Not the tweed and fancy boots and hat that others wore, but I may have been the only one smoking a pipe.
There wasn't a whole lot of formal organization, the main feature was the organizers handed out yellow tape to put over your license plates, as this was not a formally sanctioned ride - such hooligans. There were some announcements, including acknowledgement of the fact that I was the #1 fundraiser in Chicago (in the Midwest for that matter), which was a nice tribute to all of my sponsors.
The group left All Rise Brewery, and headed over to Lake Street then down LaSalle, before heading south to the Museum of Science and Industry for a group photo. Four hundred bikes, with a full range of styles . . . and exhaust notes. Although there weren't a whole lot of Harley's, the idea of a "Harley horn" was certainly prevalent. Although I'll write another post about the great personal interactions I had along the Long Way There, a few individuals typified the spirit that pervaded the day.
Members of the local Ton Up Motorcycle Club, served as ride marshals, blocking off traffic at intersections and the like, and one member was especially noteworthy. Riding an Indian with VERY LOUD pipes, he'd fearlessly race alongside the group, in either direction, seeking to secure the route, and when viewed from behind, his suit jacket billowed in the wind, looking like a character out of a Batman movie - Very Cool, and thank you for your service.
After the photo shoot at the Museum, I had trouble getting my bike moving. Although it would start, whenever I put it in gear it would die. After a couple of false starts, a dude on a custom built bike, with high rise handlebars fabricated out of a rusty chain, rode up and suggested that maybe the kickstand was down. (In my defense, the only other bike I had ridden in the last fourteen years was Bob, which I couldn't even start with the kickstand down.) The thing that stood out to me was that his tone was one of empathy, no attitude, just a guy hoping to help out a fellow biker - Much appreciated.
Finally there was the Bat Bug dude. A black dude decked out in a long coat and top hat who I first saw helping to organize some of the pictures at the Museum, then parked his ride next to mine back on Fulton by the brewery. His ride was a three wheeled chopper, with an extended front fork and the back fashioned from a VW Beetle, complete with engine. He was the most engaging individual and in the course of our brief conversation, I learned: he was the youngest of five brothers; had an oil (both smoke and leaking) issue enroute, but got help from his 70 year old VW Whisperer friend, and made fixes on the fly (unlike me and Bob😕); he actually had two Bat Bugs, the other one was black, but brought the brown one as it had fewer parts to fit to make it run; and he joined the consensus that the actual DGR Ride is one of the most dangerous/scary ride he ever participates in. Envision upward of 400 bikes and riders, many who aren't used to riding in tight groups, especially at slow speeds, going down city streets, complete with spectators, potholes and the like. In the past there have evidently been some crashes, and any number of riders indicated that they got their bars clipped in traffic, but I made it through unscathed as did most.
Overall a great day and with 230 registered riders, the Chicago ride, raise over over $66 thousand for Men's Health in addition to hopefully raising the public's awareness of the challenges of Prostate Cancer and Suicide among men.
Each year, world wide one man dies of suicide every minute of every day - I'll never recall the refrain from the musical RENT, Five Hundred Twenty-five Thousand Six Hundred . . . the same way again!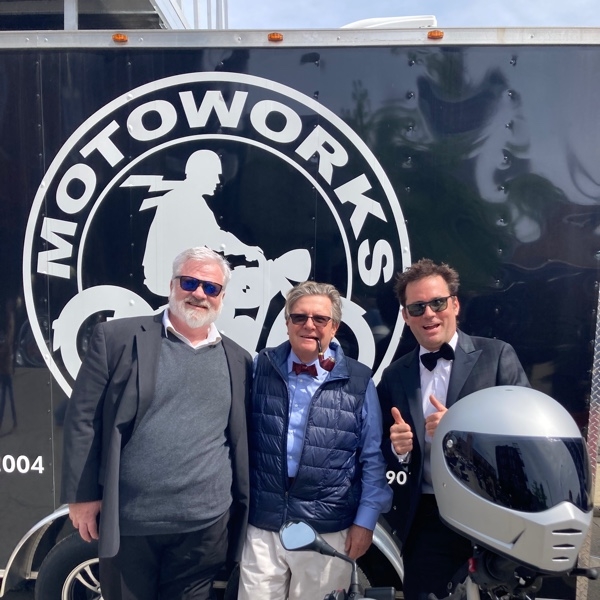 Day 2 of the LWT - Very Interesting
Sunday 29th
After a late arrival and then dinner in Paradise, where I had my first Patsy (with extra gravy)I woke in my hotel room to realize that it looked out over Lake Superior. A cold dawn which was a perfect prelude to my visit to the Great Lakes Shipwreck Museum, ten miles up the peninsula at Whitefish Point. Although I grew up in Chicago and even went to high school in western Wisconsin, I was relatively clueless as to the history of commerce and unfortunately tragedy the Great Lakes hold. The museum was worth the trip.
A "sound" in Bob's drivetrain seemed to be getting worse, and while Johnny from Motoworks and I tried to do a remote diagnosis, I decided to press on to Sault Ste Marie, and the Soo Lock an hour away as the town was a little less remote. By the time I pulled up in front of the Visitors Center, the sound was becoming more metallic and soon realized that Bob had sprung a leak from drivetrain (see black blob on the rear wheel in the picture). While I did see one freighter when I was there, I was fortunate to find a UHaul outlet only two miles away, and decided I better get that sorted out first. Suffice it to say, from that point on my trip switched from two to six wheels (15' van), with the upside that I didn't have to drive in the pouring rain, and I was sufficiently delayed that I drove through Gaylord MI, three hours after the town was hit by a major tornado.
The extra day I had added into my trip came in handy, for while I missed the Tunnel of Trees, I was able to have a nice dinner and breakfast with one one of my Sponsors who had a house up that way. He was the guy who who spoke about freezing his A** off riding back with his wife from Alpine Valley, and as it turns out has been riding at least as long as me, and has owned far more bikes. I think I may have convinced him that getting a scrambler style motorcycle to ride around the back roads of Northern Michigan was a good idea, so a win for the motorcycle owners community.
The trip down to Grand Haven that evening and then into Chicago on Sunday was relatively unremarkable, except that it was the first time I had listened to AM radio in years, specifically iHeart Radio, so I considered myself enlightened.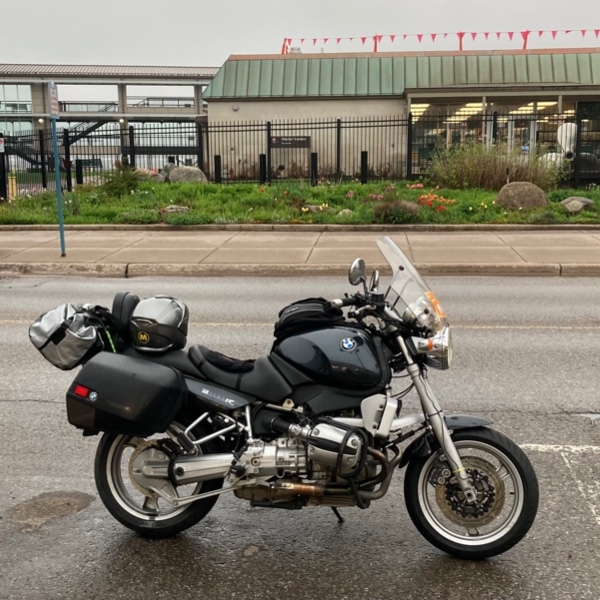 Day 1 of the LWT Ride Going Well
Sunday 22nd
I covered just over 500 miles on the first day eventually staying in Paradise MI, just south of Whitefish Point on eastern Lake Superior. Although the temperatures got cooler as the day went on, the day was dry and the roads were empty. Also met a bunch of nice folks along the way, It's amazing how easy it is to strike up a conversation when wearing a bow tie and talking about riding a motorcycle for Men's Health. I even picked up a new sponsor along the way.
The sights were pretty neat also. Although it was a quarter mile hike to the Upper Falls at Tahquamenon Falls State Park, I enjoyed the walk after sitting all day.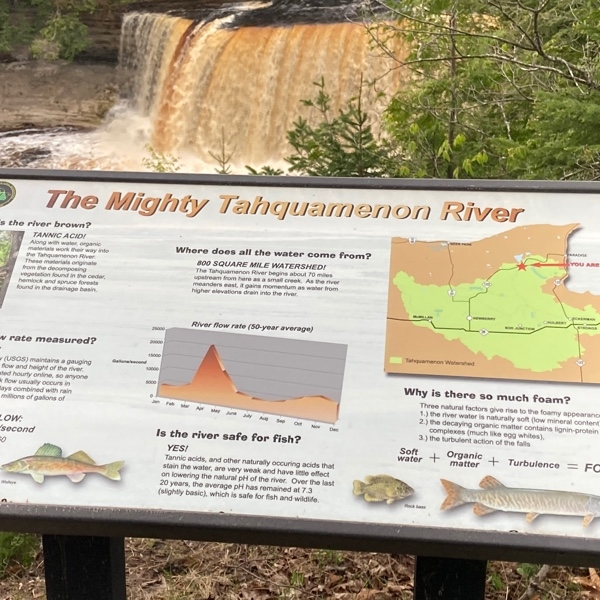 The Long Way There - is taking shape
Wednesday 11th
In 2021, when there was no group Distinguished Gentleman's Ride, I decided to make up a ride which I hoped would let my sponsors feel I had worked for their support. Thus I took my "Lake to Geneva to Lake Geneva to Lakefront" run spanning 200 miles across rural Illinois and Wisconsin.
This year I am upping the ride and have crafted my Long Way There Route. An approximate 1,000 mile trip over four days around Lake Michigan through the Upper Peninsula of Michigan touching four states (can't forget Indiana) and ending up at the starting point for the official Chicago group ride. If I had simply taken a more direct route, it is about seven mile, thus I'm taking the Long Way There.
As I further plan and then ride the route, I'll chronicle the places I visit and things I'll see here on my ride page. Signup to sponsor my ride and you'll be eligible to receive periodic updates of each leg of the trip including sights such as Tahquamenon Falls, The Great Lakes Shipwreck Museum, the Soo Locks in Sault Ste. Marie; the Tunnel of Trees and finally on the day of the ride, suggestions on where and when the ride will be passing by.
Stay Tuned and please show your support for Men's Health by sponsoring my ride.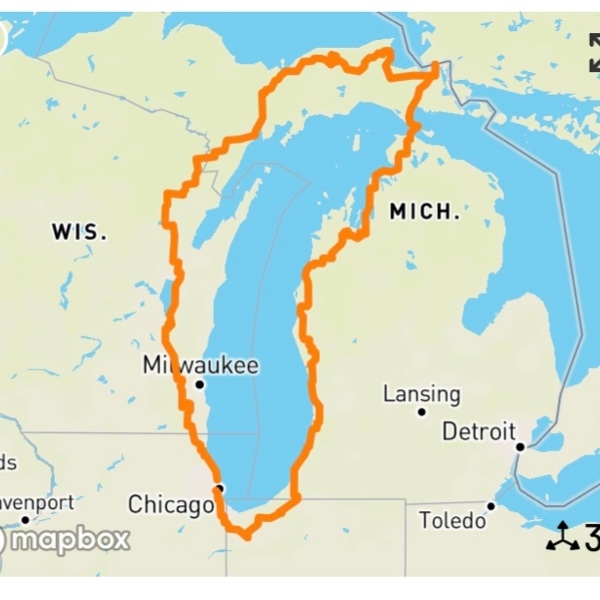 Distinguished Gentleman's Fund - Investment Report
Saturday 23rd
The Distinguished Gentleman's Ride and Movember just released their updated investment report, and I continue to be impressed with these two organizations and their commitment to supporting #menshealth initiatives, and their high levels of basic charitable foundation management and transparency which includes their:
"Give with Confidence" Star Rating from Charity Navigator including a 10 out of 10 for Accountability & Transparency;
The unique structure where 100% of sponsor donation to DGR go directly to Movember Foundation, who will then burp back (otherwise known as refund) to the DGR to cover their costs associated with running the event; and
The caliber of talent the organizations have attracted, including Movember CEO Michelle Terry.
It's no wonder I'm so comfortable in putting my personal reputation on the line in seeking support from so many for my ride.
NB - Link to the current investment report is at the bottom of this page
https://tinyurl.com/yx4em93u
800 Dapper Riders in Chicago!
Tuesday 19th
The Chicago ride is reported as the third largest in the country, fifth in the world with some 800 riders. This video of the 2018 ride looks like a real spectacle if not edgy . . . But edgy is good.
The ride begins at the Cobra Lounge on Fulton, and that ride went by some pretty iconic locations including the Ashland/Lake "L" stop, one of the oldest in the city, first opened in 1893, Michigan Avenue and then up and down Lake Shore Drive before ending up back at All Rise Brewing
I'm thinking we should be able to make some sort of a party out of all this.
Stay tuned.
Distinguished Gentleman's Ride Chicago 2018 from STOPTIME.LIVE on https://vimeo.com">Vimeo.
Preparing for My 2022 Distinguished Gentleman's Ride.
Monday 11th
Last year I took part in my first DGR, about one month after I resumed motorcycle riding after a thirteen year break and just over two months following my wife Carey's passing. Also due to COVID,in 2021 there were no group rides, so I created my own, a 200 mile day with just under five hours in the saddle. I considered the ride a success, as I raised a little under $650 in support of men's health.
This year my goal is a bit more ambitious, a five fold increase in mileage, and with some increased imaging and outreach, I'm hoping folks will feel comfortable driving a comparable increase in support for Men's health.
In preparation for the greater mileage, I rode 700 miles this weekend ,including a 500 mile day to Moonshine, IL (pop. 2), home of the Moonshine Lunch Run. While I don't consider myself a long distance motorcyclist, ten hours in the saddle in frigid temperatures is good preparation for this year's ride.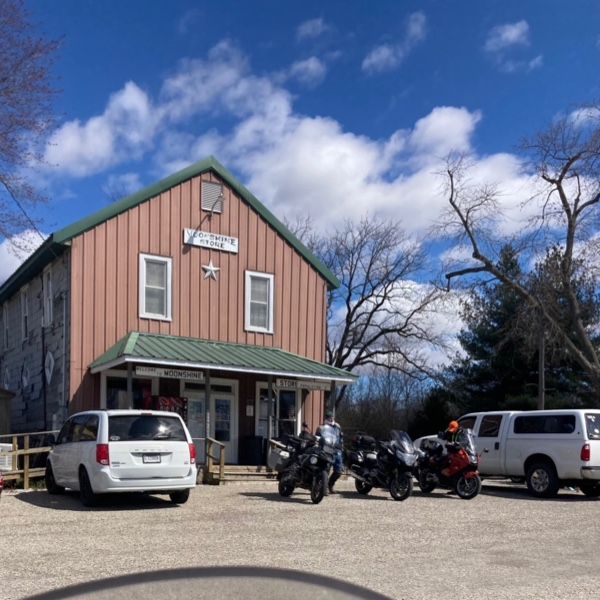 Getting my DGR kit together
Saturday 2nd
Anticipating a longer ride, with overnights this year, I'm looking to optimize my riding kit for both safety and style. While this year I'll be wearing armored khaki pants and a vintage 100% cotton Concorde (with Hydratex waterproof membrane) jacket from REV'IT each day, I plan to get a bit dressed up for the final leg.
As a youngster I was a big fan of Tom Jones, and his tuxedos and bow ties, which generally were untied by the end of his performances, so I learned to tie a bow tie at an early age. I was glad to see that I could get a DGR bow tie which just arrived. It should be easy to pack, and I'm sure it will be untied at some point, but always Distinguished.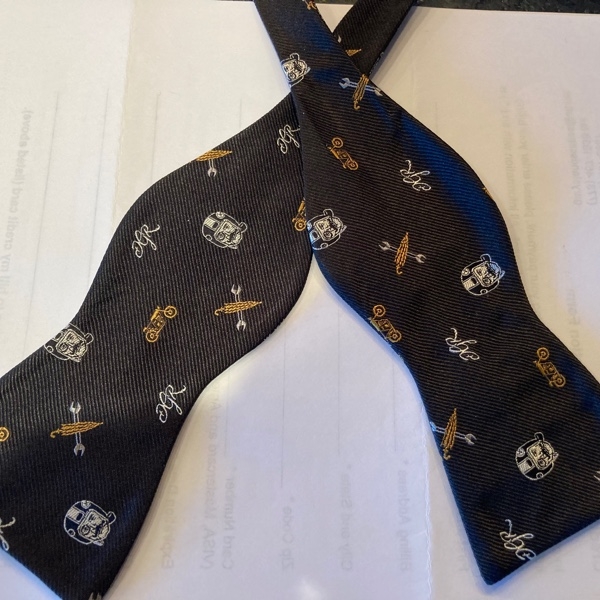 DGR 2021 - Decade of Dapper Wrap Up Video
Tuesday 29th
A bit of historical perspective on a decade of the the ride.

It saddens me that one of the cities featured in this video if Kyiv, Ukraine.
I'll again be Participating in the Distinguished Gentleman's Ride!
Saturday 26th
On Sunday the 22nd May 2022, I'll again be teaming up to ride in The Distinguished Gentleman's Ride with fellow men and women across the globe to raise funds and awareness for prostate cancer and men's mental health on behalf of Movember.
Men die on average 6 years earlier than women and for largely preventable reasons. The number of men that are suffering is growing, and we need to do something about that.
Over the next two months, as I'm preparing my kit and planning my route, I'll be asking you to join us in raising funds and awareness for these causes by donating what you can for this meaningful cause and to help the men we love, live happier and healthier lives.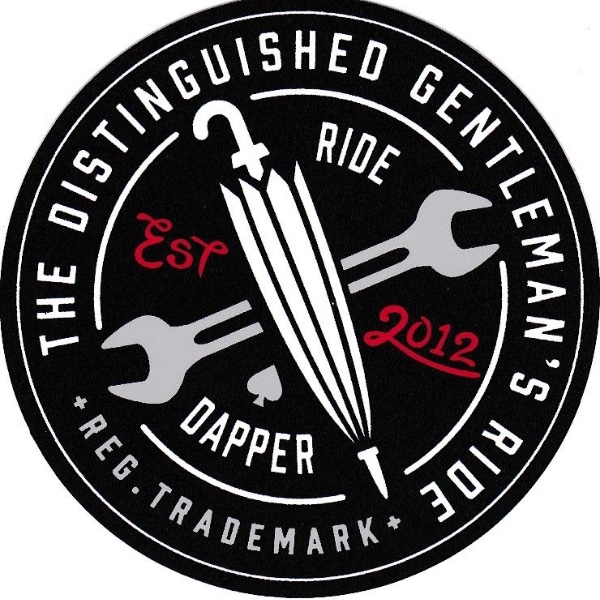 Thanks to all who supported me.
Wednesday 28th
I just received my pins for riding in the 2021 DGR.


What a great start to the next chapter of my life, without Carey my wife of 40 years, but with my new roommate BOB (Big Old BMW).

Already looking forward to next years event on Sunday the 22nd of May, 2022.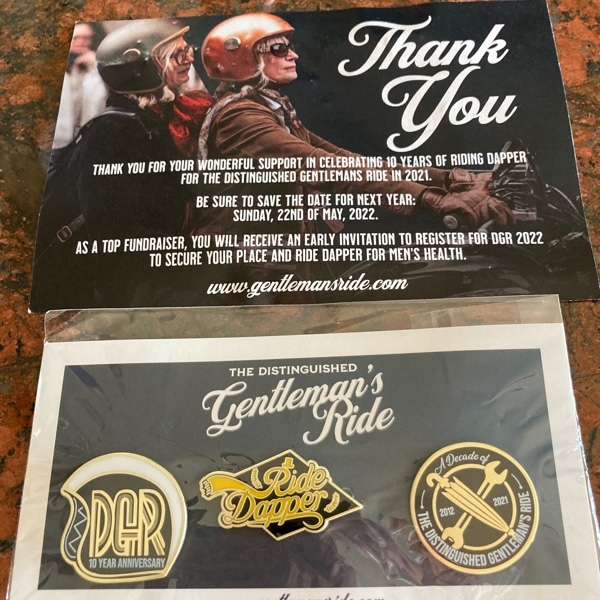 A Near Perfect Day
Monday 24th
Covered just over 210 miles, with only 15 minutes of moderate rain at the end of the day.
Reconnected with some old friends and hopefully justified my sponsors support.
Until this time next year.
First stop in Geneva
Monday 24th
A Distinguished Gentleman's Kit?
Sunday 23rd
Seeing as I gave away my black leather motorcycle jacket, rain suit, gauntleted gloves etc., I've got a lot of options going forward. Given the chance of rain, my waterproof leather boots, and waxed cotton Barbour (sorry Ride Sponsor Belstaff) jacket are certain to be included. Beyond that, I'm thinking summer khakis, button down oxford shirt, all cotton of course, and possibly a tie.
Besides, as I've said to friends upon attempting more sophisticated endeavors, like hand writing thank you notes, it's the thought that counts. I'll post some updates, so that those who have considered donating, feel that I worked for their support.
The Lake to Geneva to Lake Geneva to Lake to Lake ride
Sunday 23rd
As I'm doing a solo ride, I need to find my own road so to speak. In addition, my preference is not to repeat a previous ride, and enjoying the opportunity to adventure on the bike, I figured I'd try a new model. First I thought of an old friend who lived about as far west and south of the Chicago lakefront as I could imagine, Geneva, Illinois. Then I realized that Lake Geneva was due north from there; other friends have lake houses in the area, all on the way to the Brat Stop. Then a final leg home to the lakefront in Chicago.
It should be a leisurely 200 mile day, but this is the longest I've ridden in like 13 years, so it will be a nice starter trip so to speak. Next I have to decide on my kit, as the weather is forecast to be as high as 80 degrees, but with a chance of rain.
Getting Ready for The Ride
Tuesday 18th
I've never done this ride before, and given COVID it will be a solo versus Group Ride in Chicago so I'm working on my own route. Long time ago when my bike had a full fairing, I smoked a pipe with a lid, but later I realized I could smoke a cigar on a Softail with a simple windshield. As my Big Old BMW (BoB) has a smaller windscreen, I figured I needed to get another pipe with a lid, to help me pass the time.
As I get my route laid out, hopefully it will be inspiring enough for you to consider donating to what is a worthy cause, Men's Health through Movember and one which unfortunately strikes much to close. Stay tuned.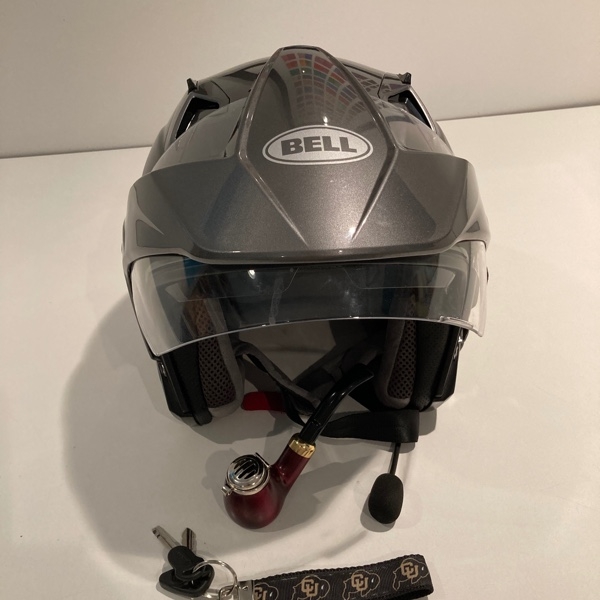 My Sponsors
---
Wende Fox Lawson And Jim Lawson
What a great cause! Enjoy your big ride. Love, Wende and Jim
$1,010 USD
getting you across the finish line.
$900 USD
John Have a great ride! Jim Perry
$510 USD
John, Jeff and I send you our best wishes for a fantastic "Long Way There" ride this weekend and our admiration for channeling your love of motor cycle riding to support this worthy cause. Marian
$260 USD
Happy to support you again this year and your efforts to promote men's health
$260 USD
What a great way to support a noble cause. We wish you the best on your journey.
$260 USD
Have a great ride John . . . we'll be thinking of you! Safe Travels.
$260 USD
Enjoy the ride! Great work!
$208 USD
Candace joined me on my Yamaha XS650 in 1982 on a ride to Alpine Valley to see Springsteen. Great adventure, but we froze our asses off on the way back. Enjoy the DGR!
$208 USD
kudos to you for supporting such an important cause and doing it in such a fun way! ride on!
$208 USD
Good to catch up last night. Happy to support you.
$208 USD
Delighted to support a friend and a good cause!
$208 USD
Michael And Jeanne Licata
a very nice gesture and cause John, also please enjoy yourself
$208 USD
Happy to support your cause! Have fun-
$200 USD
Have fun supporting this great cause. Bob and Gail
$200 USD
Enjoy the open road, John! Such a great cause!
$200 USD
John, Good luck for a great cause. Ride well and be safe. Best, Doug
$200 USD
In memory of my good friend Tom Mullen
$200 USD
Stay upright, both on and off the bike!
$156 USD
Good luck and enjoy John!
$150 USD
Good luck, John! Roll safe and have fun. Rob and Ellen
$104 USD
So happy to support you, John!
$104 USD
John, enjoy the ride for a good cause! I hope you get sunshine and blue skies for your ride. Best, Lynne
$104 USD
Good luck John. One thousand miles - do you eat on board? Frank Schell
$104 USD
Live to Ride, Ride to Live! Good luck John, Anne Hokin
$104 USD
John: Great work! Hope you break your goal!
$104 USD
A great cause and thanks for doing this. Enjoy the ride.
$104 USD
Have a great ride for a great cause. Be safe!
$104 USD
John I'm so impressed by this. This is a great effort and fantastic response. Top 5 here you come!!
$104 USD
John, Best Wishes on the DGR. Be safe and well my friend. Ron
$104 USD
John, thank you for doing this.
$104 USD
Don't forget the sunblock!
$104 USD
Have a great time John! Enjoy the open road.
$104 USD
In memory of Carey and support of you and your family. Go John Go!
$104 USD
We met at the hotel on lake. Have a great ride and thanks for your good work for this worthy cause. Ride dapper!
$104 USD
John, we are disappointed that your route does not include Geneva this year. Your stop in 2021 was one of the high lights of our season. Best of luck this year Ellie and Rob
$104 USD
Never knew you were a rider. Owned Harleys most of my life until I had kids. Now my oldest rides. Have fun. Ride safe. Steve
$104 USD
Honored to support you and such an important cause. Good luck & stay safe on The Long Way There!
$104 USD
John, happy to support such a dapper guy. Vroom! Barbie
$104 USD
John - what an amazing journey!!! You are rocking it and keep it up! Best always, Steve
$104 USD
Fidelity Stoller Yount Family Giving Fund
$100 USD
Great cause! Ride safe!! 🏍
$100 USD
Planning to do a 1,000 mile Lake Michigan Circle Tour Ride, starting Friday the 20, up through Wisconsin, then around through Michigan, Meeting up with the rest of the Chicago Ride on Sunday the 22nd.
$94 USD
All the best, John. Keep on wheeling!!!!!
$52 USD
Hope this works. Best of Luck.
$52 USD
Best wishes for your ride!
$52 USD
Happy to join in on your DGR and aiding worthy charitable causes. You're a good man, John. Ride on!
$52 USD
Dear Dapper, Best of luck on your ride---and take care!
$52 USD
John, Looks like a great cause - have a fun and safe ride! Best, Scott
$52 USD
John, I am happy to support your ride for men's health! I hope we can get together when the weather warms up. Take care, Joe Wetchler
$50 USD
Hi John, hope you enjoy the ride and have great weather.
$50 USD
John, Great job. Thanks so much for the kind words and support. Here's to raising money for a great cause. Let's do it again next year!! Peace, Mike
$26 USD
Thank you for retiring your hat! There might be a time and a place, but given the current climate it feels insensitive and void of empathy - which doesn't feel is who you are. . See you on the pickle courts!
$25 USD
Good Luck to you John! Ride Safe!
$21 USD
Thanks for your involvement John! Enjoy the ride!
$21 USD