Total Raised
$1566
First Year
2018
Total Events
5
My Blog
---
5th anniversary!
Tuesday 17th
So, back in 2018, after doubting at least one year, I entered my first DGR. What an advensture it was! Roaring down the streets of The Hague, riding with fellow men & women, enjoying a moment of spark, sun & gasoline! All for the good cause...
Years of entering again has passed, getiing friends and family to ride along, even the 'solo' rides for the last two years.
Unfortunately, The Hague couldn't participate this year, but Leiden was available! How fortunate: my place of birth to celebrate my anniversary of riding the DGR. It's the bike's anniversary also: 40 years young, so free to roam the Dutch roads.
After participating so late, I won't expect to gather enough for my $250 gentlefolk patch, but every penny is for the cause.
We'll see...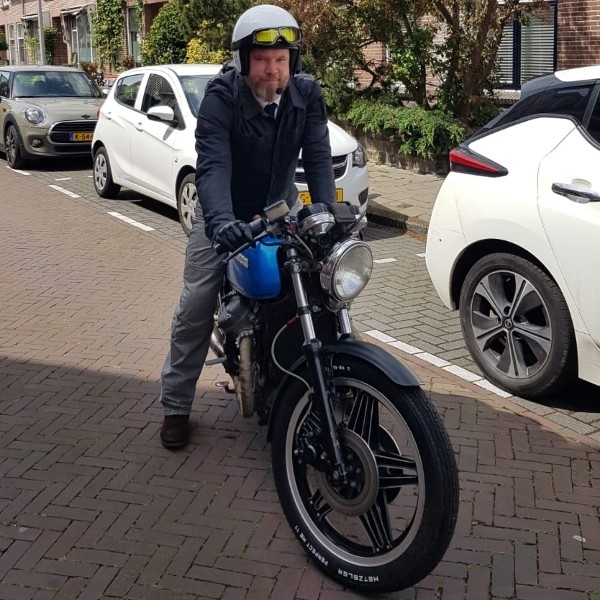 Join our team as we ride for The Distinguished Gentleman's Ride!
Sunday 15th
On Sunday the 22nd May 2022, we are teaming up to ride in The Distinguished Gentleman's Ride with fellow men and women across the globe to raise funds and awareness for prostate cancer and men's mental health on behalf of Movember. Men die on average 6 years earlier than women and for largely preventable reasons. The number of men that are suffering is growing, and we need to do something about that. So, before we press our tweed and polish our boots, we are asking you to join us in raising funds and awareness for these causes by donating what you can for this meaningful cause and to help the men we love, live happier and healthier lives.
My Sponsors
---
Zonder onderzoek geen genezig
$55 USD
Als ik ooit nou ook op een oude of retro bike rij, ga ik met je mee!
$11 USD