---
Pre-flight check
Friday 19th May 2023
Funds raised? Check.
Funds matched? (wrote a) Check.
Tires filled, oil leveled, tank topped? Check.
Sunday DGR Weather Gods cooperating?
CHECK! CHECK! CHECK!
And so, the DGR weekend begins...
It won't be the same without my pal Hal Fass, and his lovely wife Carole and daughter Maddie. But I'll be thinking of you Hal, with every twist of the throttle, sending positive, healthy vibes your way. To borrow a phrase, "Next year in our personal Jerusalem"—the NYC DGR on our Bonnies!
But I'm also grateful that my other riding kook friend—Jonah Houston—decided to fly in for the ride. I'm functioning as his ersatz bike dealership, and since my three-bike personal showroom is out in Connecticut (see below), I've been spinning a logistical Rubiks cube in my head trying to figure out how one guy (me) gets two bikes to NYC for the ride.
So last night after my final Teams call for the day, I hopped on the Moto Guzzi and braved I-95, the Bruckner Expressway, the Triboro Bridge (I don't care it's renamed the RFK—it'll always be the Triboro to me), and finally the FDR Drive to deposit the bike at a garage on 20th street.
If you think NYC highways and Bronx/Manhattan traffic are a nightmare from the confines of your car, you ought to experience them from the saddle of a motorbike.
It's like a cross between Mad Max, The Fast and the Furious, and Berlin 1945. The scale of the road- craters and the shocking amount of automotive and truck schrapnel littering the roadway make for perilous passage. Add in Uber drivers glued to their iphones, aggressive, impatient Hunts Point truckers, and the consistent, pungent smell of weed wafting from way too many late model Hyundais, and it's, well, an experience.
But my trusty lil' Guzzi scrambler (with its off-road tires and slightly taller suspension) didn't let me down, and with the help of Waze and some intensive focus and defensive riding, I made it to Manhattan safe and sound.
Then garaged the bike in Stuytown, taxied up to Grand Central, and made a 7:32 train back to CT.
Later today, I'll repeat the process with my Triumph Bonneville (Jonah will be piloting that on Sunday). He arrives in time for dinner tonight, we hang in the East Village and get the rain out of the way tomorrow, and Sunday...WE RIDE.
Finally, many thanks for the incredible generosity of friends, colleagues and family who've supported my ride—and thus Prostate Cancer Research and Men's Mental Health Services. As promised, I've matched your incredible good will dollar-for-dollar, and I'm humbled and grateful to say that together we've cracked the $13K mark. WOW!
Not that it's a competition, but that's made us the #3 DGR fundraisers for NYC, and the #14 DGR fundraisers worldwide. I say "us" because it is us—all of you who contributed so kindly. I'm happy with all the good those dollars will do, so I'll keep saying it: THANK YOU!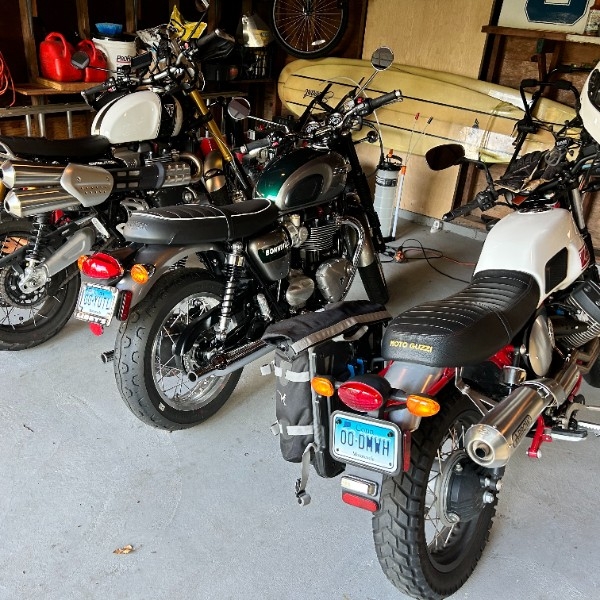 Special Guest, 10K, and Weather or Not
Monday 15th May 2023
Just one week to go, and my DGR cup already runneth over. Last week—and thanks to your generosity and kindness—I cracked $5K in donations. With my match, that'll take us over the $10K mark...outstanding!
And while unfortunate health news is keeping my DGR riding partner and good friend Hal Fass from joining this year (see previous post), we'll have a surprise guest appearance. My UVM pal and other riding partner, Jonah Houston, is flying in from California for the ride. Hal, we'll be thinking of you and missing you.
Whike Jonah and I have never ridden the DGR together, we have ridden motorbikes all over Mexico, Utah, Colorado, and New England. Now it's our turn to tackle the concrete jungle of Manhattan on somewhat more civilized rides.


We're only hoping for fair skies. The forecast for Sunday looks like it might force all the gentlemanly finery to be hidden beneath rain suits. But rain or shine, we ride. Ivy, your call whether you're up for a pillion soaking or not.


Thank you again to friends, colleagues and family who've stepped up to support. Your kindness and generosity are deeply appreciated, and will do much good....especially multiplied by a factor of two after I write a big fat check this week. Gratitude for making me do that!
Wrench in the machine...
Saturday 6th May 2023
I hope you will forgive me for the indelicate language, but cancer, my dear friends, is a fucking asshole. A capricious, malicious asshole that fucks with you (if you've drawn the short straw), your family, and your friends.
That asshole has now thrown a wrench in the DGR machine with my friend and riding partner Hal, pictured with me below, the night before our 2022 DGR ride.
Without getting into details, Hal will be unable to ride this year, and I am deeply upset for him, his lovely wife (who would've been spectating), and his fashionista daughter (who would've been riding pillion).
All of which fires me up to raise even more fuck you money to put that asshole cancer in its place.
I'm truly grateful for everyone who has contributed and supported my ride this year. And I'm hopeful that if you haven't, you'll join me in raising a middle finger to cancer by contributing to my DGR ride. It will fund prostate cancer research and support men's mental health.
As I like to say, it's motoring that matters. And the only consolation for not riding with Hal this year will be topping his 2022 fundraising, where he was #2 in all of NYC.

Gratitude...and Hal, I'm gonna miss you this year. But we're going to plan on doing it together again in 2024.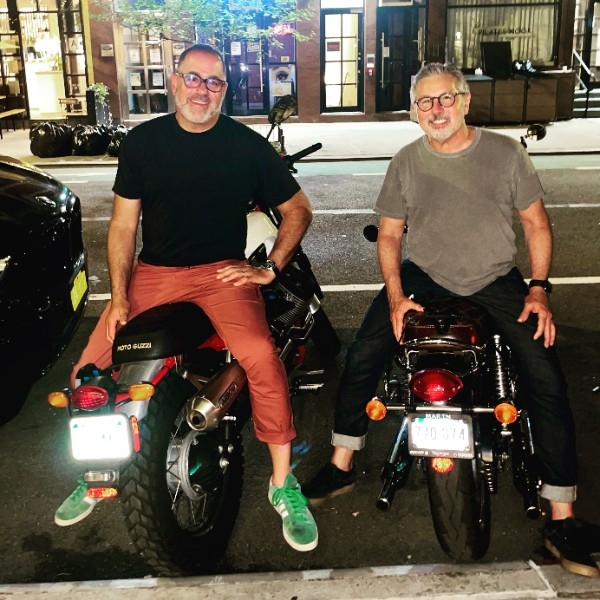 2023 NYC DGR with Ivy Rose
Saturday 22nd Apr 2023
Greetings, friends. Once again, I'm stoked to be riding the NYC Distinguished Gentleman's Ride this coming May. It's a great ride for important causes, raising funds for Prostate Cancer Research and Men's Mental Health/Suicide Prevention. My own family and friends have sadly been touched by both of these issues, so it's truly "motoring that matters" for me.
Last year, my younger daughter Maisie rode pillion with me on a scorcher of a DGR day. I was also joined by my riding partner and good friend Hal Fass (and his daughter Maddie). Hal was the second-highest fundraiser in NYC last year, all the more meaningful since he's is in the midst of his own personal health battle...

This year, my older daughter Ivy will be joining on the back of my trusty Moto Guzzi for the ride.
I don't love the idea of hitting up friends and family for donations, but I've come to take the DGR and its causes very personally, so I hope you'll indulge the ask.
Please consider contributing whatever you can. Every little bit counts. And this year, I'm personally matching every dollar contributed by friends, family, colleagues, et al. Feel free to put the squeeze on me!
And if you can't (or would rather not), just wish us a safe ride. I'm grateful regardless!
2022 DGR with Maisie Anne
Friday 21st Apr 2023
What a day! What a ride! The 2022 DGR was one for the record books, from the temperature (it was hot enough to dunk in a pool of your own sweat) to the NYC ridership (1,000 bikes) to the fundraising, where my riding pal Hal Fass reached the #2 NYC slot.
We had a police Harley escort from the Park Avenue Viaduct (above Grand Central) for a lap of Manhattan, including midtown, the West Side Highway, Harlem, the FDR, Chinatown, a Brooklyn sidetrip, and then a West Village/Chelsea rumble terminating in Meatpacking. It was intoxicating (in an entirely legal, four-stroke kind of way) riding among scores of vintage and modern Triumphs, BMW airheads, RNineTs, and more...along with 1,000 nattily-dressed Gentlefolk.
Many thanks to my pillion Maisie (who braved a leather jumpsuit in 95 degreee heat!) and ALL friends and family who supported our ride. And great to be riding with my good friend Hal and his daughter Maddie—DGR veterans and pros, who've won "best dressed" in past years.
We loved the afterparty too, at Gotham Depot in Greenpoint—my little Guzzi's "home away from home" for the summer. Next year can only be cooler if...it's cooler!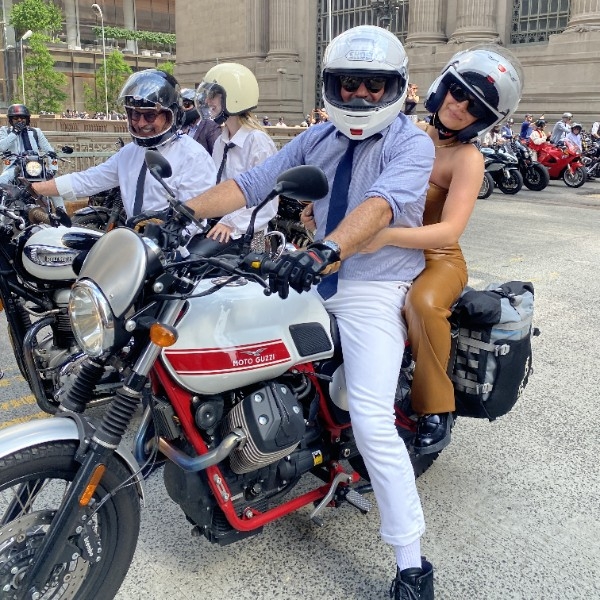 Join our team as we ride for The Distinguished Gentleman's Ride!
Friday 21st Apr 2023
On Sunday the 21st of May 2023, we are teaming up to ride in The Distinguished Gentleman's Ride with fellow men and women across the globe to raise funds and awareness for prostate cancer and men's mental health on behalf of Movember. Men die on average 6 years earlier than women and for largely preventable reasons. The number of men that are suffering is growing, and we need to do something about that. So, before we press our tweed and polish our boots, we are asking you to join us in raising funds and awareness for these causes by donating what you can for this meaningful cause and to help the men we love, live happier and healthier lives.
My Sponsors
---
As promised, matching all your generous contributions to date...will top off at end of week before the ride!
$5,248 USD
Final matching dollar top-off. Grateful for all of the support and generosity of friends & fam!
$966 USD
❤️ Ride Safe with Ives. Love you xo
$550 USD
Ride safe, my friend...sending positive vibes to your DGR pal Hal and his family. xoxo
$531 USD
We are with you all the way.... Karyn and Chloe
$510 USD
Final final match…thank you friends for your incredible generosity!
$254 USD
Hey friend, hope all is well. Amazing photo of you! Happy to support this important cause.
$208 USD
Super cool and super important. Ride on.
$208 USD
Wonderful ride and charity !
$187 USD
Honored to donate for such a worthy cause!
$104 USD
You never cease to inspire. Safe trip!
$104 USD
FU Cancer! And sending support to your friend Hal.
$104 USD
Enjoy the ride, old friend! Great cause!
$104 USD
Thanks for making the ride!
$104 USD
Living life with purpose! Ride on.
$104 USD
Oh how I hate cancer. The uninvited guest that never leaves the party. Wishing you a safe journey Josh!
$104 USD
Happy to support such a wonderful cause. Safe ride to all!
$104 USD
Thank you for supporting an important cause for all the wonderful gentlemen in our lives. Good luck and enjoy the ride!
$104 USD
Always a force for good health. Good luck, Josh!
$104 USD
"Motoring that matters".....beautiful!! Maybe I'll join in next year!! Lots of love and wishes for a communal safe and beautiful ride!!
$94 USD
Inspiring as always. Congratulations in a success ride.
$75 USD
Go Josh, always inspiring!
$61 USD
Go Jooooooosh (& Ivy)!! 🏍️
$54 USD
Ride on! My dad still is riding his Triumph :)
$52 USD
Josh, enjoy the ride, ride safe, and thank you! And what a cool bike!
$52 USD
FU, cancer! Best wishes to Hal and to you, Josh, for continuing this effort.
$21 USD
A little disappointing it's not your cycling bike, but nonetheless best of luck!
$21 USD
Wishing you a safe and fun ride! What a great cause to get on the road for.
$21 USD
F you cancer! Sending ❤️ for the road 🏍
$21 USD