Total Raised
$7283
First Year
2021
Total Events
2
My Blog
---
Covid Positive and ready to be Reborn!
Saturday 16th
Good Friday!
Donate and read online further at - https://gfolk.me/ThomasThorpe397321
Well as many of you know I have been stricken with the dreaded Covid, confirmed on Monday April 11th by an at home antigen test then confirmed later that day with a virtual visit with a most friendly Dr. Wolf (of which I have had several Dr. Wolfs it turns out in my health history, and the Wolf is also one of my animal guides (on the right, not left)).
I will note, that in the weeks prior, I had noticed that my sense of taste had gotten funky. Not non-existent, but selective and in and out. On March 21st I went to see Animal Collective at First Ave with my nephew Simon and at diner beforehand at Brasa in NordEast, I noted that I had taken a Covid test at home as I was experiencing this strange taste thing. Si joked, "So you're just ripping Covid tests now?" It lingered and I just figured it was allergies.
There were no real other symptoms and Karen (my now not so new Girlfriend) and I set about going to several concerts, The Sparks, Animal Collective (she got on the list), Run Westy Run and the Suburbs as a make up NYE show, and Folios at a small record shop. I will note that in all these outings we always wore masks (maybe 80% of the time) and really practiced all the things we know. So while we were out, living, doing, the numbers were / are down, and many people were not wearing masks at all.
For those of you who are not familiar with my health history, that's probably a good thing. For some context though, besides being in recovery 14 years from alcohol and drug addiction, I have several other on going issues. I hasten to use Chronic, and yet they are that I suppose. I was first diagnosed with ulcerative colitis in February 2004, and that was then changed to Chron's in August 2004 where after removing my entire large intestine, subtotal colectomy in Paris, I continued to have dreaded inflammation. Then in January 2006, after having moved back to Minnesota, I started to have symptoms of joint pain that then was diagnosed as Enteropathic Spondyloarthritis, a rare type of arthritus that afflicts some with bowel disease.
Sooo, with that in mind, I have taken precautions, I have been vaccinated, boosted (I got my second booster even on March 25th,) I go to my doctor appointments and because I take the very well advertised drug Humira for my arthritic condition and related IBD stuff, I need to be ever cautious as it is an immunosuppressant and puts me at greater risk of all the stuff that Covid and other infections can do.
Now, if dear reader you have made it through to here, thank you! I put this out there with the intention of supporting what I think is a good cause, in whatever way we can, to be open and conscientious of our health conditions. That in the sprit of the Distinguished Gentleman's Ride, one of the hardest things we face, especially in this Pandemia, is that we let things go, we hold off on talking, sharing, checking, and going to the doctor. It is vitally important that we keep up with ourselves and appreciate the fact that our bodies while hearty and strong sometimes, are also imperfect and will fail, at some point. Death and Taxes!
I should have known something was up on Sunday the 10th, the day after my FourTeenth birthday, when I succumbed to watching the first episode of the new season of Emily in Paris. It is one of my cursers to be a Francophile. As banal, trite, shallow and self indulgent as the show is, it is Paris and its beautiful, cheeky, and somehow irreverently millennial, and so in all my infinite TV wisdom, I just cannot and will not look away.
I awoke on Monday morning, feeling fine and was heading back into the office at TPT, as we make an effort to be more actively hybrid, and reclaim some of the responsibilities of our membership department, namely ensuring that if you did not get your magazine, that the one we tell you we will send out as a replacement will be sent out posthaste. So, with my reluctant colleague Molly, who had not been in the office since March 13th, 2020, we set about learning the mail merge procedure.
I started to notice the scratchy throat thing that happens with colds when I came back from my lunch, the first time seeing Xavier and Dee at Mason Darras (more Francophilisims) since Lockdown. Molly, Harrison and I went over the mail merge procedure in an enclosed room, Molly went to pick up here girls at school and I set out to stuff magazines.
I was feeling the little scratch, and now a light fog, and I made the wise decision not to stop in the densely filled room having a Snack time, sponsored by TPT's new Team Fun and HR, to help new and old employees become familiar with the space each other as we have been away for so long. I returned to my desk, finished what I was doing, took the last calls and then went home early.
I got home, and went to bed and slept through my in person Al-Anon meeting (still working on that graduate degree from the programs we never graduate from). I watched another episode of Emily in Paris, and I think the deal was sealed; my ties to Paris, illness and recovery just keep blooming.
Tuesday Morning, arrives, hour by hour as it does sometimes for me and sleep, and now fever at 100.4 aches, stuffiness and a complete lack of taste. I get out of bed, and decide to take the antigen test that I was thinking I might wait for a day or two, but with the snot thick, and fever set, I thought no better time than YesNow. Do not pass go, blow your nose or drink anything! Hurray- I passed the Test, I was positive!
After trying to fill out the online form, it indicated due to my immunocompromised status, I should call on the phone I called, made a virtual apt, and back to Dr. Wolf. She even complimented my on my proactiveness and taking my care seriously. This felt a bit more of a genuine compliment then when after my colectomy in the Hopital St Antione in Paris in 2004, the very kind nurse en francaise dit moi que "tu as un tres belle cicatrice" (You have a very pretty scar…She was just being kind). Because of my conditions, I was approved to get the new emergency approved Pfizer drug Paxlovid. They even delivered it to me by lunchtime!
Today, Good Friday is day 4 of 5 of Paxlovid. While the drug is worse than Flyagyl (an antibiotic I had to take for dysentery while living in Nepal) in its bitter aftertaste (its kind of a marvel I can even taste that) . It really has worked!
Now, for the current update! Since I acted fast and got the Paxlovid rolling, I managed to stop the virus before it went into my lungs! I have a lingering slight fever that comes and goes, but so far, all this typing I am feeling ok, listening to some Vinyl and trying to let the medicine work. I finish the drug on Saturday, but because of my imunostatus, I have to remain in quarantine for 20 days, May 3rd!
I am sad not to be able to join my family and loved ones on Easter as we celebrate spring, and Simons 23rd birthday. I am ever grateful for Karen and her sweet attentiveness, generous deliveries, and homemade goodness full of Love. Somehow despite my best efforts in sharing this with her, she has managed to remain Covid Negative, Go herbal Teas! At this point in time Molly and my other TPT teammates have not been stricken, and I am so fortunate to have their support and I thank them all for their hard work in my absence. I appreciate too all of your kind words, and well wishes! I seem to be once again, extra fortunate in that in difficult circumstances, I have been able ride it out in Dapper style even; I have some new Momo jeans hemmed and ready to be picked up from BlackBlue!
So, this is all to say, I and We will be well! Live long, prosper, and take care of yourselves. Listen to your Body and believe in science, make that appointment, get that shot, take those drugs and supplements.
Thank you All!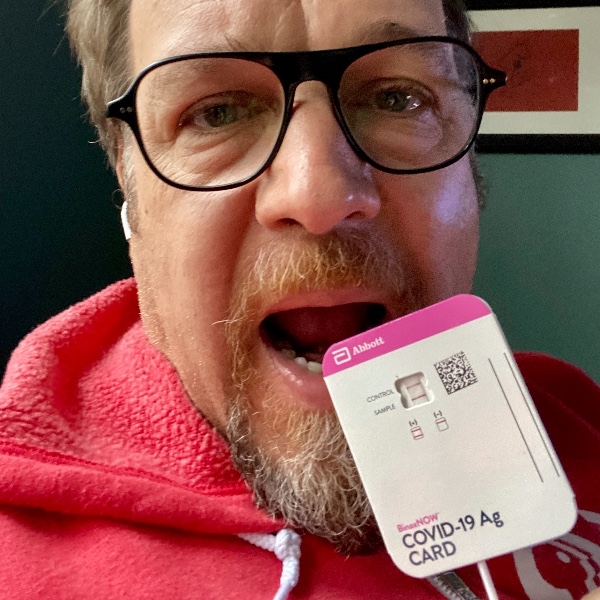 Lucky FourTeam Thorpe - Just For Today
Sunday 10th
Hello Cats and Kittens!
Today I mark Fourteen (FourTeam) Years clean and sober!
I really have so much to be grateful for, as always, and really none of it would be possible with out the fact that, once again, just for today I have found it unnecessary to medicate the day away into oblivion.
I have so much Love in my life, so much support, community, peers and colleagues. I am really thankful for you all. As difficult as times have been, there just continues to be so much to live for, celebrate and cherish. Thank you All!
Participating in the Distinguished Gentleman's Ride, just seems to be such a natural way to celebrate and participate and hopefully bring awareness to Men's physical and mental health. While we all need to take care of ourselves, whatever gender we are. I still stand behind the work DGR and Movember are doing and I encourage you to check the inner depts. On their site at - https://www.gentlemansride.com/about/programs-we-fund
As noted, last year I was Lucky enough, with the help of Lucky ThirTeam Thorpe to place in the world's top 50th place of the fundraising. I am already so proud to continue this with Lucky FourTeam Thorpe and while my goal is $2022, that's Just For Today, as you have continually proven to me that we should move to exceed our goals and reach for the stars, spinning in the endless constellation of possibility.
You can Donate online at - https://gfolk.me/ThomasThorpe397321
Thank you!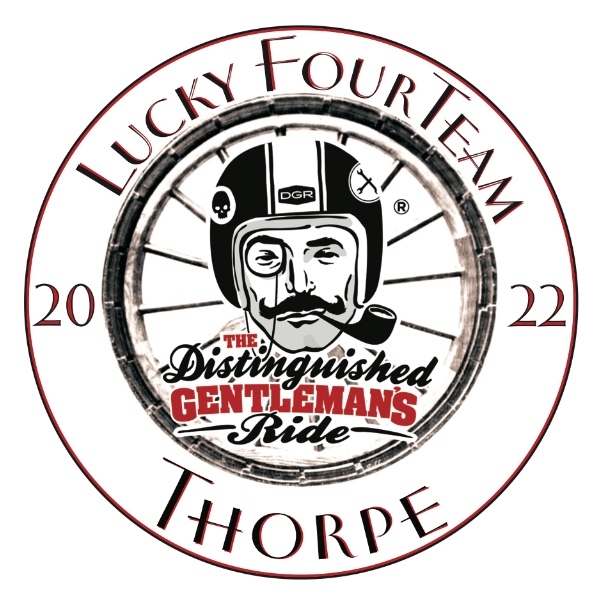 2022 Distinguished Gentleman's Ride is Here!
Sunday 3rd
Hello Distinguished, Kind and Generous Folk!
The 2022 Distinguished Gentleman's Ride is here! I want to once again thank all those that contributed to last year's most successful drive where we collectively raised $5452! That is amazing, Thank you one and all!
As I made clear in my many emails, posts it was a tight race and where every donation counted , you all help me finish in the top 50th place in The Whole World, by .52 cents! It truly was remarkable and I just still just get excited thinking about it!
One New Years Eve 2021, at fifteen minutes to Midnight, I finally did the drawing for the painting of me on my Moto Guzzi I did for one lucky contributor. Sophia Kahn was the lucky winner, and while I have yet to get the painting to her, I have been hoping to give it to her when her brother returns with his wife Melissa for another visit from Berlin. It seems the world keeps turning, and new Covid Variants, War and Elyas's most remarkable radio show (you can find it on the Tring Radio app in your phone app store or on line, his show is on Sundays at noon Central Standard time. It's truly an eclectic joy to listen to!).
I will proudly wear The Helmet on this year Ride and I encourage you to donate what you can. As always, I know there are so many worthy causes, and it just feels like we are in as much uncertainty as ever.
As I approach my Fourteenth (and so now we are -Lucky FourTeam Thorpe ) year clean and sober, in recovery, I am as ever grateful for all the opportunities, health, family, friends and love I am most fortunate to have.
Thank you!
Thomas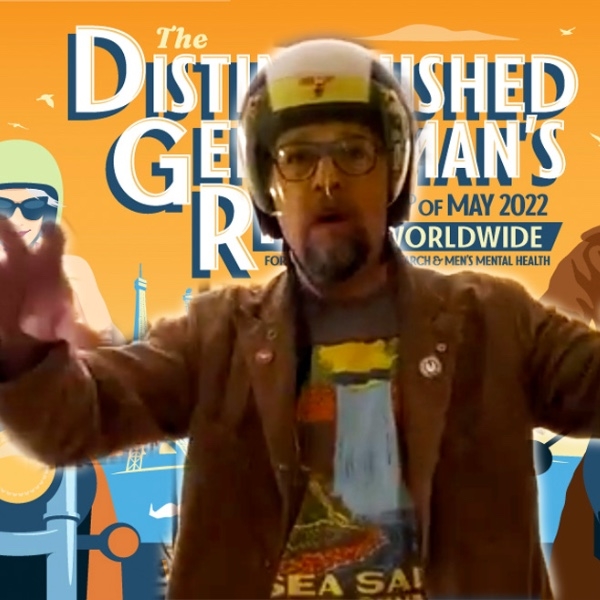 Join our team as we ride for The Distinguished Gentleman's Ride!
Wednesday 30th
On Sunday the 22nd May 2022, we are teaming up to ride in The Distinguished Gentleman's Ride with fellow men and women across the globe to raise funds and awareness for prostate cancer and men's mental health on behalf of Movember. Men die on average 6 years earlier than women and for largely preventable reasons. The number of men that are suffering is growing, and we need to do something about that. So, before we press our tweed and polish our boots, we are asking you to join us in raising funds and awareness for these causes by donating what you can for this meaningful cause and to help the men we love, live happier and healthier lives.
My Sponsors
---
Thanks for doing this ride for such incredible worthy causes, Thomas! My contribution is in honor of my beloved brother Kurt.
$104 USD
You are ama!zing. Such a mench!
$104 USD
Good riding Thomas and good luck. A/J
$104 USD
Ride on Thomas! Have fun, every chance you get. Big hugs, Dana
$78 USD
Thomas now owes me attendance at 5 Saints games this summer. This is quid pro quo, plain and simple. In all seriousness, you don't owe me a thing, and enjoy the ride! Thanks for doing this.
$62 USD
Hooray for wonderful things! 🐣
$50 USD