Total Raised
$7573
First Year
2015
Total Events
3
My Blog
---
What a Great, HOT event!
Monday 23rd
Proud to have ridden with such fine, like-minded folk today out of Metuchen. Thanks to the organizers and sponsors. The heat didnt' keep some 300 riders away from participating in Metuchen, NJ...we raised good strong money for such a small group for such a worthy cause and foundation. God Bless and be well all! Until next year!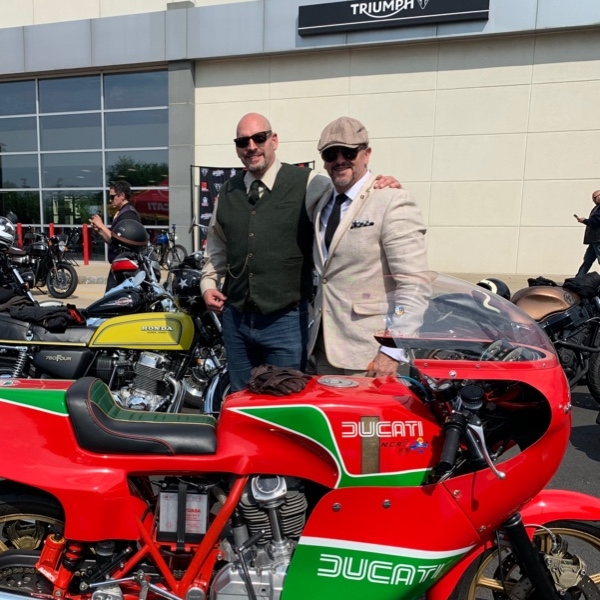 Buff 'em and top up the tank!
Sunday 22nd
The "Cherries" are polished and buffed, and the fuel tank is full. See you all tomorrow - Stay Cool all! Stop me and say "hi" tomorrow - hint, I'll be the sweaty one! LOL
Long time no see!
Saturday 21st
FINALLY, the Ducati is fully dressed and ready for its test run / shakedown tomorrow, and barring any issues will make its first public appearance on Sunday! And then...on to finishing the Laverda which should be on the road this summer as well, and will likely be the ride for next year's DGR!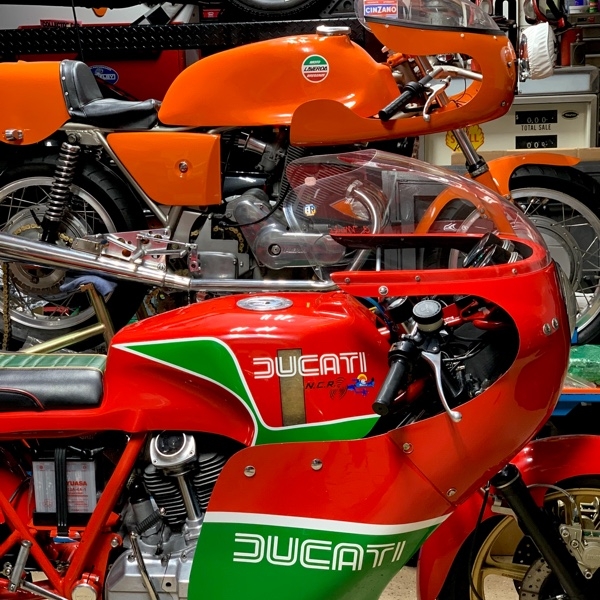 Won't be long now…
Friday 20th
New petcocks installed and secure - we no longer have an Exxon Valdez situation in the shop. Brakes successfully bled, and body work carefully being remounted. Test drive likely later this evening or tomorrow, and a shakedown cruise planned for Saturday afternoon! Looking forward to seeing all the Dapper Folk on Sunday! Final push is on gang!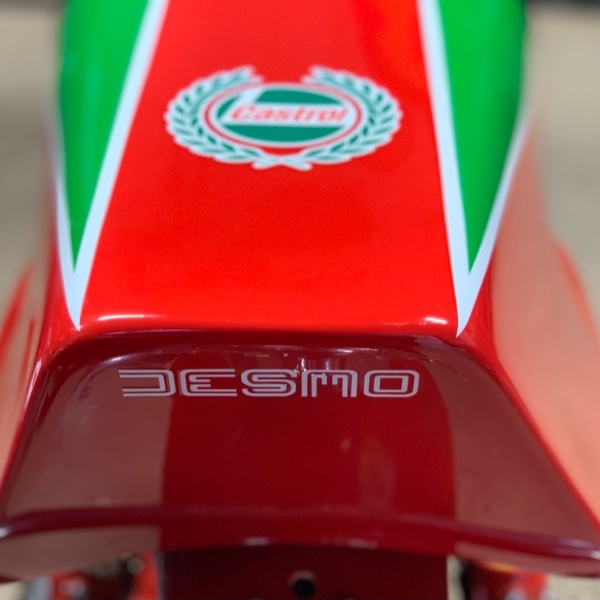 Moving (slowly) right along…
Thursday 19th
Still much to do. Stymied by leaking fuel taps despite having rebuilt them three times now (new ones being delivered today). Bodywork going on, and she's looking more and more like what I remembered - this was my Brother's favorite bike in the collection, and I'm so excited to have it together again and (with more prayers still) ridden at this year's DGR...4 days to go!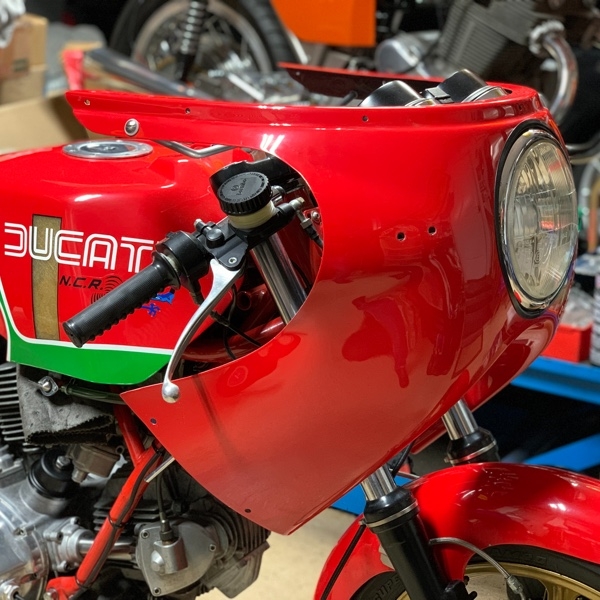 Ducati porn…
Tuesday 17th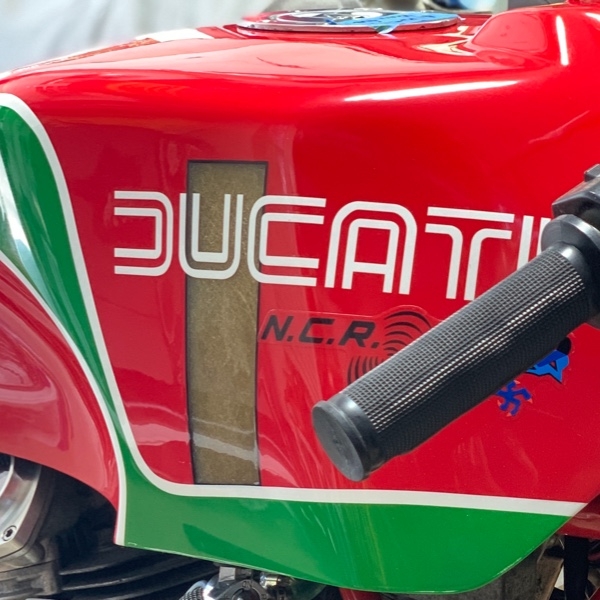 SUCCESS…God is Good!
Monday 16th
After such a long slumber, and many hours getting things sorted, the Ducati is ALIVE..first on ether after three kicks...then, after rigging the remote tank she started through the carbs and quickly settled to an idle on the first kick. Had the R75 ready to perform in relief, but looks like that won't be necessary after all! So excited to wrap up the remaining items on the list to complete the recommissioning, and have the Ducati make its first appearance in more than a decade, on the road at this DGR!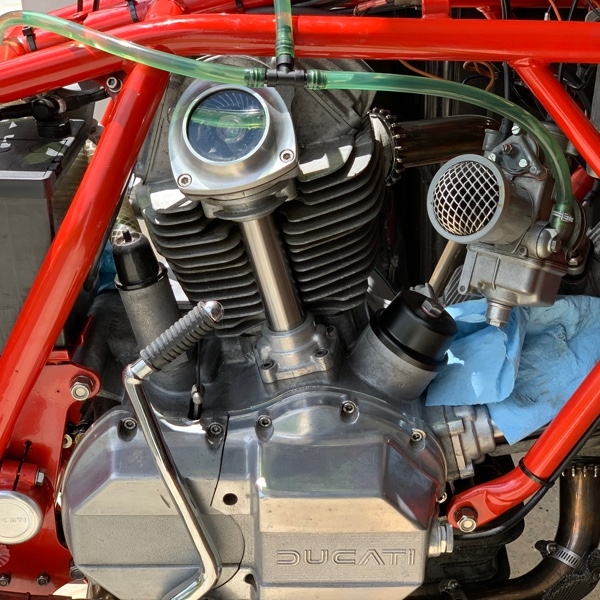 The blessing of the clutch…
Monday 16th
Well. The Ducati engine is once again all buttoned up and today after a general overview of critical wiring and electrical components, and drinks of some fresh golden oil and ethanol free fuel, we'll work to get her running…assuming success (prayers please) it'll be onto the medieval "bleeding of the brakes" to get her ready for next Sunday. One week to go and lots to do. Working on the '72 BMW R75/5 too, JUST IN CASE!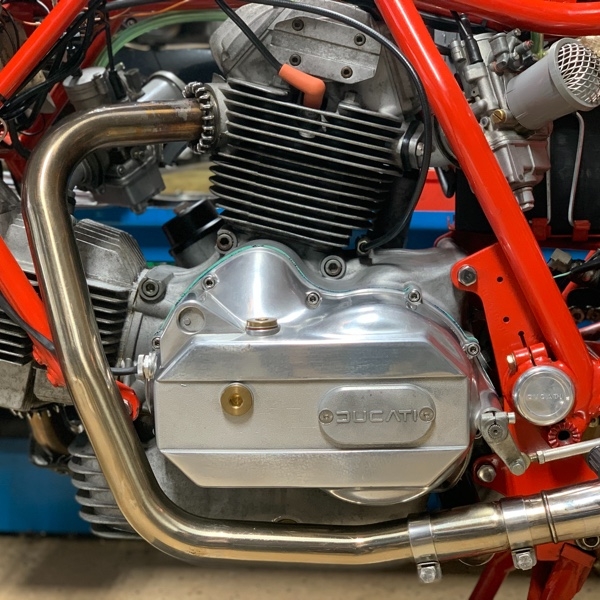 Time ticking down to the 2022 DGR!…
Sunday 15th
So happy to see that a small NJ town like Metuchen has such a large registered group for this year's DGR! We rival large Cities around the world! Looking forward to it, and hard at work this muggy, foggy, rainy day working with gear pullers, heat and hammer prepping the vintage Ducati 900 NCR special recommissioning her with a new clutch for the event! See you soon Gents!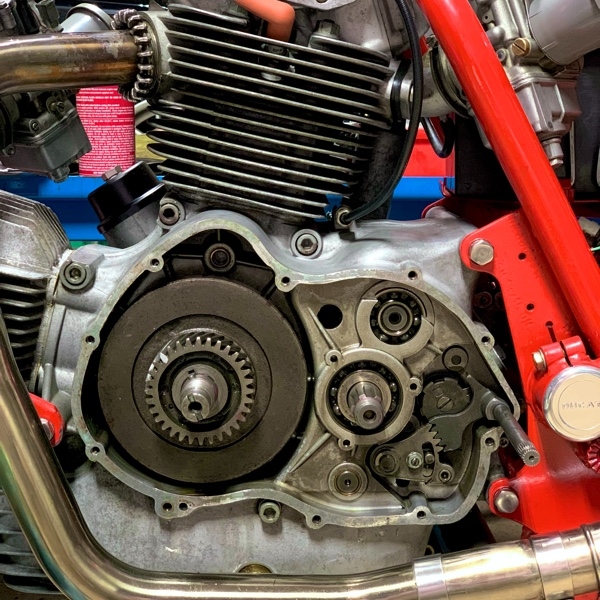 I'm Riding for Men's Health in The Distinguished Gentleman's Ride
Tuesday 10th
Now that public assembly is (thankfully) returning to our world, on Sunday the 22nd of May 2022, I'm once again riding in The Distinguished Gentleman's Ride with fellow men and women across the globe to raise funds and awareness for prostate cancer and men's mental health on behalf of the Movember Foundation. But before I press my tweed and polish my boots, I'm asking you to join me in raising funds and awareness for these worthy, and often ignored causes by donating what you can. I have made my donation, as I do each year, and encourage you to join me in support of Movember, and the worldwide response that is the Distinguished Gentleman's Ride. PS - I'm busy working on preparing my 1979 Ducati 900 NCR replica, and hope to return it to the road at this year's event (for the first time in about 12 years!). Thanks for your support! BE WELL! Chris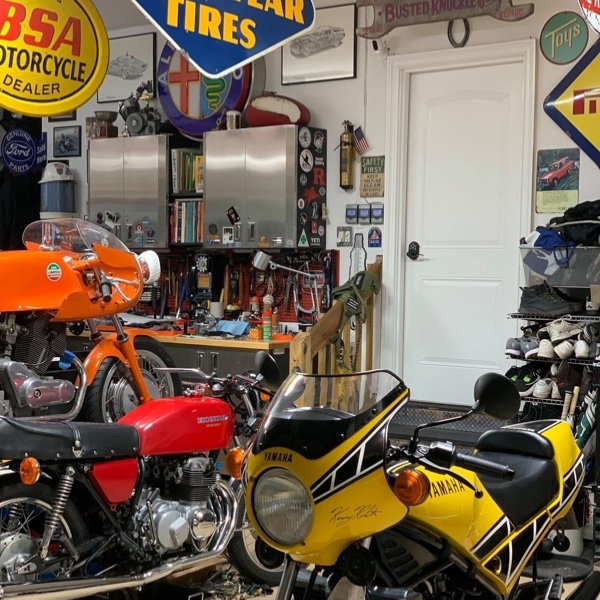 My Sponsors
---
Happy to support this great cause. Have a great ride Chris!
$1,010 USD
Thank you for always supporting so many incredibly important causes, in a very committed way!
$510 USD
Such a great cause and such a great guy how can I not support you. Ride safe always!
$375 USD
Chris: Your efforts in support of these causes is inspiring!
$310 USD
God Speed to you and all of the riders for a safe and (cool?) event - so proud to be supporting such an important cause!
$260 USD
Have a safe ride and successful event!
$260 USD
Enjoy the ride, Stay Safe, and have a successful event!
$260 USD
I was on vacation when this came but still want to donate. This is a very cool way to raise money and awareness.
$208 USD
Happy to support the cause my friend!
$104 USD
Great cause, and beautiful motorcycle! Hope you have great weather for the ride.
$104 USD
Very proud of you Chris! A great cause
$104 USD
Great cause, Chris. Ride on!
$104 USD
Have a great ride on the 22nd raising awareness and donations!
$52 USD
Great cause! Have a safe and fun ride.
$52 USD