---
Grateful
Tuesday 18th Apr 2023
Greeting and happy day two of #thirtydaysofdapper.
Part of my journey with this organization is the education about mental health awareness.
One of the biggest things I have learned is to be #grateful.
So today I am grateful for all of you!!!!!
I appreciate anyone that is reading this and thank you in advance of your donations.
Every little bit adds up, when I started fundraising, I had goals of $500 and now I'm pushing towards $10,000. It all helps, and all goes to a great cause.
Stay Dapper,
David
30 days of dapper
Thursday 6th Apr 2023
Couple of years ago whilst coming home from the Gentleman's ride, i made a pit stop. It was during this break that a beautiful person stopped me in my tracks to tell me how dapper I looked that day.
It's from this interaction that I have decided for 2023 Distiguisged Gentlemen's Ride I shall be dapper for not one or two but 30 days leading up to the ride. With a starting date of 4-17-23 and finishing on the day of the event 5-21-23.
My hope is that if once every day somebody asks what in my right mind I am doing? I can fill them in and hopefully recieve an additional donation.
Please follow my journey #30daysofdapper
Stay Classy,
David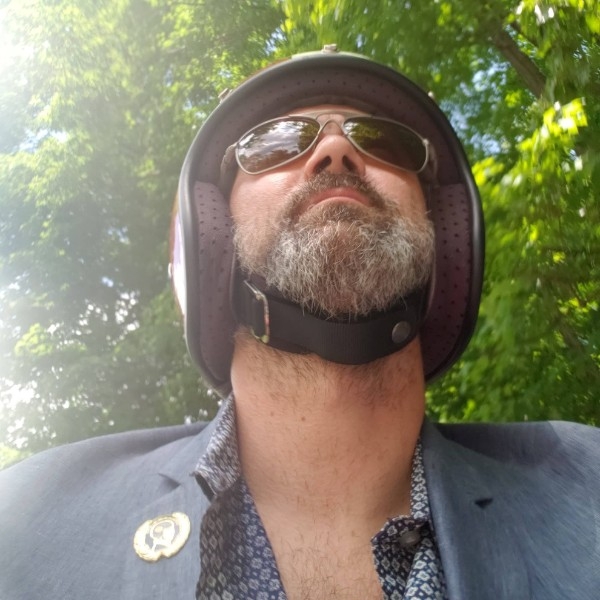 I'm Riding for Men's Health in The Distinguished Gentleman's Ride
Monday 27th Mar 2023
On Sunday the 21st of May 2023, I'm riding in The Distinguished Gentleman's Ride with fellow men and women across the globe to raise funds and awareness for prostate cancer and men's mental health on behalf of Movember. Men die on average 6 years earlier than women and for largely preventable reasons. The number of men that are suffering is growing, and we need to do something about that. So, before I press my tweed and polish my boots, I'm asking you to join me in raising funds and awareness for these causes by donating what you can for this meaningful cause and to help the men we love, live happier and healthier lives.
My Sponsors
---
Schiff Natural Lands Trust
Schiff is sending you all the very best wishes during your ride David.
$500 USD
Nancy and I are with you all the way!
$156 USD
Thank you for continuing to share this message, my friend. This is for my friend, John O'Shea.
$104 USD
Thank you David! Mental Health awareness is so important in today' world.
$104 USD
Love how you keep showing up for others on their mental health journey. As such, we'll keep showing up for you ♥️ Get it, David (+ Jenny)!!
$61 USD
You are the most dapper of all! Proud of you, friend!
$61 USD
To the most dapper chef around. Good luck, great cause :)
$61 USD
Good luck and have an amazing ride and trip!
$61 USD
Lauren And Sean McLaughlin
$61 USD
Cheers, Dapper Old Friend! Ride Safely!
$52 USD
Love you Chef! Ride on! Love from Lindsay, Joe and Cillian
$26 USD
Dapper David - keep it up!
$21 USD
congrats so glad you are doing well. Bet of luck on your ride
$21 USD
Thanks for sharing your story and bringing attention to this important cause. Sending big hugs.
$21 USD
Amazing cause, David. Stay well
$21 USD
Thank you may the universe continue to bless us.
$21 USD
Good luck on this year's journey. 30 days of dapperness sounds like a lotta fun. Keep it up my friend!
$21 USD