Total Raised
$25517
First Year
2016
Total Events
7
My Blog
---
The Distinguished Gentleman's Ride - 2022 Edition!
Tuesday 19th
I started doing the Distinguished Gentleman's Ride in 2016 as a fun event, but 6 years later, it has come to mean much more to me. And this will be the third time that my furry sidekick Marley will be joining me as we raise funds to combat persistent men's health issues like prostate cancer (which men often ignore), depression and suicide.
Last year, with your generosity, I was in the global top 50 for fundraising for the second year in a row. That was humbling and I thank you. With your help I can keep the streak running...I've put my money where my mouth is and started off my 2022 campaign right.
I'm pleased to share that like last year, Home Trust Company has generously agreed to match each donation. So, please, give what you can and it will go twice as far!

The financial support I've received during my participation in the DGR has been truly humbling. But it also speaks volumes about how people value the men in their lives and how they appreciate the unique physical and mental health challenges faced by men.
I believe in the mission of the DGR and the Movember foundation; it's one of the reasons the DGR sticker remains permanently affixed to Marley's sidecar.
Even if the world isn't back to normal, the ride is returning to its roots as a group event to garner as much attention as possible.
On Sunday the 22nd May 2022, I'm participating in my 6th Distinguished Gentleman's Ride with fellow men and women across the globe to raise funds and awareness for prostate cancer and men's mental health on behalf of Movember. Men die on average 6 years earlier than women and for largely preventable reasons. The number of men that are suffering is growing, and we need to do something about that. So I ask that you to join us in raising funds for these meaningful causes by donating what you can to help the men we love, live happier and healthier lives.
Thanks,
John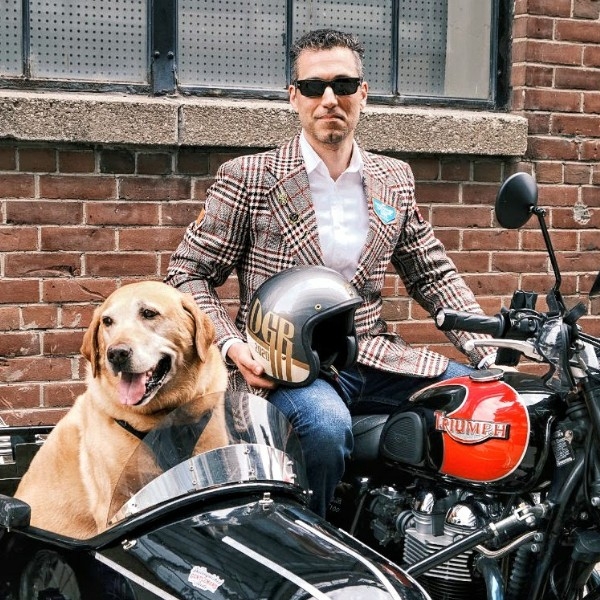 My Sponsors
---
Awesome John! Thank you for doing this!🙏🤗
$204 USD
Love to JohnJohn and Marley, thanks to looking out for us gents
$196 USD
Great Cause John...Ride on!!!!
$163 USD
Always a great day with you and Marley cruising the town
$163 USD
Thanks John!! Have a great ride!
$162 USD
Here's to your good health John and all the wonderful men in our lives!
$82 USD
Wish i was riding with you buddy.
$82 USD
Ride on John. See you in Algonquin
$82 USD
Great Job, brother! Keep it up.
$81 USD
Great work on a great cause!
$81 USD
We will be with you in spirit John. Love you lots ❤️
$81 USD
Keep up the great work John!
$80 USD
Enjoy the ride John & Marley!! Cheers to a sunny & safe day~
$45 USD
Good luck to you and your team John and thank you for your cause.
$42 USD
Thank you for your continuous support. Even though I'm not participating this year, I wanted to support my favourite buddy Marley. :) Hope you guys enjoy the ride! :)
$41 USD
Enjoy the ride John and Marley 🐾
$41 USD
Hope you & Marley have a great ride!
$19 USD
Ride on 🤘🏾 Goooo Marleyyy!!!
$16 USD
woof woof woof meow ssss Go Marley Go
$15 USD