Blog
---
DGR 2022 'ride day update'
Tuesday 24th
Firstly thankyou! again to all that sponsored myself and the guys in the "Four Cures" team. Presently our team is the 3rd highest fundraising team globally, a great effort by all.Along with yourselves i have to thank our team, Ken Erm Vulco Dave Col Jakob and Ryan. Thanks fellas u all done "nearly" well. The extra ordinary life members committe meeting will b held tonight by the 4 life members. And And , theres a chance this could be reduced to 3.
Individually i have slipped from 1st globally to 5th. But just waiting on a second wind to get our deal "skin in the game" finalised. I think im about 14k needed to get that 3rd position which gives us the prize of a bike to hand out to one of you guys, our sponsors on the day.
The day was not about prizes or getting anything in return and if our efforts have helped drive other teams to raise more funds then its been a successful day. Our team really wanted to be able to hand a little back to all that helped with the chance of winning, an approx $25,000 motorcycle and there is still a slight chance " its not over til the fat lady whistles/sings" as they say, so lets see!.
I will attach a couple of photos with this and the remainder of photos with a story about our ride, start to finish. You all have to read, A rather eventful start and i think there is a number of fines to our team members for there actions on the day.
My apologies for not updating our site as the final weeks drew near to the event but it was out of my control , hence a number of severe fines to be handed out. Without giving to much away at least one of our team will have the choice to pay his fine financially or physically . So once again stay posted. Cheers, Phill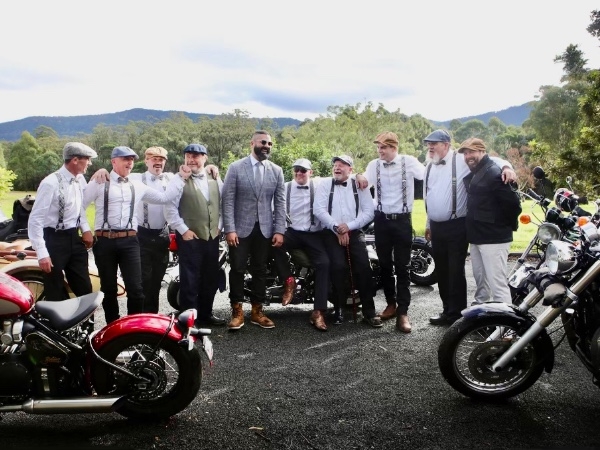 Global Leaderboard 2022
Friday 15th
5 weeks out from our DGR ride and Thankyou to all who have donated to date. As a team we are the second highest fundraising team globally and highest fundraising team in Australia.
One of the boys in the team is presently the highest fundraiser to date in Australia and globally.
Along with this the little city of Wollongong is sitting 2nd in Australia and 5th globally.
This is awesome so far but a long way to go and remember this is about raising funds for these two very worthwhile causes.
Sadly a number of our team have in the past couple of days lost a friend tragically to one of the causes we are all supporting.
In our last blog we noted the pressures placed on society today and worldwide the covid pandemic has accelerated this issue. In Oz we've had floods fires and the economic hardship created from all the above, added to other ingredients makes a lot of pressure for some.
Raising funds to help support the research into mens mental health and the prevention of male suicide is a very worthwhile cause because it will aid, and in no doubt help families. So if you have already donated Thank you and please consider passing this DRG cause on to friends workmates employers, if you have not donated we understand how tough it is out there but if your not in a position to help fund, please pass the word on.
Well, Thankyou to all our donation sponsered to date. Four Cure is travelling well with 5 weeks remaining before the ride.
Friday 15th
DGR 2022 - 'skin in the game'
Sunday 27th
Gday all, one of my favourite little rides is here .The year again disrupted by Covid variants has taken its toll and this is another reason why the DGR plays an important part in highlighting mental health.
Firstly a big thankyou to every person, business, organisation, our family and friends for the help in letting us become the highest fundraising team in Australia and the third highest fundraising team globally. Your generosity has been overwhelming , a little mining and steel village on the east coast of Australia amongst 678 cities and 104 countries globally. Along with these awesome results two of the team individually became 2nd and 3rd highest fundraisers globally. This was made possible thanks to all that donated to the distinguished gentleman's cause. (The 2nd and 3rd highest fundraisers received a new Triumph motorcycle. See link below)
DGR the cause
- unites classic and vintage style motorcycle riders all over the world to raise funds and awareness for prostate cancer research and mens mental health
I'm sure there's nobody out there that has not been touched by the effects directly or indirectly of prostate cancer or the cause to prevent male suicide.
SKIN IN THE GAME
- what is it ?
Our original team of four has decided that if we are fortunate enough to raise enough funds worldwide to be awarded the 1st,2nd or 3rd prize globally, we will be passing this on to one of you that has donated. At the completion of the targeted fundraising date each person, business, organisation will get a number to be placed into a barrel. This will be ratified by representatives of DGR and drawn from the barrel by that representative at Wollongongs hosts for the rides business, City Coast Motocycles. Tim and Jane Sim continue to do a marvellous job organising the Wollongong ride. They put a great deal of time into the event and we can only imagine the logistics behind the ride itself, liaising with authorities on traffic routes etc.
The " FOUR CURE" team is everyone that donates to this exceptional
cause. We will all have " skin in the game" so once again we ask for your support in raising much needed funds
If you would like to check out our team gallery you will maybe read between the lines on some of the antics behind the scenes. For one, if any rider was late to the start up breakfast meet prior to riding to gather for the DGR ride there would be a fine to every rider on the team, yep someone had to b late didn't they. It's all for the charity guys
𝗧𝗵𝗲 𝗙𝗼𝘂𝗿 𝗖𝘂𝗿𝗲 (𝗙𝗖'𝘀)
https://citycoastmotorcycles.com.au/triumph-motorcycle-prizes-awarded-in-wollongong-for-dgr/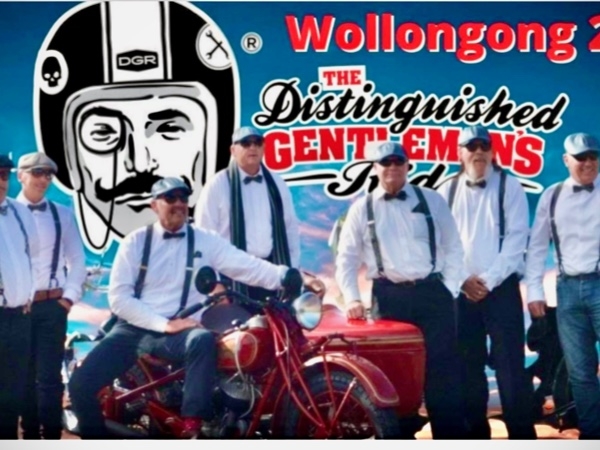 Join our team as we ride for The Distinguished Gentleman's Ride!
Friday 25th
On Sunday the 22nd May 2022, we are teaming up to ride in The Distinguished Gentleman's Ride with fellow men and women across the globe to raise funds and awareness for prostate cancer and men's mental health on behalf of Movember. Men die on average 6 years earlier than women and for largely preventable reasons. The number of men that are suffering is growing, and we need to do something about that. So, before we press our tweed and polish our boots, we are asking you to join us in raising funds and awareness for these causes by donating what you can for this meaningful cause and to help the men we love, live happier and healthier lives.
My Sponsors
---
Great cause. Iv been involved with movember for over 15 years now.
$39 USD
Well done team a great cause
$148 USD