Decade Of Dapper Helmet Auction Is Live!
10 Days, 10 Artists, 10 Helmets, 10 Years of Riding Dapper!
The Distinguished Gentleman's Ride Marks A Decade Since its Inaugural Event With a Curated Custom Helmet Auction.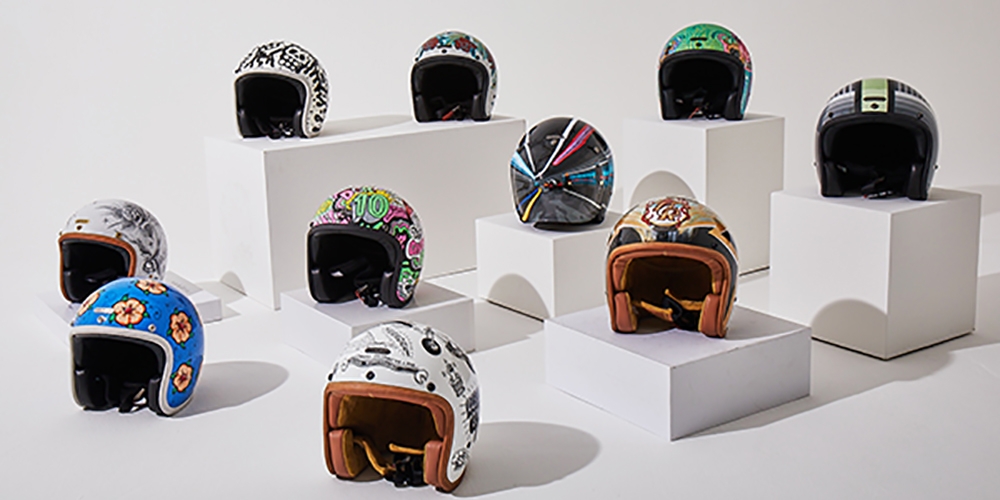 To celebrate a decade of riding dapper for men's health, The Distinguished Gentleman's Ride has released its Decade of Dapper Helmet Auction, in partnership with helmet partner, Hedon. The auction, which went live on September 30th, the precise date of its first-ever event in 2012, has brought together 10 artists from around the world to create 10 unique helmets to be auctioned off.
The artists that have joined this remarkable event are those who, over the course of The Distinguished Gentleman's Ride's decade-long history, have supported the event as ambassadors, friends, and fundraisers. Among the list of collaborating artists are globally-renowned skateboarder and artist, Steve Caballero, and industry-revered tattoo artists, Luke Wessman and Mo Coppoletta. Each one creating their own one-of-one helmet design to be auctioned off to the highest bidder.
Mark Hawwa, Founder of The Distinguished Gentleman's Ride, speaks about this celebratory auction:
"To bring together artists who, in more ways than one, have supported The Distinguished Gentleman's Ride on our journey through the last 10 years is an absolute dream. We gave each of these incredible folks a helmet and asked them to imprint their style into this celebration of our history. Each one has done exactly that, and created exceptionally individual and imaginative pieces for our cause. On the 10 year anniversary of DGR, I'm proud of everything that our community has and continues to accomplish, and look forward to raising a few extra dollars for men's health."
Each incredible artist was provided with a helmet shell and challenged to create a masterpiece of their choosing that expresses their artistic style on an unconventional canvas. The helmets were then trimmed and coated by Hedon and photographed in chic editorial-style photography. Each helmet has been carefully crafted and is live for bidding at auction.gentlemansride.com.
All proceeds for each helmet will go directly to The Distinguished Gentleman's Ride's charity partner, Movember. The auction items are set to raise over $20,000, which will be funding prostate cancer research and men's mental health programs through Movember, with the winners of each helmet having the total amount added to their fundraising totals for DGR in 2022.
The auction will finish on 10th October 2021 at 21:00 UTC. All bidders are welcome to register at the auction site, with bids accepted in USD. Whether you're intending to bid, view the custom helmets, or just watch the excitement unfold; you can find it all at auction.gentlemansride.com.
The Artists
See the list of artists below. Click on the links to see their creations on the Gentleman's Ride Auction Site and find out more.
About The Brands
The Distinguished Gentleman's Ride
The Distinguished Gentleman's Ride unites classic and vintage style motorcycle riders all over the world to raise funds and awareness for prostate cancer research and men's mental health. The Distinguished Gentleman's Ride was founded in Sydney, Australia in 2012 by Mark Hawwa. After inspiration from a photograph featuring classic suits and vintage motorcycles, Mark decided a themed ride would be a great way to combat the often-negative stereotype of motorcyclists and connect the global motorcycling community and to raise funds for a cause important to every rider. For more information, visit www.gentlemansride.com.
Hedon Helmets
Hedon - derived from the word Hedonism: the relentless search for pleasure. Hedon's goal is simply to provide the most pleasant experience on everybody's journey for Hedonism. Tired of conventional style, Hedon set out on a mission to rethink the urban rider's protective headgear looking for something bold, refined and nostalgic with comfort as a driving point above all else. A necessary accessory for the discerning rider.
Each Hedon helmet has its own unique signature marked in their definitive style and distinctive materials they are crafted from. A fine blend of the old and the new, deftly forged using traditional craftsmanship along with modern technology. They believe when form and function come together seamlessly, style is effortless. To see the full range, visit hedon.com.
Movember
Movember is the leading charity changing the face of men's health on a global scale, focusing on mental health and suicide prevention, prostate cancer and testicular cancer.
The charity raises funds to deliver innovative, breakthrough research and support programmes that enable men to live happier, healthier and longer lives. Committed to disrupting the status quo, millions have joined the movement, helping fund over 1,250 projects around the world. In addition to tackling key health issues faced by men, Movember is working to encourage men to stay healthy in all areas of their life, with a focus on men staying socially connected and becoming more open to discussing their health and significant moments in their lives. The charity's vision is to have an everlasting impact on the face of men's health. To donate or learn more, please visit Movember.com.
Related Articles
---