Eric Hendrikx: One Moment Can Change It All
If you've taken a glance at our social posts recently, you will have seen this man grace your screens as a DGR 2019 Global Ambassador. You would probably know him by his thrilling action sports and lifestyle journalism, writing for some of the largest known publications, such as Playboy, Rolling Stone, and Revolver. Eric Hendrikx is a man that we've all heard from - but may not know much about. This is our chance to find out more; to learn about him, his connection to motorcycling, and how a single moment would change his entire life.
"I started riding motorcycles in the hills surrounding my home when I was a kid. At the time, I was riding a 1987 Honda CR 125 and ripping through creeks and forests while chasing down coyotes in the hills. Years later, I became more interested in road bikes. I yearned for that feeling of independent freedom and focus in the present moment that typically gets snatched away by daily routines and social media. I think more clearly on a motorcycle and take time to sort out creative ideas. Ultimately, my passion for riding motorcycles blended with my love for journalism and I started doing things like press rides and creative motorcycle trips that were published in Rolling Stone, InsideHook, Revolver Magazine, and other publications that I freelance for."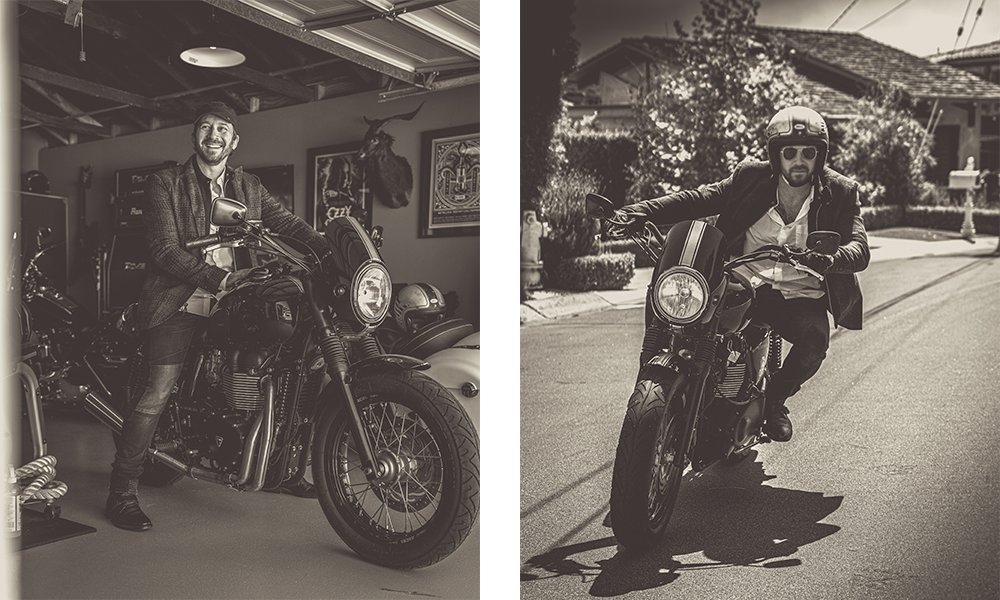 On August 3, 2017, I was riding a motorcycle in the magnificent Swiss Alps with a newfound friend when suddenly my back tire bottomed out on the cold asphalt. In a mad panic, I tried to throttle through, but the mountain's wry sense of humor bested me — my bike slid toward the edge of the road. I high-sided and went into a horrific tumble with the bike before I was hurled like a ragdoll through a wooden guardrail and 75 feet off the mountainside. Helicopter rescue hoisted me off the mountain and brought me to Kantonsspital Graubünden, where I was placed in a medically induced coma. Days later, I woke up in the intensive care unit, where X-rays and MRI scans revealed a dozen fractures in my spine, a broken hand, a smashed hip, broken ribs, a snapped collar bone and a shattered scapula. Within an instant, my life had changed forever.
I was in a medically induced coma for several days. The primary issue, aside from all the secondary broken bones, was that I was losing blood faster than I was receiving new blood. But after several days, somehow this stabilized and I woke up. The following morning, a team of specialists, including my shoulder surgeon, Dr. Sommer, surrounded me in the intensive care unit and explained my situation. The fractures up and down my spine were negligible enough to let them heal on their own. My broken hand and the cuts, scrapes and bruises would all heal without surgery. But I would require a titanium collarbone plate and several titanium plates on my scapula. They would do their best to reassemble the puzzle pieces of my shoulder blade. As they cleared me from ICU, I underwent the surgeries and subsequent recovery in the hospital."
Just like that, from throttling through the sublime Swiss Alps, to an induced coma, surgeries and spending a month in hospital - Eric was now on the long and winding road to recovery. This road was not unlike the one that bested him - with a wry sense of humor, that would throw him into a terrible tumble.
"My surgeries were a success. I woke up in the post-operating room with new titanium hardware. "Eric 2.0," as my friends started calling me, was rebuilt and ready for recovery. But my return came with a new set of challenges: sitting, standing, walking, and taking a shit by myself. There's nothing more humbling than having someone else wipe your ass. Let's just say that the medical assistants at Kantonsspital Graubünden are doing God's work.
The two biggest mental challenges while I was in recovery were getting off all of the medication that was keeping me pain-free. Radically reducing the medication until I no longer felt like I needed it took some time, even caused some nasty withdrawals in the hospital. I made a pact with myself that when I got home, I would not refill any pain medication prescriptions. I've kept to that pact ever since.
The second challenge was the temporary loss of the use of my right arm, for several weeks, actually. The rehabilitation specialist and my surgeon both seemed surprised and unsure if I would regain mobility. This messed with me psychologically, I had mental breakdowns while alone in the hospital…"
Hospitalization and rehabilitation are intrinsically isolating. Being bed-bound and down is not an experience you can share with others - but that doesn't mean you cannot be supported. Reaching out to those you love, accepting your vulnerability and their support, and keeping communication open, are your operations to mend your mind. Because in this situation, these physical restrictions are a causality of mental isolation, and they can only be rehabilitated through social connections and support networks.
"I had so many people supporting me from all around the world via social media, text, phone calls, and hospital visits. My dear friend Ben Harper was one of my first visitors who flew in from Los Angeles and ended up helping me with cutting up my first meal of meat and potatoes. So many people who reached out were fellow motorcyclists, some who had experienced similar accidents or knew people who had. Keeping those conversations, listening to positive messages, and feeling the love really kept me on track for recovery — I really felt an obligation to do my best and be accountable to my family, friends, and the motorcycle community, regardless of how I felt in the moment.
Ultimately, I chose to believe that I would regain that mobility and began with simply mental exercises throughout the day, just visualizing that my arm was working again normally. After several weeks, the response mechanisms started to work again. It was a huge victory and gave me the momentum to continue. Even today, I still work daily on mobility, flexibility and strength training so that I'll be able to continue doing things that I love.
The accident never swayed my love for riding. I fully understood what had happened in the Swiss Alps, that I did my best to correct, and it simply didn't work out. With gratitude, I was rescued, well taken care of, and surrounded by family, friends and people who made a big impact on my life. I had to accept that it might be a long road to recovery. To be honest, I still wake up in pain every morning and begin my steps to mitigate and be productive. Just a few months after getting home from Europe, I felt strong enough to take my bike out for a spin. Today, I ride almost daily."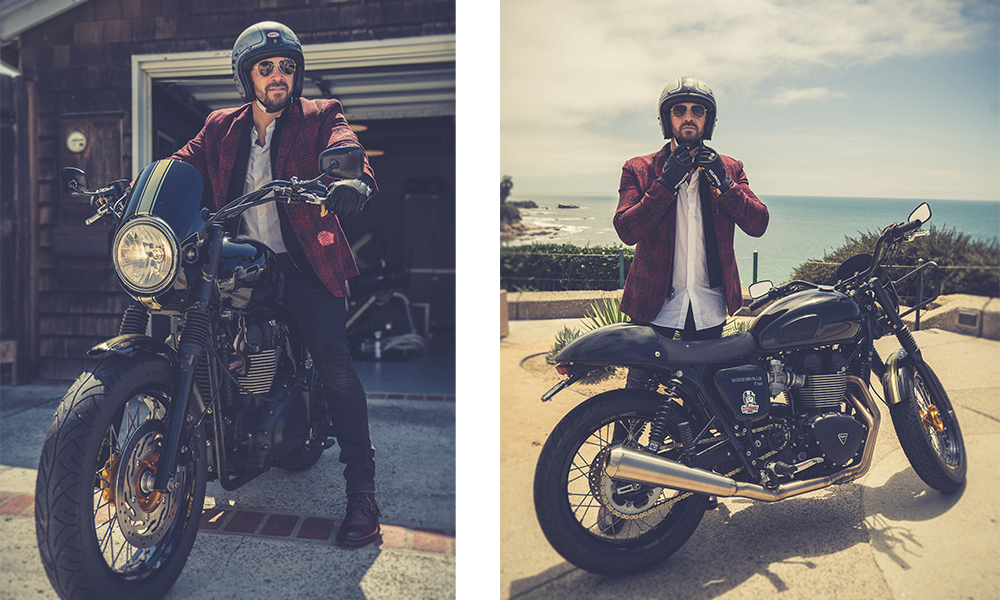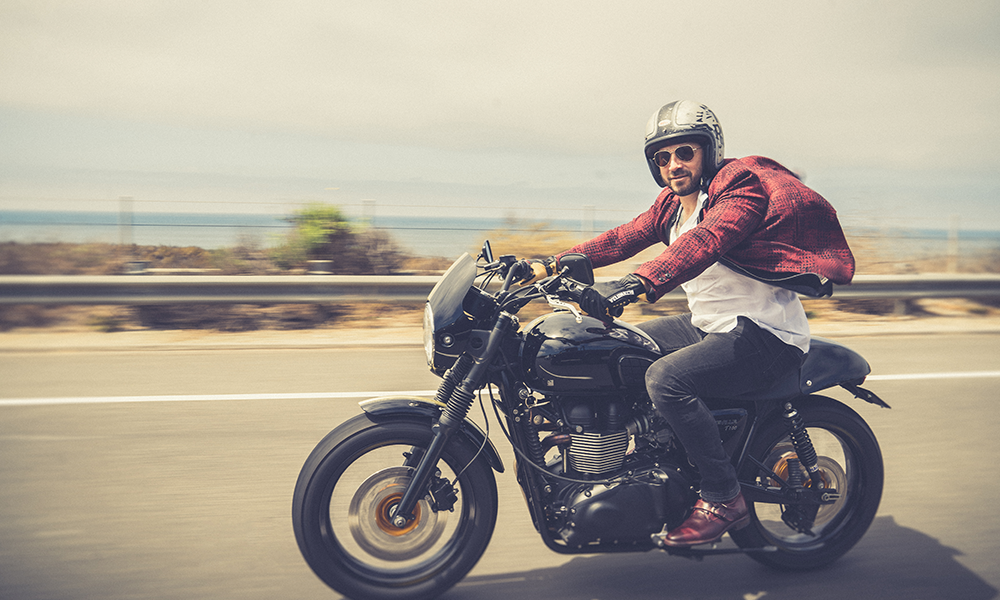 Throughout my accident and recovery, I faced some heavy mental challenges—the idea that I may never ride again, that I might lose use of one arm, or that I may not even walk normal again. Those kinds of thoughts can take you down a rabbit hole quickly. I definitely spent a little time there, but with the inpouring love and support from friends and family worldwide, I felt the courage to push forward. That's what DGR represents to me—a global family of likeminded people that understand and support each other with kindness, generosity and love.
Being invited as a DGR ambassador is an honor I feel like I don't deserve, but will represent to the best of my ability. It's a beautiful event, super fun, and something I look forward to participating in year after year, hopefully in different cities so that I can share these good times with people all over the world."
Eric, the honor is ours. Thank you for being an ambassador, and a friend, of The Distinguished Gentleman's Ride. If you would like to support Eric in riding for The Distinguished Gentleman's Ride, click here to donate to his profile, and get behind him! Let's ride!
All photography and videography credited to Martell Higareda.
Video produced by Martin Majano.
Related Articles
---