The Triumphant Ton-Up Thruxton
As most of you would know, The Distinguished Gentleman's Ride offers a bevy of beautiful prizes for fundraisers each and every year, courtesy of our incredible sponsors. Aside from the highest fundraiser and gentlefolk competition prizes offered by Triumph, Zenith, REV'IT!, and Hedon, we offer unique prizes during our 7-Day Sprints. The 7-Day Sprint levels the playing field during the week period, allowing all fundraisers to be in with a chance to claim whatever prize is available for that week. This year, a very special prize was offered by Triumph Motorcycles and the Movember Foundation for the Final Sprint.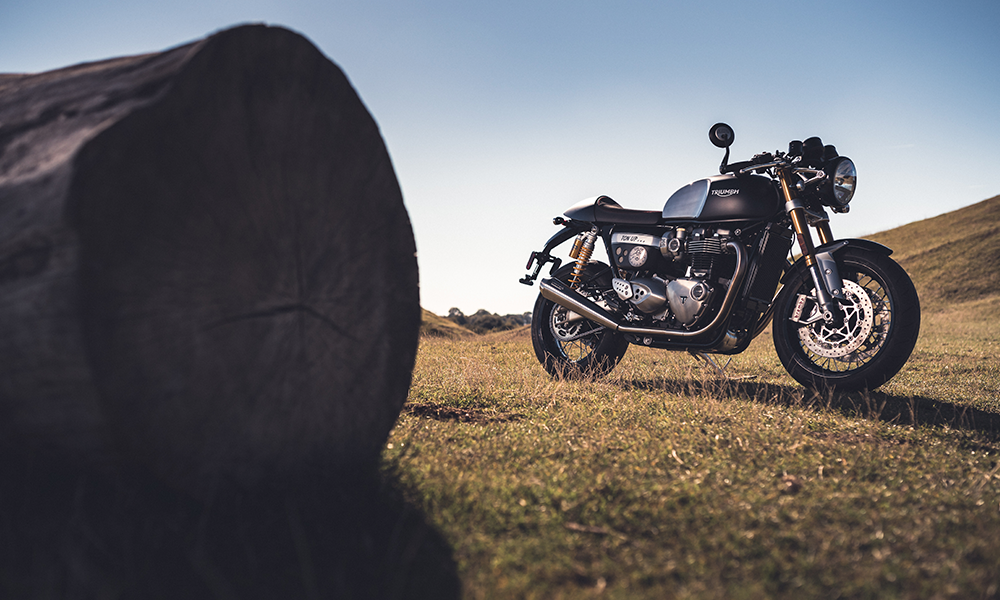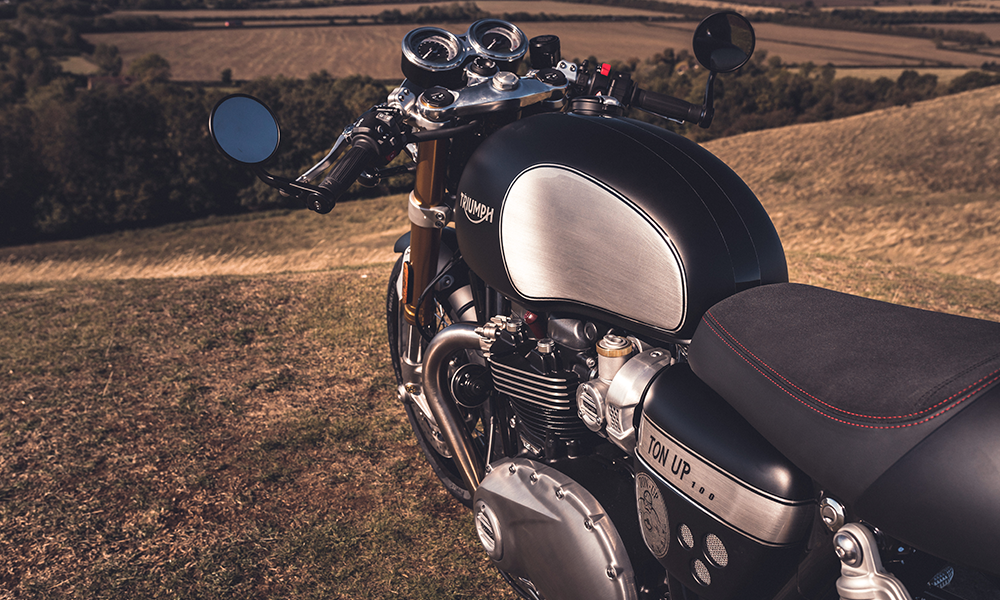 Triumph have presented the one-off Movember Ton-Up Thruxton R as part of a shared passion and partnership with The Distinguished Gentleman's Ride to promote our joint focus on gentlemen who have been dealt a tough hand in life.
Triumph created the Movember Ton-Up Thruxton R to raise funds and awareness for research into prostate cancer, mental health, and suicide prevention programmes.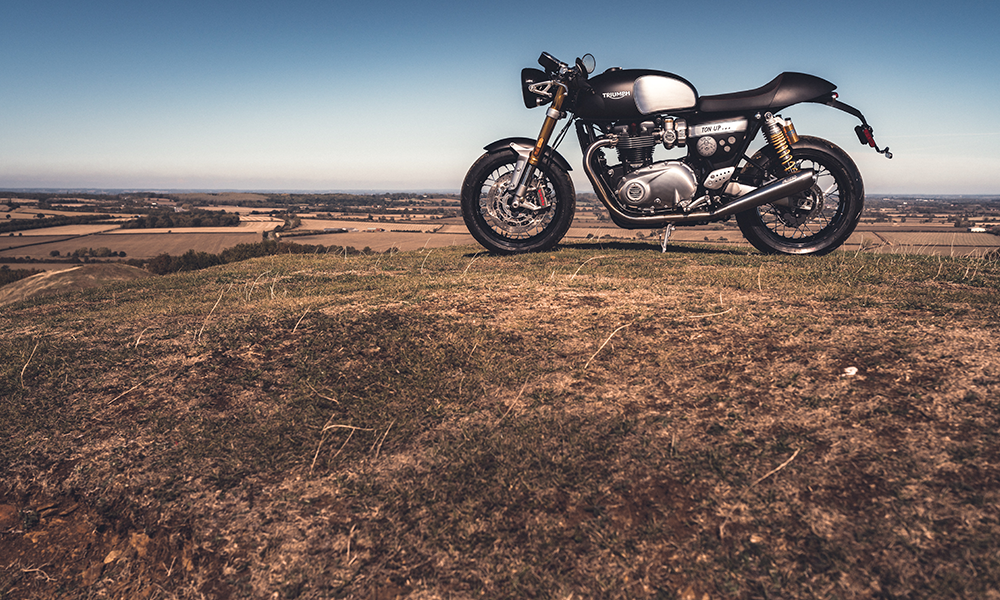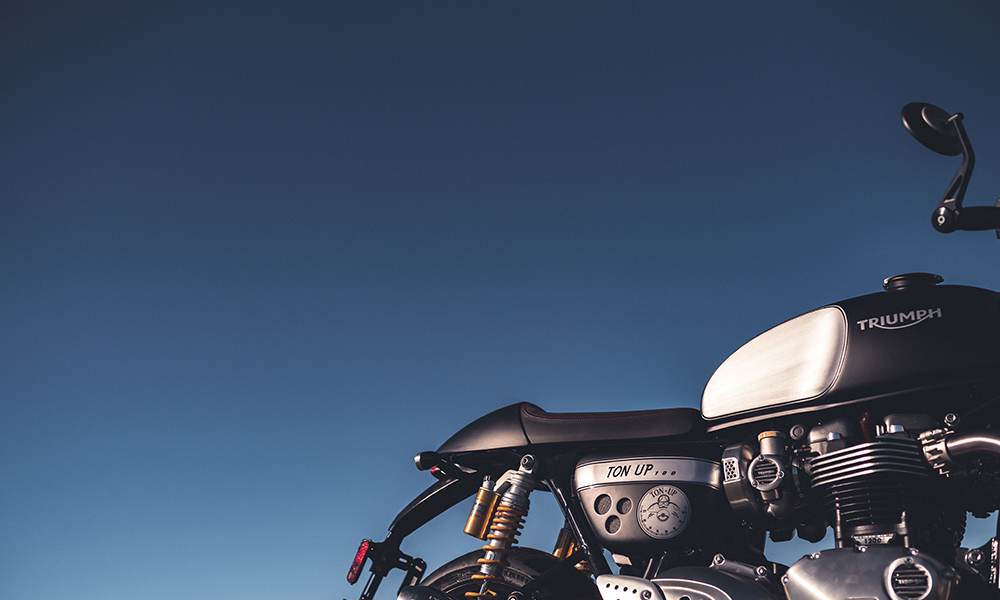 The Triumph Movember Ton-Up name is inspired by the Movember Foundation (the world's largest men's health organisation and charity beneficiary of The Distinguished Gentleman's Ride) and the original Ton-Up Boys (one of the most influential British teenage subcultures in motorcycle history). With this name, and its unique design, Triumph celebrate the original biker attitude; to live every moment, with a passion for riding in the fast lane!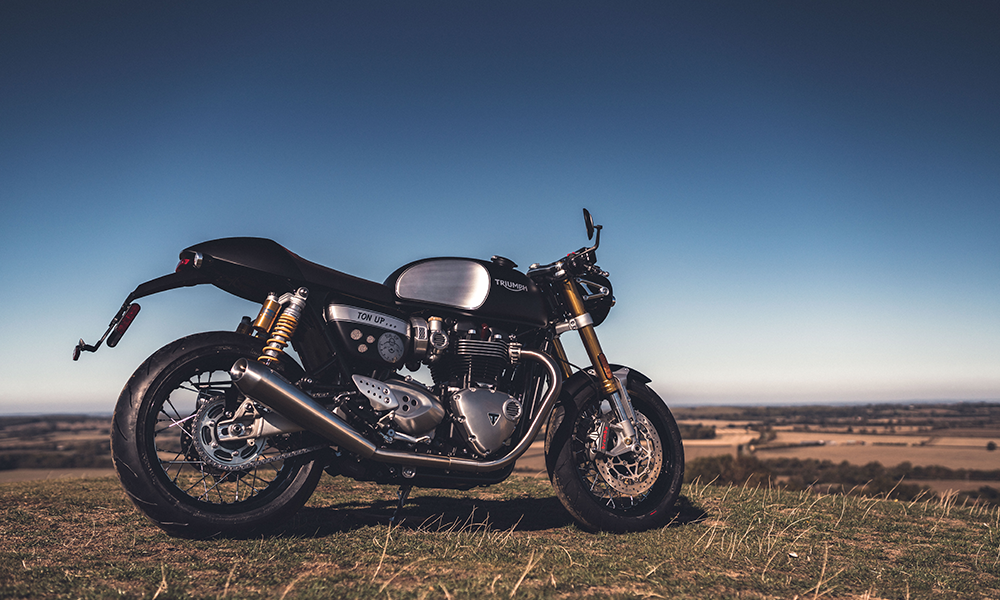 Based on Triumph's legendary café-racer, the Thruxton R, the Movember Ton-Up delivers a modern interpretation of the original Ton-Up Boy bike of choice, and features a host of beautiful details including a unique, premium paint scheme with black matte and brushed aluminium finishes, a black gloss strap-line, completed by Image Designs Custom, and a range of carefully selected Triumph accessories, including:
Black Spoked Wheels
Brushed ACG Badge - Ribbed
Brushed Clutch Badge - Ribbed
Brushed TPS Cover - Ribbed
Brushed Stainless Steel Slip-ons
CNC Machined Front Reserviour
Fender Removal Kit
Handlebar Grips
Black Headbolt Covers
Black Camshaft Cover Kit
Black Headlight Bezel
Black Aluminium Chain Guard
Black Bar End Finishers
Clear Anodised Clutch Cable Guide
Clear Anodised Machined Oil Filler Cap
Sport Pillion Footpegs
Chrome Laser-etched Valve Caps
Black Triumph Rear Wheel Adjuster Kit
Low Handlebar Kit
Front and Rear Short Stem LED Indicator Kit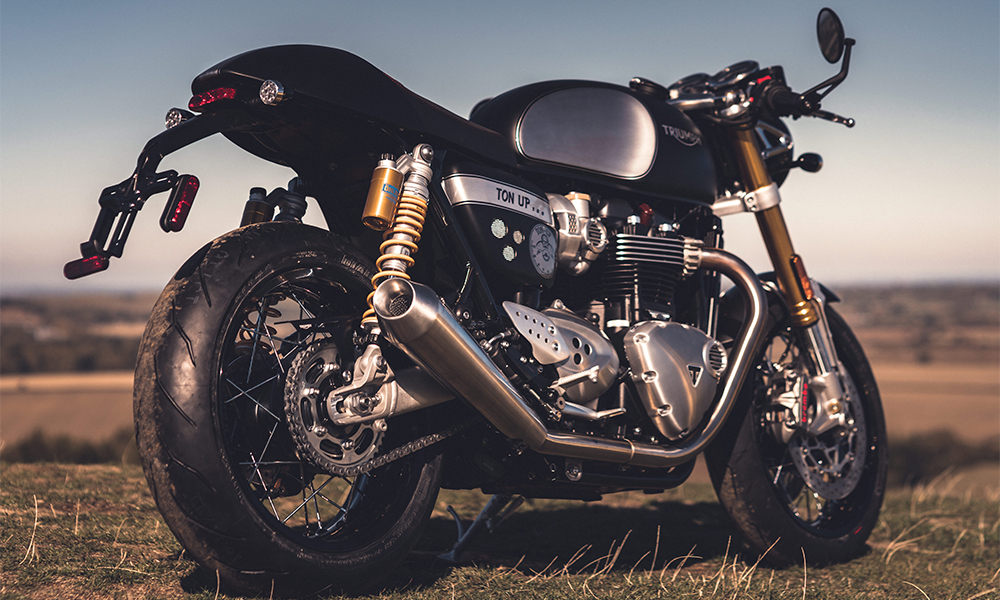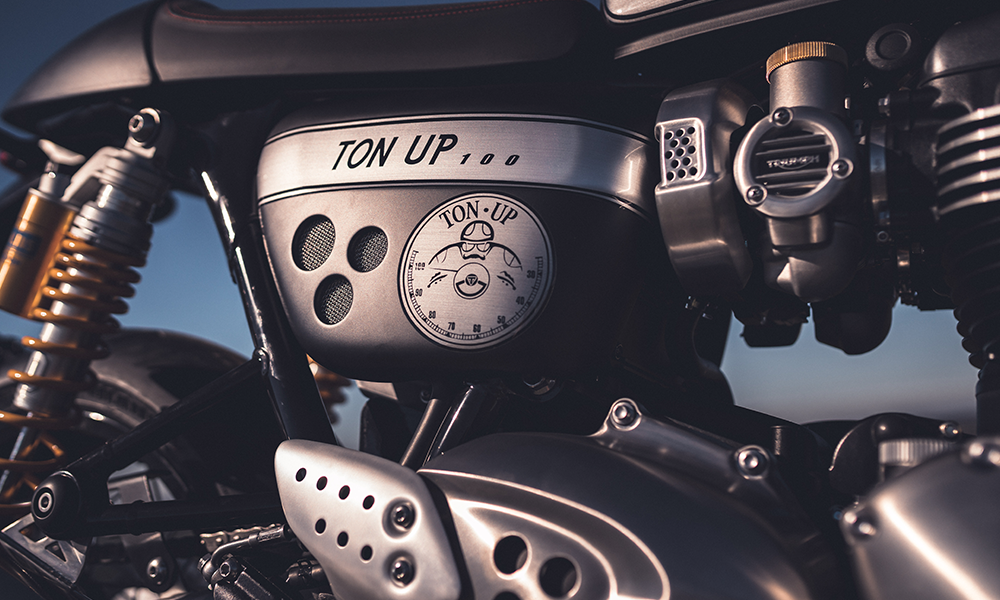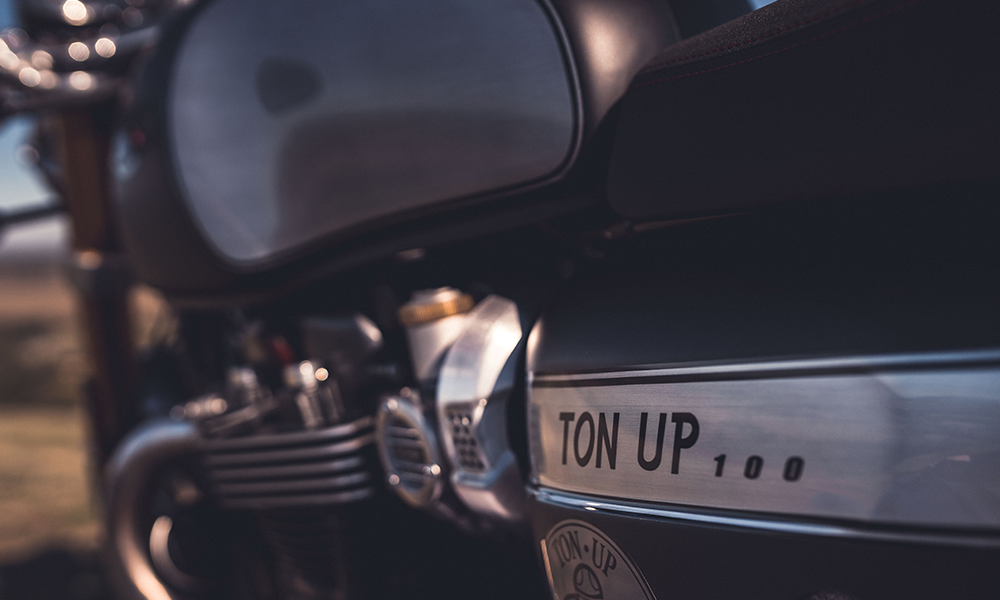 This legendary prize was won by the upstanding gentleman, Mark Brown, from Melbourne, Australia. Mark has been an avid supported for DGR, but also volunteers his time to ensure the success of the event in his city. "My love of classic motorcycles, the notion of being a gentleman, my friends and the cause motivated me to join the gentry. I started riding six years ago after my younger brother Scott started riding. I was in my early thirties with nothing outside of my career, family and friends. A lot of my friends were starting families and moving out to the suburbs. My family lived overseas and my partner at the time had started her own business. I felt isolate and a little depressed. I had been diagnosed with acute manic depressions in my early 20s and was beginning to become aware of the symptoms again. Learning to ride and joining a social motorcycle club really saved me in a lot of ways. I've made a lot of new friends through the community and find going for a long ride therapeutic. This year was my third year participating [and] my third year as a volunteer. I started as a corner marker in my first year before joining a group of close friends (Ryan, Scott, Pete, Jacinta & Leo) to help organise the Melbourne event for the past two years. Organising a successful local ride is a big team effort involving working with venues, councils, traffic plans, route planning and responding to rider enquiries. It doesn't feel like work though as we all have fun doing it together!"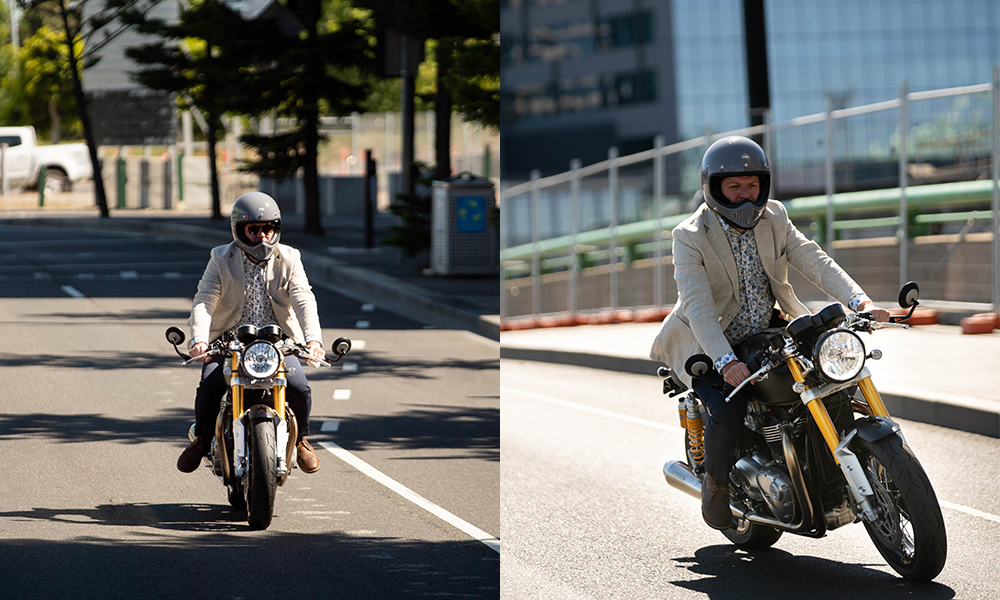 Mark has since not only been an active rider and volunteer, but has consistently been an active fundraiser for the event across his friends, family, workplace, and local businesses. "In the past I've grown a moustache and worn a kilt for the ride once I've reached a certain fundraising milestone. I try to keep it fun! This year I really focussed on my previous sponsors who I know are also passionate about the cause. I also hit up businesses where I am a regular customer. I provide an update every week to my friends on Facebook and I always thank my sponsors publicly. My workplace has their own foundation which is extremely supportive of employee fundraising. The company also has a strong focus on mental health in the workplace which feels quite aligned to my own purpose."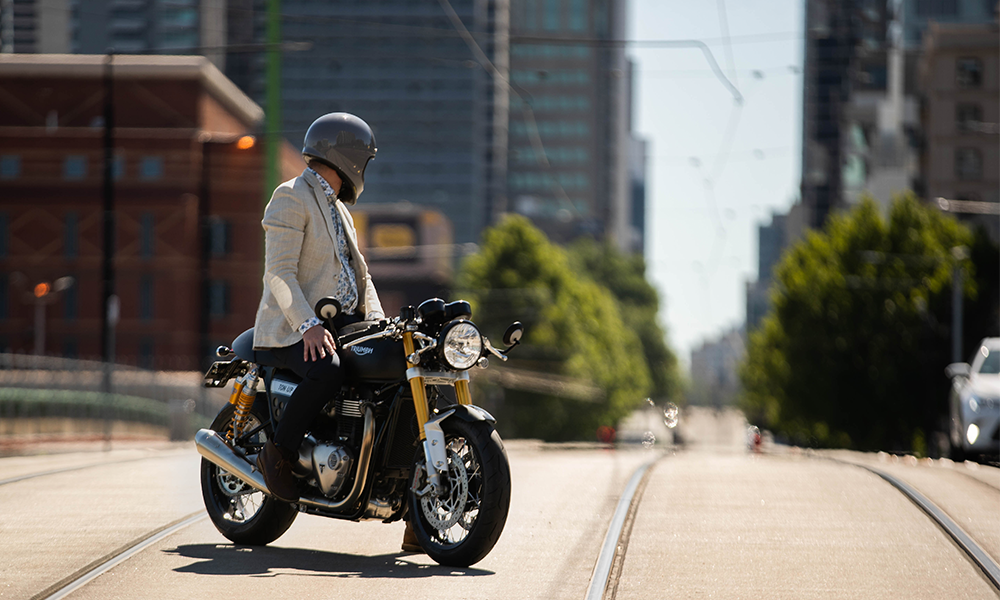 If there's one thing we love, it's hearing the reactions of our prize winners from all around the world. It's simply incredible to give such amazing news to an un-suspecting winner. For Mark, this certainly was the case. "The day before I found out I had caught up with a few of my friends that organise the Melbourne DGR. I just qualified for the last sprint and my mate Pete had asked me what I would do if I won the bike. I told him I would sell my Harley which pleased him greatly as he owns a Thruxton R but we just laughed about it because the odds seemed pretty long to win the bike. When Stephen from DGR called me the next day I thought it was one of the guys playing a prank on me. I think I told Stephen, '**** off' (not very gentlemanly) then quickly apologised – I couldn't believe it! The call I made before that was to ask my future father-in-law for his daughters hand in marriage, so it was a pretty special day."
Now that's certainly got to bring a smile to your face!
"I've had the Thruxton R for a few weeks now, I love it. I've had people walk to me in traffic and ask questions about it! After riding cruisers for the last year it's great to have a classic-styled bike that can also keep pace with sports bike around corners. The sound of the motor is addictive!"
With extra thanks to Triumph Motorcycles and Movember for this incredible reward, we'd also like to thank Mark for his support over the years, and congratulate him again on his well-deserved prize. Remember: you all have the chance to win in our 7-Day Sprints, so keep an eye out, and fundraise across all your channels to go in the running and win, no matter how much you have raised!
Lifestyle photographaphy by Oli Coulthard.
Related Articles
---